Put a proper caravan wheel lock on at least one of your tourer's wheels and you're going some way towards stopping it getting stolen.
They might be a bit big and a bit bulky, but boy do they help when it comes to preventing caravan theft.
Get clamped!
Here, we look at the various caravan wheel locks you can apply to the wheels of your pride and joy to help prevent theft. It helps when these are coloured so they can also act as visual deterrents before any kind of attack takes place. Such devices should always be used in conjunction with a hitchlock, and often to meet the requirements of your caravan insurance policy.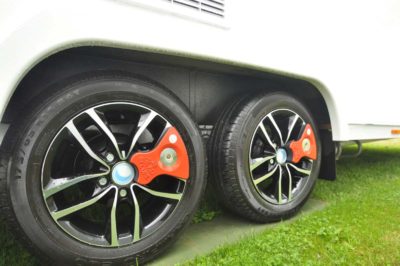 Yes, they can be tricky to install and a bit bulky, but consider their visual impact etc, and think what it's like for the thieves if it takes up their time trying to get it off.
In truth, no security device is a 100% guarantee against theft. But that doesn't mean there are not lots you can do to make it as hard as possible for criminals, particularly when leaving your caravan in storage.
Price plays its part, too. Generally, the more you pay the better quality of product.
Do note, here at Caravan Guard a wheel clamp and hitchlock is a minimum caravan insurance requirement – wheel clamps must be of a proprietary make and cover at least one wheel nut and part of the tyre. An axle wheel lock or wheel lock like the Milenco Wraith are accepted in lieu of a wheel clamp and do not need to cover part of the tyre.
Sold Secure 
Sold Secure is a recognised independent testing house for security products. Here in the UK, Sold Secure is owned by the Master Locksmiths Association, the largest trade body of its kind. Always look for the Sold Secure logo on a wide range of caravan wheel locks and clamps, hitchlocks and more.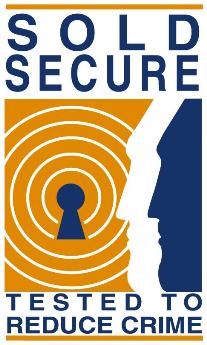 Top tips for choosing a caravan wheel lock
Size and weight of any item should be considered. Also ease of use – but remember, you don't want it to be removed too easily by the wrong people!
Manufacturers' and retailers' fitting videos are a great help when it comes to learning how to use security products properly. See also our videos on fitting an axle wheel lock.
Caravan wheel locks and clamps can also help stop any unwanted movement.
Keep spare keys in a safe place but not in the caravan (you'll want to consider having them somewhere you can retrieve them in an emergency if you're away touring) and make a separate reference to any numbers.
Unless advised otherwise, a small amount of lubricant should make the workings of any locking mechanism easier.
Consider using a caravan wheel lock or clamp in conjunction with other fittings such as hitchlocks, corner steady locks, window locks etc, even an extra lock at your caravan door.
Check any product you're about to buy is actually suitable for your caravan That includes fitting around items such as motor movers.
If you're jacking up your caravan to fit any device, follow the manufacturer's advice – do not use corner steadies as jacks and do not go under your vehicle.
See also our article on caravan winter wheels and our caravan security video.
How much will a caravan wheel lock or wheel clamp cost?
Expect to pay upwards of £100 for a Sold Secure approved caravan wheel clamp. Yes there are cheaper alternatives but it's a risk buying a device without any sort of accreditation to say it's been attack tested. An Al-Ko Secure Compact kit retails for £334 direct from Al-Ko UK (correct as of 19/10/2021) but you may be able to buy for less if it's available as an manufacturer option when ordering a new caravan. Of course some top of the range caravans are supplied with the full Al-Ko Secure kit as standard.
Fitting a caravan wheel lock or clamp
Most manufacturers and retailers will have some way of assessing which clamp or lock will fit your caravan, in which case you'll need to know the make, exact model and year of manufacture (also, if the wheels have been modified from the original in any way).
Caravan wheel lock and clamp designs do vary, so it helps to know the wheel diameter and tyre width. This information will be on your tyres – the width is a three-figure number expressed in millimetres and the wheel size is in inches after the letter R (which stand for radial).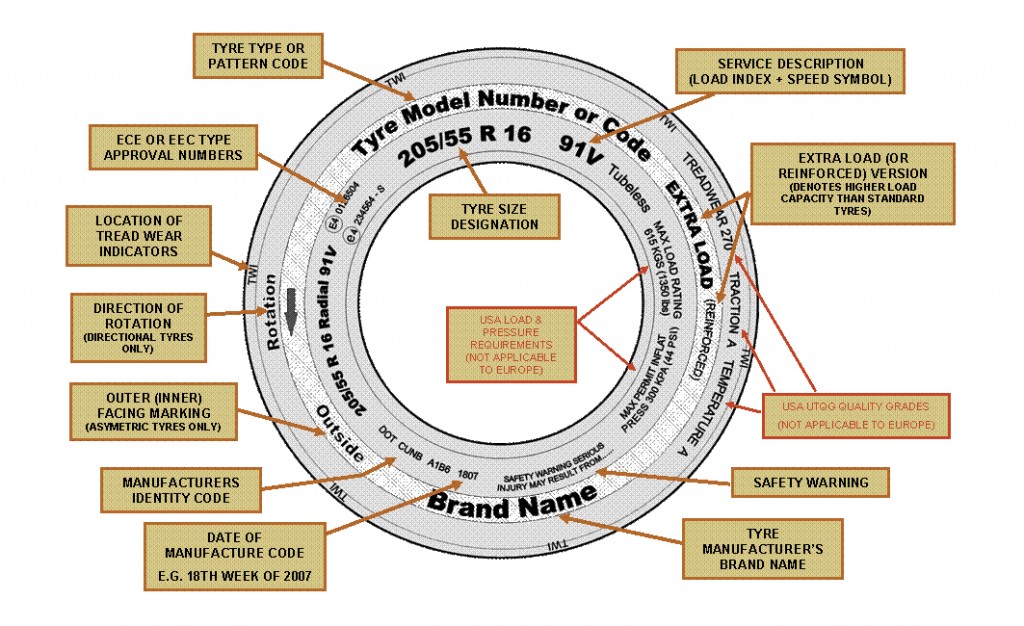 In some cases, the type of wheel – i.e. alloy or steel – will have a bearing, too.
Star Player 1
Al-Ko Secure axle wheel lock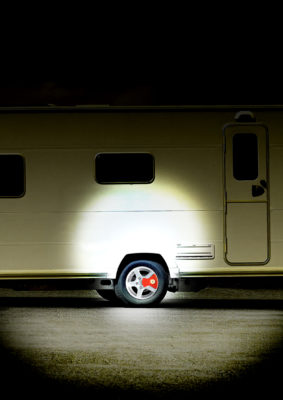 Designed to fit on any caravan made with an Al-Ko chassis (i.e. the huge majority) since 2006, this is the only such product to achieve Sold Secure's highest Diamond rating. Most caravans will have a receiver for the caravan wheel lock already built in, so the lock fits through the wheel and into the chassis to prevent any unwanted axle movement, at the same time making it very difficult to attack.
There are initially three different kits – Compact (for those with the receiver already fitted), Plus (for caravans that need to have a receiver fitted) and Premium (for caravans on Al-Ko chassis built between September 2000 and August 2005) – all working the same way and providing the same level of security.
Thereafter, you need to make sure you order the right model for your specific caravan. A handy feature on the Al-Ko website is the "Will it Fit" section, which should make sure you get the right axle wheel lock.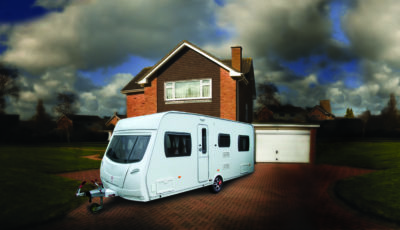 At its heart is a system comprising an anti-pick tumbler and drill-resistant lock, offering over 30,000 combinations.
As this is an axle wheel lock which attaches to the caravan chassis, Caravan Guard offers an insurance discount if you have one of these fitted.
Typical weight is some 3.2kg.
Key features Sold Secure Diamond rating, registered key management system, supplied with storage bag
Expect to pay From £300
Star Player 2
Milenco Original Wheelclamp
Milenco has long proved itself at the forefront of leisure vehicle security devices – thanks in no small part to this, its Original Wheelclamp. It literally is a clamp, its three arms fitting tightly around the tyre and wheel to stop any unwanted movement.
The latest built-in locking mechanism overcomes a past criticism of this device – getting the component parts to line up before the final turning of the key.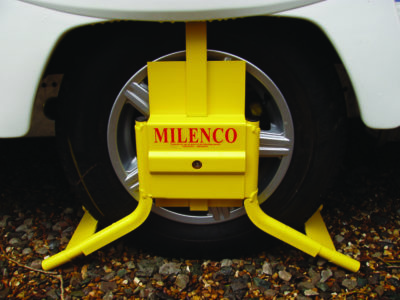 Heavy-duty steel is used to resist attack from sawing and freezing. Weight is getting on for 10kg.
As well as its Sold Secure Gold accreditation, it's certified as meeting the world-class Caravan Security Standard SCM MP03.
The bright yellow finish is an instant visual deterrent to any would-be thieves.
Choose between the C13 (for 13in wheels and twin axles with 14in wheels) and C14 (for 14in and 15in wheels).
Key features UK made, Sold Secure Gold rating, steel construction, five-year warranty, supplied with three keys
Expect to pay £174.95
Star Player 3
Stronghold SH5456 Apex Wheelclamp
A similar triangular style to the Milenco model above, with its three arms and a large plate to cover all the nuts on the wheel (which prevents them from being undone to facilitate removal of the whole wheel and clamp by a determined thief).
Available in a range of wheel sizes, starting from 15in, this will fit tyre diameters between 618mm and 818mm, with a width of 225mm.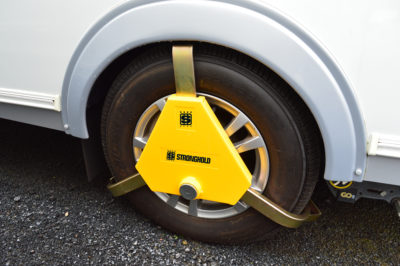 It's a classic design – comprising wheel clamp top and back plates, top arm and two adjustable arms – that suits steel wheels or alloys, with full adjustment (you set it the once) to suit your wheel diameter.
The pick-free lock has thousands of possible combinations and it comes supplied with three keys and an identity tag. After-sales back-up includes a key-cutting service.
Key features Sold Secure Gold rating, Secured by Design approved, steel construction, protective rubber on back plate, patented design with unique locking front plate, water- and corrosion-resistant
Expect to pay From £129.99
Star Player 4
SAS Supaclamp Duo Gold
An alternative style of clamp, this is a one-piece design that's often more straightforward to fit (which, of course means in turn it can be easier to remove).
The top-rated of three Supaclamp models from SAS, designed for fitting to caravans with alloy wheels between 10in and 15in diameter, and tyre widths up to 225 (if you have steel wheels, check out the HD1, which grips the wheel rim rather than the tyre).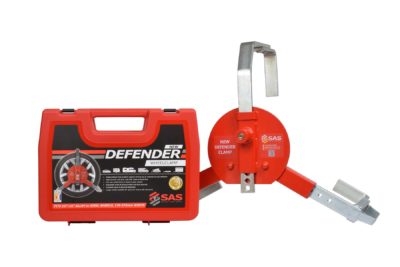 Fitting it involves an anti-pick, anti-drill lock as well as an Allen key, which SAS says means it effectively has a double locking system.
It weighs 5.2kg.
Key features Sold Secure Gold rating, one-piece assembly, maximum wheel nut diameter 22mm, carry case option
Expect to pay From £124.99
Star Player 5
Milenco Wraith
A wheel lock that Milenco says was designed from the outset to exceed Sold Secure's Gold standard as well as fitting the majority of caravans, whether they have alloy or steel wheels. A clever fitting arrangement for the Wraith involves replacing one of the caravan wheel bolts with the Wraith's own receiver. Once fitted, the Wraith prevents theft by stopping the wheel from rotating.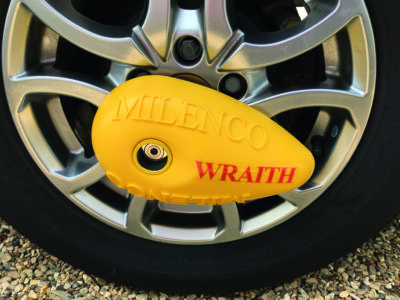 For extra security, an interesting option is a second wheel bolt receiver.
Key features UK-made, steel construction with plastic cover, Sold Secure Gold rating, foam-backed high-grade steel bar, Milenco manufacturing pedigree, five-year lock warranty, supplied with three keys. Weighs 4.1kg
Expect to pay £139.95
www.milenco.com
Please note: Caravan Guard will accept the Milenco Wraith as a wheel clamp but not as an axle wheel lock.
Star Player 6
Purple Line Excalibur
Designed for alloy wheels, this lightweight contender (it's 3.9kg) uses materials that Purple Line says are resistant to cutting, drilling and gas freezing.
Part of its Fullstop security range, the Excalibur is a through-the-wheel design that works by having a bolt receiver arm that fits behind the wheel, then screwing in a threaded bolt, then locking into place the shield section.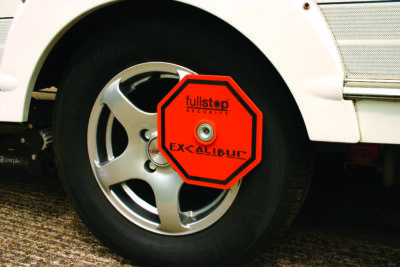 It's supplied with three keys but if you want more and/or replacements you can arrange these via any Master Locksmith.
Caravan Guard will accept the Excalibur as an axle wheel lock if using the locking insert, but not its sister product the Nemesis which we just count as a wheel clamp.
There's also a blue Bailey branded version of the Excalibur available from its accessory brand Prima Leisure. The Excalibur has not been tested by Sold Secure so does not have a rating.
Key features Five-year warranty, supplied with storage bag.
Expect to pay £149.95
Star Player 7
Bulldog Winter Wheels
Another major player in the caravan security market and acceptable in lieu of a standard wheel clamp for an insurance perspective, Bulldog's portfolio extends to Winter Wheels. It relies on you removing the wheels on your caravan and having somewhere secure to store them, but it's an ideal product if you're putting your 'van into storage for long periods.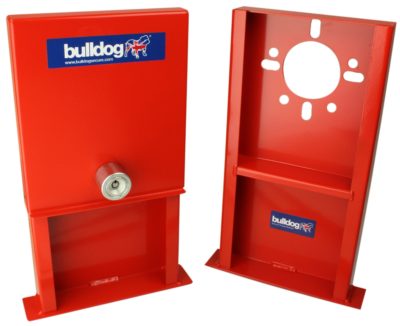 This product comes with a locking plate plus the same 25mm locking bolt with case-hardened shaft and anti-drill centre as used in the company's Sold Secure-rated products. There's also a 10-pin anti-pick lock with over a million combinations.
Sold as a two-pack, winter wheels are configured for use on caravans with four or five-studded wheels. An added bonus, when fitted they protect from the tyre wear associated with being stood in one position for long periods.
Key features Steel construction, British-manufactured, five-year guarantee
Expect to pay £159.95
Over to you…
Got any advice on caravan wheel locks or clamps you'd like to pass on to other caravanners? Please feel free to add a comment below.
Search our blog
---