Adria's Altea caravans may be down to a three-model line-up for 2023, but that's the only aspect that has been cut. Conversely, latest versions offer even more great ideas than before, with a whole new look – inside and out.
Style to the four
There's certainly no missing the latest appearance, in silver, despite retaining past Altea features such as the full-width front locker and single front window. You'll also note a considerable amount of body is beyond the axle, although Adria's policy of using longer drawbars at the front of the latest Al-Ko Vario X chassis (with shock absorbers) should make for assured towing.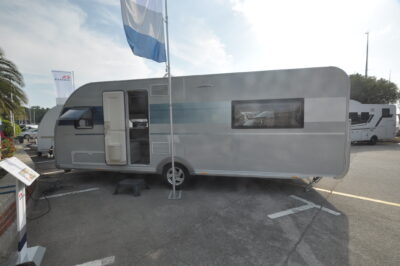 The Slovenian manufacturer has long been an exponent of GRP for its caravan bodies. It's a tough coating that won't pick up scrapes and dings like the aluminium used by some of its rivals.
A lot of work has gone into upgrading the new Altea interiors, too – it's pronounced "al-tay-a". Furniture construction is lighter than previously, yet it feels as sturdy as ever. What's also new is the use of Symalite, a lightweight thermoplastic composite that offers superior insulation (thermal and noise) as well as giving the interior walls a soft finish. Also, the company is confident enough to continue with its 10-year bodywork warranty.
It's the All Inclusive Pack that gives the Adria Altea Dart caravan its real identity, though. It's a hefty offering with the UK very much in mind and includes everything from alloy wheels and mud flaps to floor carpets, kitchen sink cover/chopping board and drainer, microwave oven, ambient lighting, mains electric as well as gas operation for the Truma Combi 4 heating and hot water system, TV holder, Bluetooth amplifier and more. Luckily, there's no extra cost involved for Alteas as sold here in the UK.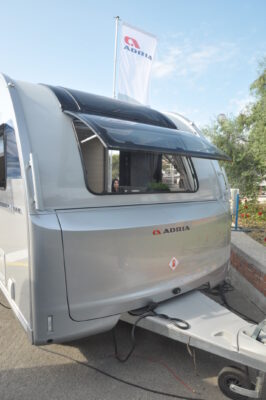 Hardly surprising, either, the factory-fitted options list is kept to just two items (see opposite). Do check out the £110 Doggy Mat, though – a clever bed/resting spot for caravanning with your favourite pet!
The Adria Altea Dart floorplan remains the same. It includes a U-shaped seating front lounge, with a flip-up tabletop centre front. A large, opening sunroof lets in daylight as well as fresh air, as needed.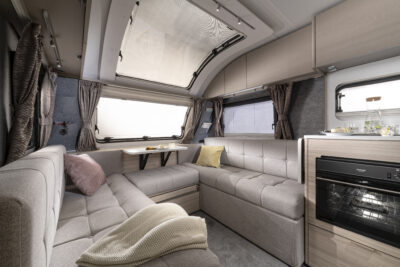 The kitchen is mid-'van offside. It has the familiar – to Adria, at least – space-efficient hob with three gas burners in a line, combined with a sink. There's a familiar Thetford Duplex oven and grill combination, too, while the trio of swing-out trays in the right-hand corner is both novel and practical.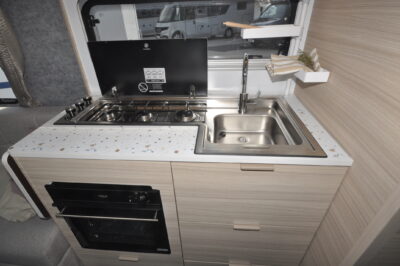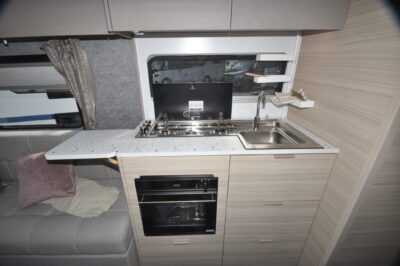 There's a Thetford slimline 140-litre fridge across the corridor, its off-the-floor location allowing easier access to all its contents.
Beyond the kitchen, the Altea Dart's washing and toileting facilities are split between a shower cubicle UK on the nearside, toilet room offside. The plastic-lined cubicle is nice and roomy but has just the one, small-diameter plughole.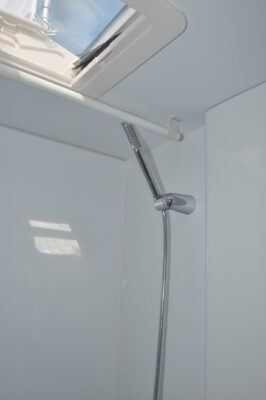 Across the corridor, there's a swivel-bowl toilet and an elongated fixed corner basin, plus handy details such as the towel rail, small rooflight plus an opening, opaque window.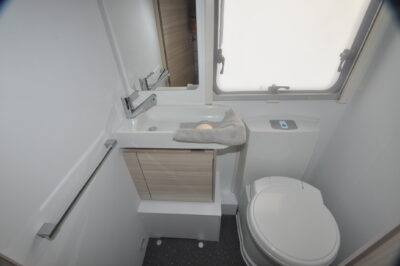 It's the rear bedroom with its permanent island double that will one of the Altea Dart caravan's key attributes.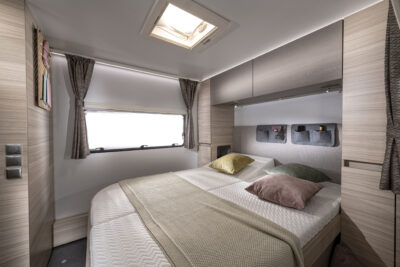 The whole bed is set low enough to make getting in and out so easy, while the adjustable upper sections to both sides will be appreciated by many, as also will be the possibility of sitting fully upright to watch TV (there's a bracket already in place for attaching a flatscreen monitor). Cubby holes at the base of each wardrobe more than compensate for the lack of any ledges at either side of the bed.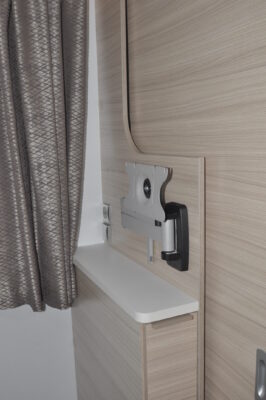 Despite factors such as the windowless main door and curve-free furniture, this latest Adria Altea Dart caravan exudes a modern style. More than all this, though, are some of the clever details Adria is bringing to all its Altea models for the year ahead. Like the fabric coverings to the settee bases and interior walls (also complemented by the pockets either side of the front window). And the padded pockets on the front wall. And a smattering of useful hooks.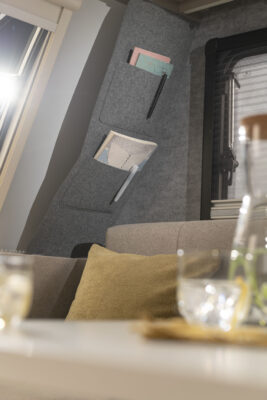 In other words, it's like a lot of other rear island bed tourers. But different.
---
Verdict: Quality tourer with a smarter set of innovation
Plus: Popular island bed floorplan, great detail touches
Minus: Lots of obvious rivals, small shower tray drain
In-a-nutshell: Dart very much on target
There's more information on the Altea range on the Adria website. To find out more about insuring this or your current caravan visit our caravan insurance page.
---
Alternatives: Bailey Unicorn Cabrera, Coachman Acadia 545, Compass Casita 550/Elddis Avanté 550, Swift Challenger 560
Cost to insure: £377*
---
Adria Altea Dart factfile
| | |
| --- | --- |
| Model | Adria Altea Dart |
| Base vehicle | |
| Axle type | |
| Dimensions | 8.29m L, 2.30m W, 2.58m H |
| Shipping length | |
| Internal length | 6.19m |
| Berths | Four |
| MTPLM | 1,650kg (upgradable to 1,800kg) |
| MIRO | From 1,491kg |
| Payload | From 159kg |
| RRP | from £27,175 on the road |
| Safety & security | Al-Ko stabiliser, Al-Ko Secure pre-fittings, smoke alarm, carbon monoxide detector, CRiS, reinforced corner steadies |
| Key options | Doggy mat (£110), wheel cover insert (£100) |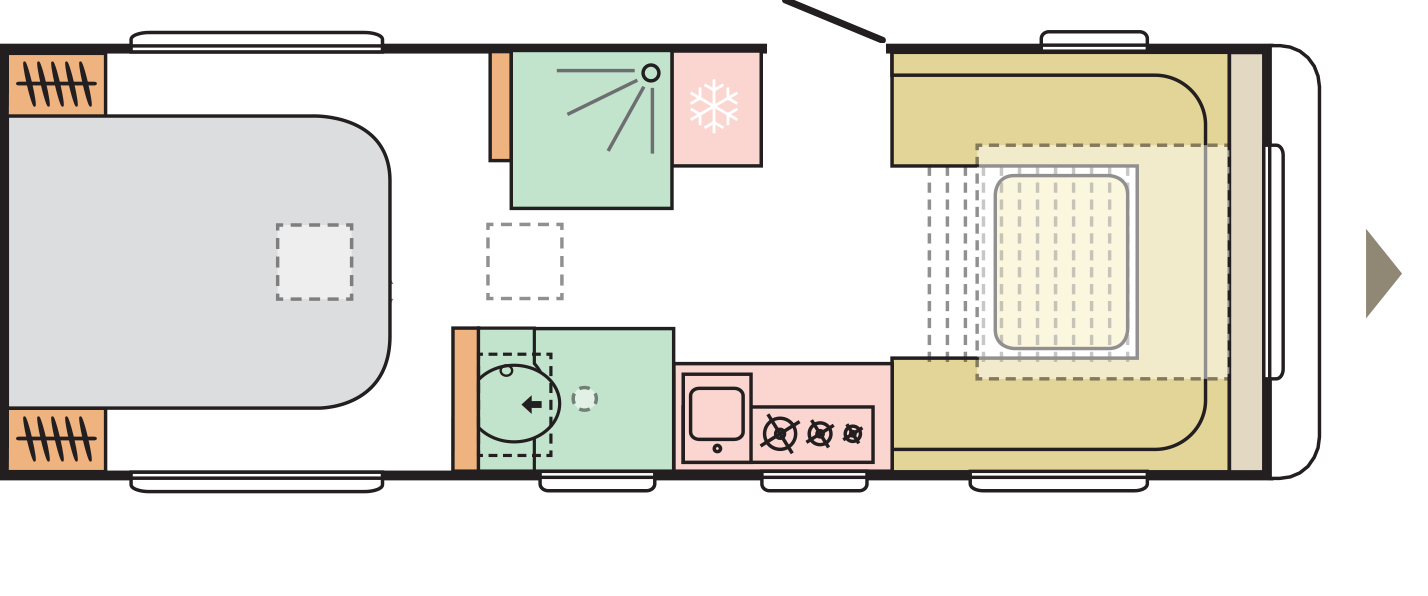 ---
Search our blog
---