Cleaning up!
A vacuum cleaner for your leisure vehicle? Here's why they make perfect sense…
No doubt about it, living in your caravan or motorhome means all manner of dust is going to accumulate, especially if you're travelling with pets. And whilst brushing it out is a great start, a vacuum cleaner could just be the solution to keeping everything as spick and span as possible – for your 'van and possibly even your awning.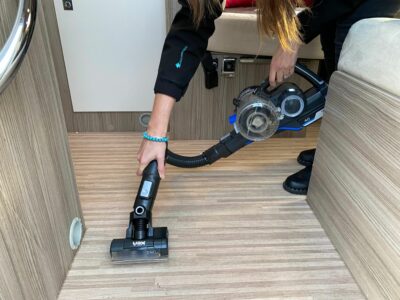 Keeping on top of the cleaning will also help with any re-sale value later down the line too!
Luckily, there are plenty of smaller-scale vacuum cleaners on the market – 12V and/or 230V operated, bagged or bagless, and cordless. All are light enough and small enough to be easily transported and stored when not in use. Here's our mini guide to cleaning up!
Caravan Guard's motorhome and caravan vacuum cleaners top tips
Size matters: Choose a cleaner that you know you can stow easily in your 'van.
Weight matters too: Small vacuum cleaners aren't particularly heavy, but do check the weight.
The power rating will give an indication of the amount of suction you're going to get.
Use a brush and dustpan to sweep up any accumulated dust/muck before you start vacuuming.
If the vacuum has a collection tank (as opposed to a bag), do empty it as often as possible. If your cleaner has a bag, check regularly to make sure it doesn't overfill.
Check any adjustments (if any) to optimise overall performance.
Slowly moving your vacuum cleaner when using it is more effective than quick motions.
If there's a crevice tool, use it to get into corners and other niches where the standard head will not be able to reach.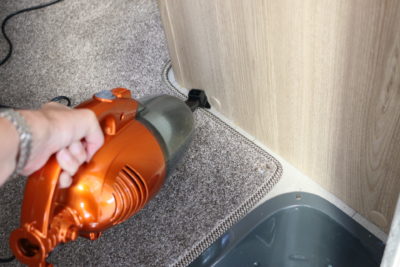 Here we take a look at four star players to help keep your caravan, motorhome or spick and span…
Star Player #1
VAX ONEPWR Blade 4 MAX 
The ultimate? Well, you could always buy something like this for home use and take it away with you when you're travelling – when it can also be used as a hand-held.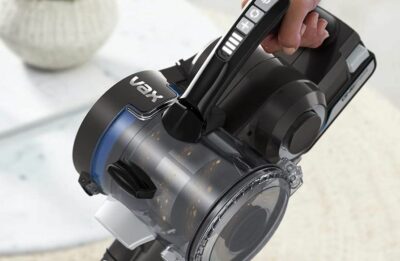 Vax says the Blade 4 230V has their best ever Vax CoreTM controlled brushless motor. The floorhead has an optimum working speed of 4,200rpm.
It uses lithium-ion technology for its power, and there's a run time of up to 45 minutes between charges, plus no loss of suction even when the battery is low or the dirt bin is full.
There's also a tool kit (including stretch hose and crevice, tough dirt and textile tools), worth over £50 with each order direct from Vax online. There's a pet version of this vacuum cleaner too.
Key features Cordless, lightweight (3.1kg) removable bin, 45-minute runtime, rinseable filter, three-year guarantee
Expect to pay £179.99
Star Player #2
GTech Multi MK2 Handheld vacuum cleaner
Lightweight, cordless and with a twin hose, this two-in-one vacuum cleaner is easy to store in your caravan or motorhome and will make light work of cleaning those corners.
With 12 cleaning modes and up to 40 minutes of run time in ECO mode this compact vacuum cleaner can take on carpets and hard floors whether you're using it as an upright or handheld cleaner.
The 22V lithium-ion battery recharges in four hours, and there's a convenient LED indicator to keep track of how much charge is left. What makes this vacuum cleaner slightly unique is that it has a bag! But GTech says these act as a filter and are low maintenance, so you simply remove ad replace when full.
Key features LEDs to light up the cleaning area; attachments for dusting, crevices and hair removal; 2-year warranty; weighs 2.8kg
Expect to pay £199.99
Star Player #3
Dometic PowerVac PV 100
A wet and dry model with 12V rechargeable battery from Dometic – the company that knows a thing or two about the leisure vehicle market.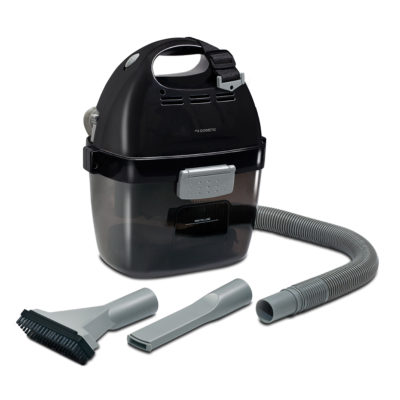 It can cope with dust, as well as small amounts of fluid and, like the others here, its small dimensions (198mm x 320mm x 270mm, weighing 2.1kg) make for easy storage.  Recharge from 12V or 230V sources.
Key features Attachments for upholstery, rugs and narrow gaps, carrying strap, mains adapter, 12V charging cable, and dust container with fabric filter
Expect to pay £137.99
Star Player #4
VonHaus 2-in-1 Stick Vacuum cleaner
This powerful little 230V unit can be used hand-held or you can add a telescopic tube and operate it as an upright vacuum cleaner.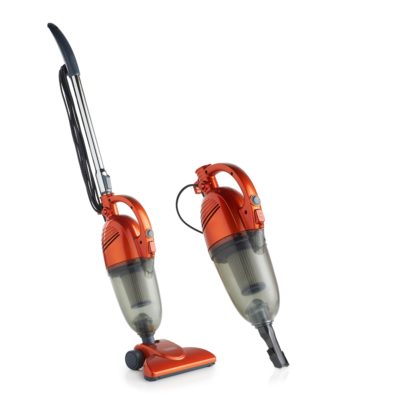 Its dust collection tank has a 1.3-litre capacity and includes a HEPA (European Standard, High-Efficiency Particulate Air) system with a mesh filter that can be removed for cleaning in water.
Also included are a clever combined crevice/brush tool, an upholstery brush and a floor attachment. It says it's suitable for most types of floors.
Key features 800Watt power rating, 6m quick release power cable, A energy rating, internal safety thermal cut-out, clip-on carry strap, two-year warranty
Expect to pay £44.99
www.vonhaus.com
Once you've chosen a vacuum cleaner for your caravan or motorhome, make sure you're using it correctly. House Beautiful came up with a list of tips for vacuuming at home, which we've adapted for van life.
Vacuum in all directions
With touring taking you to the great outdoors one minor drawback is that bits of gravel, food, dirt and even grass can soon get trampled into your caravan or motorhome carpet fibres, particularly in the doorway. Vacuuming in one direction won't remove all of it so it's best to go over every bit of carpet in every direction – north, south, east and west.
Don't vacuum too quickly
Let's face it, there's not usually a lot of carpet in a caravan or motorhome so you can afford to take your time. Push your vacuum slowly and it'll pick up more of the dust and bits in the fibres. Running the vacuum slowly lets its brushes agitate the carpet properly and suck up the unclean bits that emerge.
Use the crevice tool on the room's edges
At the end of each stay, use the vacuum's crevice tool on the edges of your caravan or motorhome floor and around the bottom of seat areas and kitchen appliances – even if it's a hard floor such as vinyl. Remember bits of food could attract insects or vermin.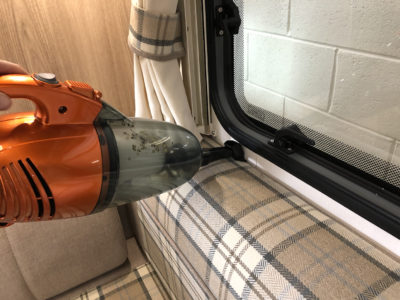 Adjust the height
If your 'van has both hard and carpeted floors see if there's a setting on your vacuum for each. Adjusting the height could dramatically increase how much dust and dirt your vacuum picks up.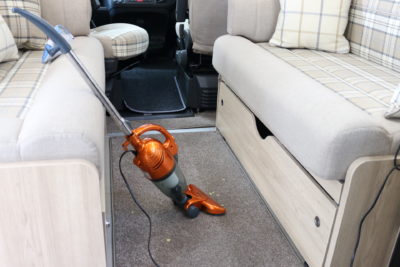 Don't wait for your carpet to look dirty
Dust and dirt can accumulate underneath carpet fibres without being visible to the naked eye. It's worth keeping on top of the cleaning by giving your carpet a vac every two or three days and definitely at the end of every trip.
Remove your carpets
Most caravan and motorhome carpets are removable so take them out now and again to give the floor underneath a big clean – certainly at the end of each season if you're not planning to use your tourer or motorhome for a while. Also, it might also make it easier to give the carpets a really good clean whilst they are out of the 'van.
Dust beforehand
Possibly an obvious one but always do any dusting or wiping down of your caravan or motorhome surfaces first before vacuuming the floor, so you're picking up the bits and dust that will fall onto the floor.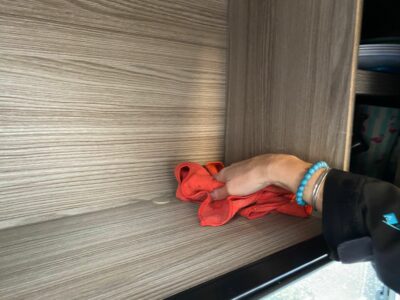 Over to you…
Got any advice on small-scale vacuum cleaners you'd like to pass on to other caravanners or motorhomers? Please feel free to add a comment below.
Cost to insure: *
---
factfile
| | |
| --- | --- |
| Model | |
| Base vehicle | |
| Axle type | |
| Dimensions | |
| Shipping length | |
| RRP | |
---
Search our blog
---