Caravans are growing in popularity and the UK looks set to enjoy another staycation boost in 2021, so it might be time to consider an upgrade. Look after your tourer and you'll reap the rewards in the longer term by maximising your caravan's resale value.
Here's our guide to getting the best out of your tourer for when it comes to part exchanging.
Due care and attention
How would you describe the condition of your caravan? Good? Better than that? And, just as importantly, how do others see it? Those quirky little additions or minor repairs to items that were "going to be fixed properly" one day could mark your caravan's resale value when it comes to trade-in time.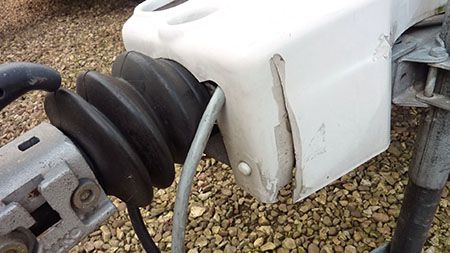 To be fair, most of us view our own caravans through the rosiest of tinted glasses… and might not necessarily notice how things slip a bit over time.
But, imagine going to view a secondhand tourer on a dealer's forecourt and you found scratched and dented bodywork, cracked light lenses, a kitchen or washroom tap held together with tape, shower tray cracked and dirty, damaged rear panel, cracked A-frame or an obviously used cooker (hob, oven and/or grill)?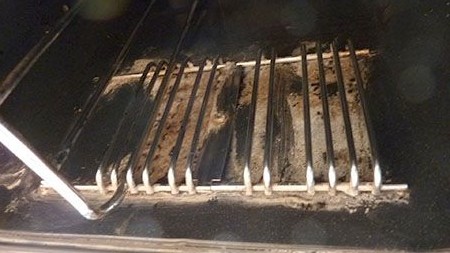 Would you walk away? All such items are usually pretty well-remedied, but it's amazing how many folk are happy to offer their 'van to dealers with such obvious defects… and are genuinely surprised when told it's affected their caravan's resale value.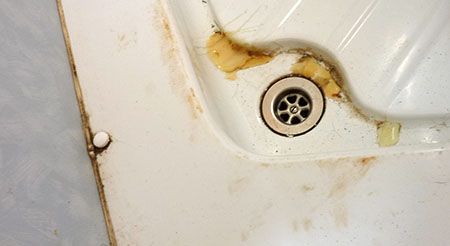 As a very rough guide, replacing a shower tray can cost in the region of £500. Replacing an A-frame? £360. More than £100 isn't uncommon for a new mixer tap. And, as for bodywork damage, a new rear panel can be in the region of £1,500, while repairs can be anything from £300. So, maintaining your tourer in tip-top condition isn't necessarily going to be cheap – but it could be worthwhile.
As well as the above, have a look at your 'van and see if it has any of the following: ripped upholstery, buttons missing, frayed carpet, infill tape hanging out, broken window catches, mouldy fridge, toilet cassette not emptied, stained sink, bald and/or over-age tyres, missing hub caps, bent corner steadies, cracked skylight, stained mattress, broken cupboard hinges, sliding bedroom door hanging off, keys missing… OK, these things happen. But, they're exactly the sort of things that need sorting if you're looking to present your tourer in the best possible light.
Follow our handy tips and advice below and, not only will you optimise your enjoyment of your pride and joy, you'll also optimise your caravan's resale value and feel the benefit of a better price when it comes to selling it on. It's not just about getting the best possible price, either. More important is that the two sides come away happy from any deal – whether you sell privately or to a dealer.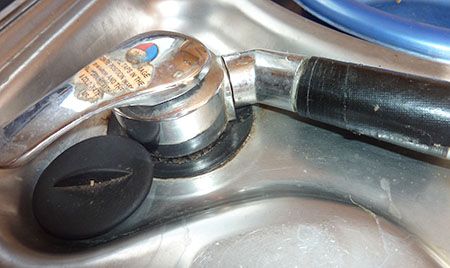 Show and go?
Offering your caravan unseen as part-exchange against a brand new 'van? That's not an untypical scenario bearing in mind the popularity of caravan shows and current online trading conditions. But, such deals aren't always as cut and dried as you think.
Any deal that involves trading in a pre-owned caravan "unseen" may be subject to the dealer actually viewing the 'van.
Keep it regular
Proper caravan servicing, as well as regular cleaning and polishing, are key to keeping on top of things to optimise your caravan's resale value.
There are also simpler maintenance tasks you can perform on a regular basis, for example, greasing the overrun assembly and corner steadies. A silicon spray can work wonders in terms of making keys easier to use and keeping hinges (internal and external) squeak-free and smoother moving. Use sparingly.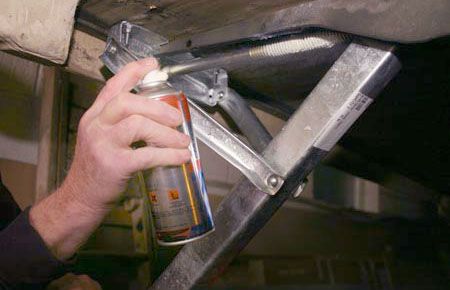 A good service record helps no end and will prevent serious issues emerging, with the biggest part exchange value changer of the lot – damp!
Check the outside
Age matters to a dealer considering a caravan part-exchange. Thereafter, there are just three factors – condition, condition, condition!
Any caravan that lives the touring life is going to pick up a few scratches, at least, along the way. The trick is to organise any repair work as soon as possible.

Check the inside
Of course, we all know leaving the fridge door ajar when not in use can prevent the build-up of mould and smell by just allowing an essential bit of ventilation. But, there's more you can do.
Simple tasks to give your caravan a spruce up include, for example, replacing carpets, the shower curtain, scatter cushions etc. Shower curtains, especially, can attract mould. It's easy enough to whip them off, run them through a machine wash and re-treat them. If they're still bad, get a cheap replacement.
Plenty of good old fashioned elbow grease will certainly help when it comes to keeping your caravan spick and span. But, there are plenty of tricks you can employ. For instance, use a diluted disinfectant to gently wash the ceiling, wallboards and under the bed lockers – it works a treat!
Your local carpet shop may well be happy to provide you with replacement flooring, cut to fit and finished properly. When it comes to upholstery, it's another matter. This is one of the most expensive items of any caravan to replace – replacement may be better left as a decision for your dealer to make when taking your caravan in from you. Also, your choice of a new interior look might not chime with the next buyer's. Original is usually best in these circumstances.
What's that smell?
Dealers have good noses. They can smell damp in a caravan from a mile off! It's an early indicator that a 'van has suffered from some level of water ingress. Next, any hint of cigarette smoke is another instant turn-off. As are pets.
Chances are, you probably don't even notice your own 'van is a bit whiffy. If you've got a stinking tourer, pop down to your local car parts wholesaler and buy an air freshening smoke bomb (alternatively, ask the dealer who sold you your caravan about such treatments). Or pay for it to be professionally valeted.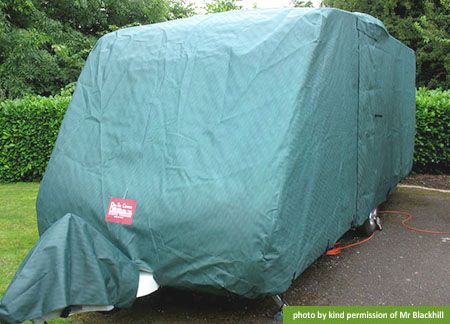 Cover up when you can
Using a caravan cover whilst in storage will prevent damage to the exterior (from tree sap, for instance). But, do invest in a caravan cover worthy of the name. The best are breathable as well as weatherproof, and they have a softer inner lining that won't scratch the bodywork as part of its inevitable movement. Many can be made specifically for your make and model of caravan.
Whether you use a cover or not, do also consider adding an overwintering treatment when you're storing your 'van for a long period. And don't forget the roof.
Using a towing cover whilst in transit will avoid front end stone chips, another possible 'van devaluer.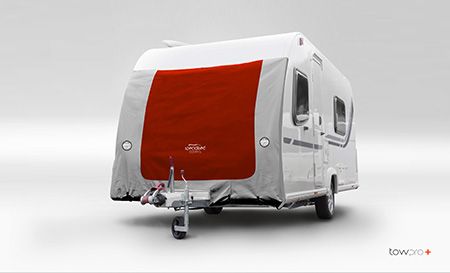 Fit the right accessories
Most added extras (even TV and stereo systems) won't do much to advance the price of your tourer at trade-in time, although don't let that put you off using them to optimise your enjoyment of your caravan.
Some, however, add a premium. Like Tyron Safety Bands, motor movers, tracking devices, solar panels, air conditioning and exterior treatments such as Paintseal and Diamondbrite that add a protective veneer to your paintwork.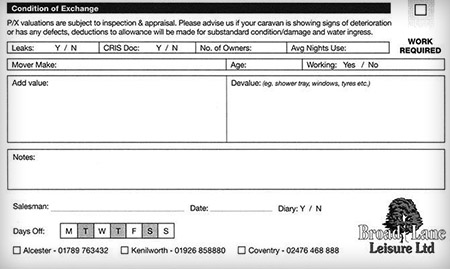 A typical dealer valuation form for part exchanges (click to enlarge)
Get your paperwork in order
Keeping good records of your caravan's service history and any remedial work is always helpful, starting with proof of ownership and CRiS registration.
Also, keep receipts for any extra equipment fitted, as above.
Note, also, for late models there must be a manufacturer-recognised service history for any continued warranty to be valid.
A proper service record will also help a dealer ascertain that a caravan has been cared for and most issues like tyre deterioration, brake wear, appliance faults and other items have been dealt with over time. Dealers will prefer not to have to factor in repair costs as part of a part-exchange valuation.
Honesty is the best policy
The best way to buy your next caravan? Present your part-exchange honestly, maybe even take it to a couple of local dealers for a true valuation, starting with the dealer that's regularly serviced your tourer (if that's the case).
And, as ever, buy locally. In the longer run, even what looks like a price that could be a few hundred pounds in your favour will soon be whittled away once you realise the extra miles you might need to travel to collect it and for repairs and servicing.
Also, be prepared to answer questions about your caravan from any dealer who's looking to buy it. In fact, the more questions, the better. A good dealer will know exactly the right questions to ask.
And finally, don't worry. Far more important is you get the best possible enjoyment during your time with your caravan.
The dealer's point of view on improving your caravan's resale value…
Darren Brown, Managing Director, Broad Lane Leisure:
"Unfortunately though, almost every dealer in the country, oblivious of what the caravan looks like and how it has been cared for, works to the Glass's Guide trade value combined with a percentage of the margin they wish to give away out of the new purchase. Sadly, this usually ends up with a fairly regular formula to create a part-exchange value, which can be gained essentially without establishing true/real condition and value.
"Dealers like us ask questions. We work very hard to establish a real value by understanding exactly what the customer is selling us. Caravan, awning, accessories and equipment etc, establishing service history and condition and allowing customers to share how they have cherished and cared for their pride and joy. It is also highly recommended to have the part-exchange appraised in advance of collection.
"Dealers who do not ask thorough questions leave customers open to abuse on handover day, which is likely to cause distress and anxiety, not to mention additional unexpected cost when the part-exchange is checked and revalued."
John Chaddock, Senior Sales Executive at Leisure Sales in Cheshire, shared his three top tips to optimise your caravan's resale value.
Firstly, he recommended using a protective coating on your caravan, such as Diamond Bright, to help keep it looking newer for longer.
"Secondly, it's important to have your tourer serviced regularly, with an up-to-date service record," said John. "Finally, if your caravan has had one careful owner from new this will help to maintain a better re-sale value."
What's your caravan part-exchange advice?
Got any hints and tips you'd like to pass on to other caravanners on how to optimise your caravan's re-sale value if trading in? Please feel free to add a comment below.
Cost to insure: *
---
factfile
| | |
| --- | --- |
| Model | |
| Base vehicle | |
| Axle type | |
| Dimensions | |
| Shipping length | |
| RRP | |
---
Search our blog
---