The very nature of caravanning means that accidents can and do happen. If you've ever had a bump, been involved in a road collision, a manoeuvring mishap or a little accident inside your caravan, you'll know that many areas of a caravan can prove surprisingly accident prone.
We've taken a look back at our customers' caravan insurance claims made for accidental damage since 2012 to identify the panels and parts of a tourer that are most at risk. The average costs of repair will make you glad you've invested in specialist insurance cover.
Number 1: Windows
The first claim statistic we uncovered revealed that over 12% of claims made over the past three years were for damaged windows, making them the number one most accident prone part of a caravan amongst our customers.
Window repair costs range from hundreds to thousands of pounds, on average though, claims of this sort averaged £1282 to repair according to our claims records.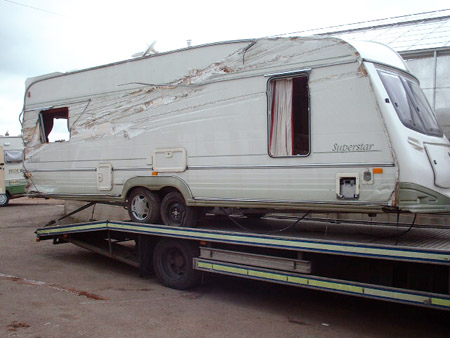 We saw little evidence of any claim patterns when researching window damage, but like panels, windows are vulnerable to scratches and cracks. Claims of this kind really do come in all shapes and sizes; we've handled claims where customers have accidently ripped out their caravan's toilet window after a misjudged manoeuvre. Loose aerials, flying pigeons and kayaks fallen from roof racks have also caused damage to windows! 
Number 2: Side panels
A huge percentage of claims made since 2012 have been for damaged panels. The largest proportion of these claims however, involved panels situated on either side of the caravan.
We suspect that the reason side panels are particularly vulnerable to damage claims is because they are more exposed to debris, stones, and obstructions than other areas of the caravan which makes dents and scrapes far more likely.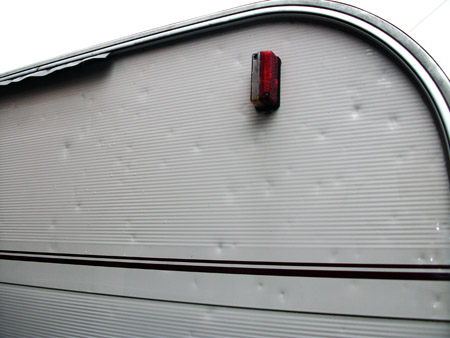 When we looked at panel damage claims in more detail it became clear that claims of this nature had a habit of occurring anywhere and everywhere! Some customers had damaged their caravan themselves accidentally after reversing, parking or manoeuvring – particularly when on the driveway.
In some cases, the insurance repair costs reached over ten thousand pounds, but we calculated the average side panel-related claim repair to cost over £2000!
Number 3: Doors
According to our claims data, door damage is the third most common damage claim made by policyholders.
We've heard from customers whose doors have dented, scratched and in some cases torn off! In most cases, however, door damage was recorded in conjunction with a more serious incident such as a road traffic accident. Because of this, the average cost of a claim involving a door repair comes in at £2316.
Number 4: Roof
We have also heard from a lot of customers who have experienced caravan roof damage in recent years. We suspect this is because back in 2012, we saw a huge influx of insurance claims after severe hailstorms were recorded in various parts of the UK.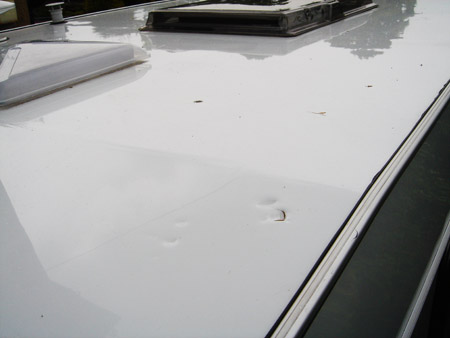 Many customers reported golf ball-sized dents, damaged paintwork and deep markings on the roof of their caravan. On average claims of this nature cost £2358 to repair.
Number 5: Back panels
Our claims data revealed the fifth most accident-prone part of a caravan to be back panels, with claims involving rear panel damage costing £2758 to repair.
Claims of this nature have typically included instances where customers have accidentally hit something when reversing or when a third party has run into them.
Number 6: Front panels
Lamp posts, railings, fences and even wheel bins have all found themselves etched into front panels, our claims statistics also revealed, so remember to be extra vigilant when towing in tight spaces.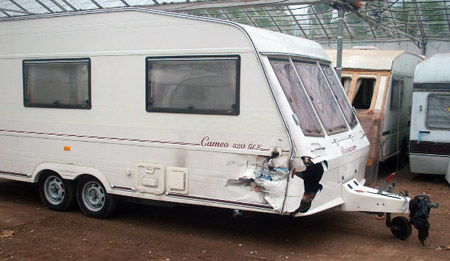 Research indicates that front panels cost an average of £3318 to repair.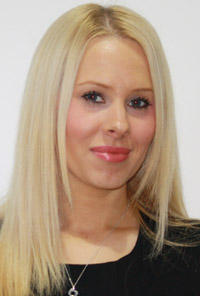 Caravan Guard Claims Liaison Manager, Nicola, reveals another reason why panel damage is so common: "As well as hearing from customers who have scuffed side panels when parking up and manoeuvring, we also hear from policyholders whose awnings have caused damage to the caravan's front panels during high winds and storms.
"We remind customers to be careful when leaving their awning up in these kinds of conditions; if it blows down it can cause serious damage to the panelling."
Number 7: Skylight
We were surprised to see skylight damage rank in the top ten.
Like caravan roofs, skylights are particularly vulnerable to the effects of bad weather such as strong wind and hail.
Number 8: A-Frame
A-Frames proved particularly accident-prone; on average they cost £1150 to repair, making them another area to look out for. Last year we heard from one customer whose caravan had come away from the tow bar and ripped across the A-Frame, jockey wheel and electric cables!
Number 9: Carpets
Damaged carpets also ranked highly in our most common accidental damage claims since 2012. Most customers report spillages and scuffs on their caravan's carpet so repair costs tend to be lower than the other claims mentioned – just £141 on average. 
Number 10: Worktops 
Despite worktop damage claims being few and far between amongst our policyholders, over the past three years, they have cost almost £700 to repair on average. It is well worth ensuring items in cupboards above worktops are secure whilst towing to avoid unnecessary damage.
Other damage-prone areas to be aware of
A number of customers also reported damage to their caravan's paintwork in 2014. Although scratched and cracked paintwork doesn't always result in a huge repair bill, finding a reputable workshop to carry out the work to a high standard can be a bit of a nuisance.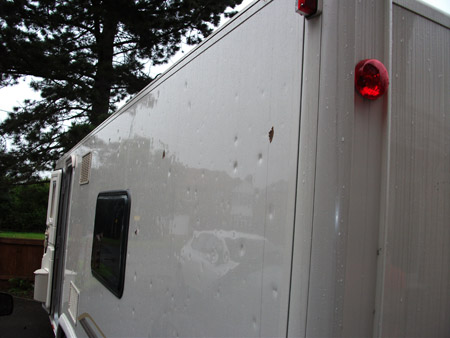 Another reasonably common claim is for cracked shower trays. Again we'd advise against leaving heavy unsecured items such as large shampoo bottles over your shower tray when preparing to tow your caravan.
Have you ever accidentally damaged your caravan?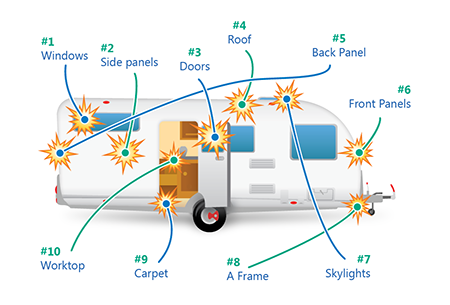 If you've ever had to make a claim on your insurance for caravan damage, which part of the caravan was affected the most? Did the repair costs surprise you? Get in touch using the comment box below!
Cost to insure: *
---
factfile
| | |
| --- | --- |
| Model | |
| Base vehicle | |
| Axle type | |
| Dimensions | |
| Shipping length | |
| RRP | |
---
Search our blog
---