As caravan insurance specialists, we've seen a few spikes in claims for caravan fires in the last 10 years. Luckily, none of our touring caravan customers have been seriously injured by fire but we have witnessed some severely damaged caravans, with claims costs often running into tens of thousands of pounds.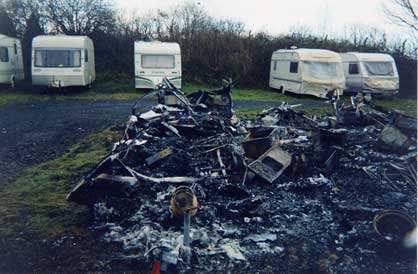 Here are some ways to protect your caravan from fire.
Smoke alarms and carbon monoxide detectors
A smoke alarm (or even two smoke alarms for larger caravans) is an absolute must-buy to protect people in your caravan. They can be picked up very cheaply but as with the smoke alarm in your house, it's important that the smoke alarm in your caravan is regularly tested.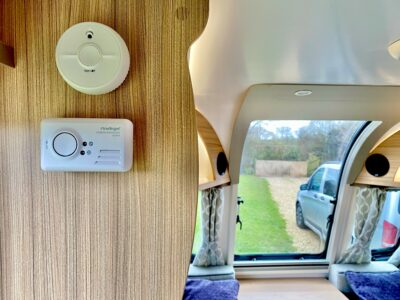 Simply press the button and wait for the beep, which lets you know the alarm is working. Also remember it's important to change the batteries regularly. Listen out for sporadic warning bleeps, meaning the battery is running low and should be changed.
Carbon monoxide poisoning can be lethal in a small confined space like a caravan, so it's definitely worth investing in a detector.
Fire extinguishers and blankets
Some modern caravans do come with a fire extinguisher already fitted. But if yours doesn't have one, add it to your essential accessory list. They can be bought from most camping and caravanning shops, or online, and should be kept in the caravan at all times. Keep them in a convenient location, preferably near the door.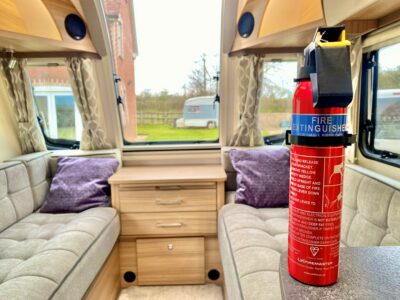 ABC dry powder fire extinguishers are suitable for a variety of fire types including; class A fires which include soft furnishings, woods and fabrics inside your caravan. Class B fires that could include burning liquids such as fuel or solvents. Finally, class C fires that include flammable gasses such as butane or propane. Note that burning cooking oils and fats are classed as Class F fires and therefore could not be tacked by a class ABC fire extinguisher.
Many fire extinguishers have expiry dates some portable ones don't. If yours doesn't have an expiry date then it's a good idea to replace a fire extinguisher every five years or immediately after use.
Fire blankets take up very little room and are a great safety accessory for caravanners to keep in their 'van to protect it from fire.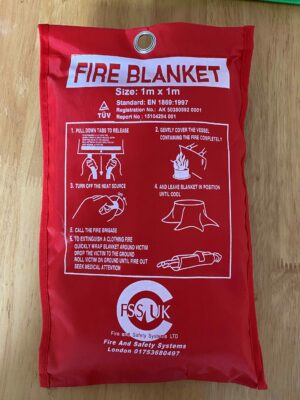 They can be used to put out a small Class F fire as described above (such as a small chip pan fire). Again they can be picked up relatively cheaply from camping and caravan accessory shops or dealerships. Keep them in a drawer near your cooker.
Gas and electric appliances
Your boiler, heating system, and large gas and electric appliances should be checked regularly. This should be done by a trained electrician or Gas Safe engineer to make sure they're in full working order and do not represent an unnecessary fire risk. This will generally be included as part of a caravan service.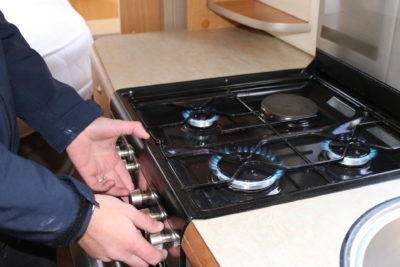 It's also important to take extra care when using the cooker and hob in a caravan and make sure the flame on the gas ring is blue. A hob that has been left on could present more of a fire risk than it would in a domestic home, due to the more confined space and restricted ventilation.
We'd also advise against the use of multi-adapters on plug sockets as these can create an electrical fire hazard. The number of sockets available in a caravan is designed as an indicator of what the system can handle, and will also help to avoid you tripping the caravan sites system by not having too many appliances on at once.
Mobile devices
Take care when charging your mobile devices when away in your caravan and always use the correct charger and power cable that has been recommended by the manufacturer. Cheap chargers which use poor quality components could increase the fire risk in your caravan.
Also, avoid charging your mobile phone, tablet or laptop for long periods and don't leave it plugged in overnight or when you're out.
Barbecues (BBQs)
Many caravans now come with external BBQ points, making the use of a gas BBQ or continental ring style grill even easier and more convenient. But whatever type of BBQ you use it's important that you put ample space between the BBQ and the caravan in order to avoid heat or fire damage if the unit falls over.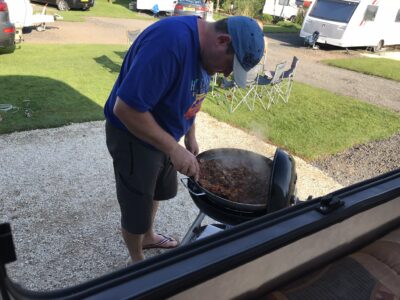 Also, remember that a barbecue should never be used inside an awning or underneath a canopy as this poses a severe fire risk because of the heat rising above the lit flames.
Always leave your BBQ to cool down properly before packing it away. And dispose of any embers correctly – we had one claim in 2021 when the embers from a disposable barbecue left next to a policyholder caravan caused a major fire.
Caravan storage
Choose a storage site where caravans are not parked too close together and that has all the necessary fire precautions.
Over to you…
Got any caravan fire safety advice you'd like to pass on to fellow owners? Please add a comment below.
Search our blog
---