Secure your awning right and it'll help your awning withstand all weather conditions. Here's our handy guide…
Your awning will of course come with a set of pegs – typically, plastic and generally more suited to a softer surface where they're easier to put in as well as take out again.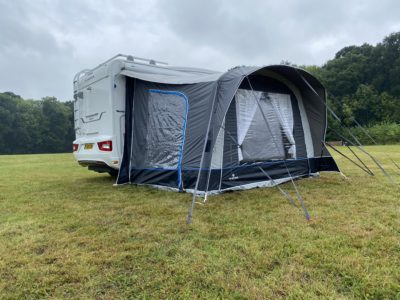 Depending on where you plan to pitch your awning, however, you might want to supplement these with other types of peg.
Almost inevitably, there'll be occasions when you need a bit more help, most typically when you find yourself pitching on particularly hard ground.
So, here's our round-up of awning pegs along with plenty of pitching and pegging down advice.
Also, see our video on how to put up your awning on different pitch types and how to set up your awning for maximum strength.
Guide to awning peg styles
 There are various types of awning peg out there, using different materials. As a general rule:
Ideal for most soft to medium ground conditions. Use longer pegs for main and side guylines, shorter pegs for wide and front walls.
Use for when pitching on medium to hard ground but those with a V-profile are perfect for main guylines and U-profile for general guylines. Shaped pegs like this won't twist when they're in the ground, either.
Ideal for groundsheets and footprints (the extra layer of protection and insulation you might want to use on particularly hard ground).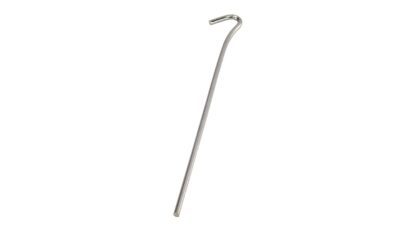 Skewers can turn in windy conditions. To overcome this, cross-peg by putting in two pegs together at opposing angles.
Not so prevalent these days, but wooden stakes are great for main guylines in soft ground conditions
A generic name given to rock pegs, i.e. pegs that nail into particularly stony ground.
Come in steel or nylon to suit various ground conditions and great for use in windy weather to keep your awning secure.
Ideal for rocky or gravel pitches, or a seasonally pitched awning. No hammer needed but effortless to screw in and remove with a cordless drill!
Awning peg tips
Different awning pegs work best in different terrains – from grass, to sand, to rocky hardstandings. The weather will have an affect on ground conditions, too.
It's always worth asking for advice on where you'll be pitching from the campsite operator before you travel. They'll happily make recommendations.
Hammering in your awning pegs in at a 45-degree angle will make them more secure.
Always fully peg out your awning – just in case the weather suddenly takes a turn for the worse.
Using a mallet to hammer in your awning pegs, rather than your feet, will help prevent accidents and possible damage. So will using a peg extractor. Remember the adage for mallet heads: hit metal with metal, wood with wood, plastic with plastic!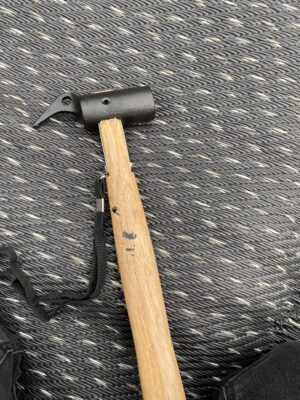 Don't forget the groundsheet…If your awning has a loose (i.e. not zipped in) groundsheet, using suitable pegs to peg it out will help it stay in place. Look for smaller pegs with a "mushroom" head to do the job.
Take your awning down if stormy weather really is threatening, if it's safe and possible to do so.
Clean all, and repair any damaged pegs when you get home. Plus, replace any missing pegs (before you forget).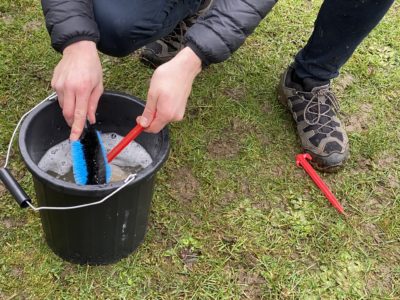 Star Player #1
Outwell peg boxes
The Guyline Peg Box is a set of 14 plastic pegs in their own self-contained box, these are ideal for soft to medium ground. At 22cm long, their flat tops also make them easier to push in, while the distinctive luminous colouring helps make them easy to spot at night – this preventing a potential trip hazard.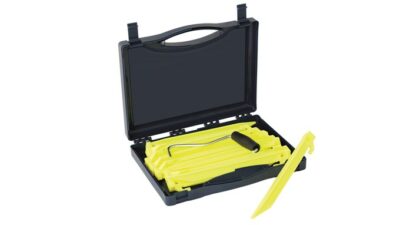 The Spike Pegs come in a set of 20, each 20.5cm long. Made from steel, they can cope with normal, soft or even stony ground. The T-shaped tops mean they're easy to knock in as well as extract.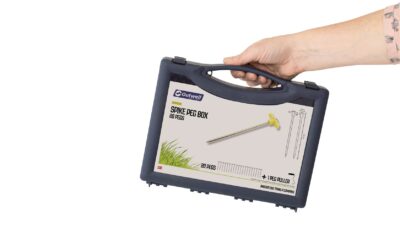 The top-of-the-range Super U-pegs get their name from their profile, which gives them extra structural strength. You get 20 pegs per box, each 24cm long in all-steel.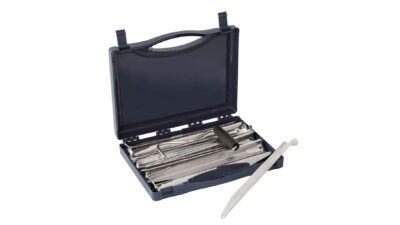 Key features Each set supplied with its own plastic box with integrated carry handle and peg extractor, plus two-year warranty
Expect to pay £14.99 (Guyline Peg Box) £19.99 (Spike Peg Box) £27.99 (Super U-peg Box)
For more info www.outwell.com
Star Player #2
Delta Peg Pack plus 200mm Peg Puller
A unique, patented design that's some three decades old now and claims to be "the strongest and most effective on the market". Delta pegs look like no other and indeed perform like no other – their shape means they are forced more into the ground and won't be pulled out by guyline tension.
An added bonus is, because they hammer flush into the ground there's no trip hazard.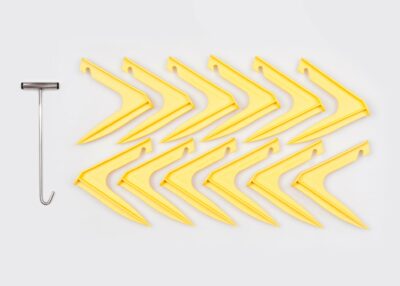 Suitable for all ground conditions, approximate dimensions of each peg are 160mm x 160mm x 24mm.
The price here is for a 12-peg pack but larger pack sizes as well as metal versions are also available.
Key features Nylon composite construction , UK manufactured
Expect to pay £36.49
www.deltagroundanchors.co.uk
Star Player #3
Quest Drill Peg
For the hardest of grounds, this peg comes with a top section that lets you use a rechargeable drill to screw it in as well as back out again (you'll need a 13mm socket). The plastic upper section also has hooks so you can pull it out manually, too.

Key features Superior quality steel, 20cm long, hex head
Expect to pay £1.03 each
www.questleisure.com
Star Player #4
Megascrew 40 Pack
A company dedicated to the manufacture and selling of screw-in awning pegs.
This is the top-of-the-range pack that also includes a drill adaptor (for attachment to a suitable 12V drill) and a zipped fabric peg bag with webbing handle.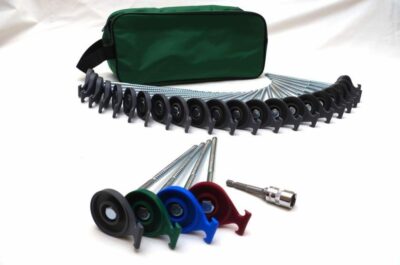 There's a choice of colour for the plastic heads – blue, grey, or red – with a 45mm diameter surface that's much larger than typical. That doesn't just make mishaps when using pegs less likely, the pegs are also more visible.
Key features Made in Britain, 20cm peg length, suitable for grass and hardstanding pitches
Expect to pay £55.99
www.megascrew.co.uk
Star Player #5
Blue Diamond Eco Warrior Tech-Peg
Just the type of peg you need when you're pitching on harder ground.
Like the other brands here, Blue Diamond has a full portfolio of pegs as well as associated accessories (e.g. mallets) to suit all occasions.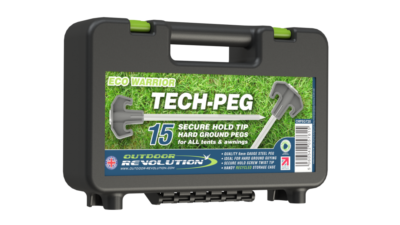 Price is for a set of 15, complete with sturdy plastic case.
Key features UK-manufactured, 6mm gauge steel, recycled plastic heads
Expect to pay £12.99
www.outdoor-revolution.com
Star Player #6
Vango Groundbreaker Glow Peg Set
Vango sells these rock pegs as "perfect on rough ground… offering maximum strength". There are 20 pegs in the set, each with a high visibility plastic top that glows in the dark, meaning they can be easily spotted at night.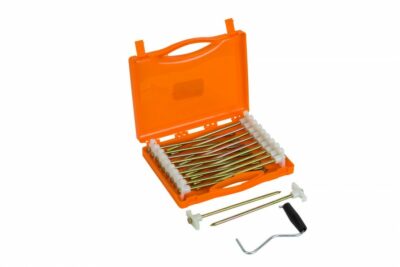 Key features High visibility factor, storage box, 20.5cm peg length, peg extractor included
Expect to pay £17
www.vango.co.uk
Star Player #7
OlPro Rock Pegs
Another set of pegs – 20, in this instance – designed to go easily into especially hard surfaces – thanks to a sharp point and threaded lower shaft. But, says OlPro, they're also suitable for grass.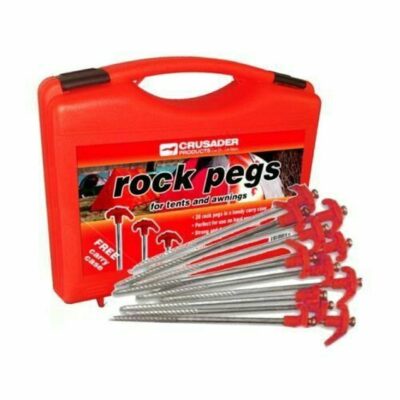 Each peg has a red nylon head. That plastic carrycase in matching red should be easy to spot, too.
Key features  20cm long, 7mm diameter, carrycase included
Expect to pay £18
www.olproshop.com
Star Player #8
Blue Diamond Eco Plastic Pegs
Best suited to softer ground, these are made using recycled plastic (hence the Eco name). Note the cross-section shaft design, which gives pegs like this their strength and durability. There's also a small hole to help when you're pulling the peg out of the ground.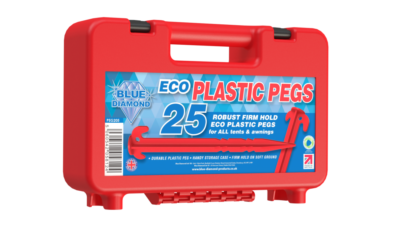 Price is for a set of 25, complete with a sturdy plastic case.
Key features UK-manufactured, recycled polypropylene construction,
Expect to pay £9.99
www.outdoor-revolution.com
Awning cover
And don't forget Caravan Guard's specialist motorhome and caravan insurance will cover both your leisure vehicle and awning should they be damage by a storm. Proper pegging could be the difference between your awning and caravan getting damaged or not in high winds. But it's always best to take down your awning in the event of severe weather conditions.
Over to you…
Got any advice on awning pegs you'd like to pass on to fellow caravanners or motorhome owners Please feel free to add a comment below.
Cost to insure: *
---
factfile
| | |
| --- | --- |
| Model | |
| Base vehicle | |
| Axle type | |
| Dimensions | |
| Shipping length | |
| RRP | |
---
Search our blog
---