If you set up your awning correctly it will help to protect it against unnecessary damage should the weather turn windy.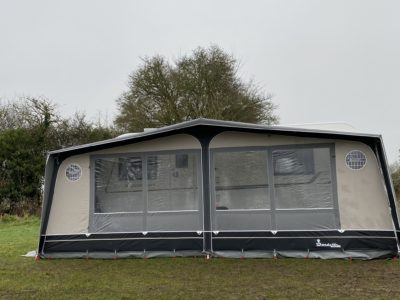 Each year, we deal with hundreds of claims for damage to awnings or caravans due to stormy weather – either when touring or on a seasonal pitch. The good news is that Caravan Guard covers awning storm damage as standard under our caravan insurance policy subject to inclusion of the awning's value in your insured sums.
In this video, we ask Isabella Awnings for their top tips on how to set up your awning for maximum strength and to protect it from damage.
It's important advice for touring caravanners but it's even more critical for seasonal pitch caravanners who will often leave their awnings up for long periods of time.
Tip 1
Make sure the awning is the correct size for your 'van.
If your awning is too big you won't be able to get the right amount of tension into it and it will sit baggy on your 'van. If it's too small it will be very difficult to peg down. Most awning manufacturers offer a size guide on their website.
Tip 2
Centralise the awning
Once your awning is in the rail, make sure the awning is in the centre of your caravan if it's a full awning.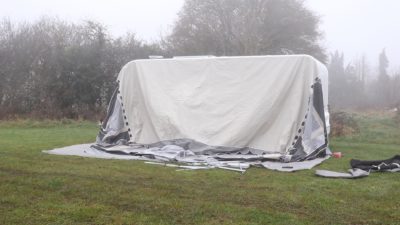 Tip 3
Set up your awning poles correctly
Lay your poles out in front of your awning and then insert all the poles through the canvas as per the manufacturer instructions, usually starting with the front centre vertical leg pole and centre roof pole. This will give you space to work underneath your canvas.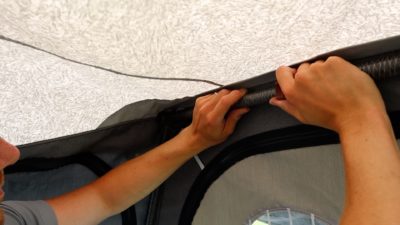 Then work your way out from the centre, placing the poles into the correct positions. Once the main body of the awning is up, make sure (if your model has them) to place the canopy poles in.
Having the poles in the correct place will make sure it sits tightly against your caravan when you peg out.
Tip 4
Tension your poles
For maximum stability, it's crucial to get good tension into your awning poles. You can do this by hand or by using a tensioning tool like the Hercules, as well as power grips.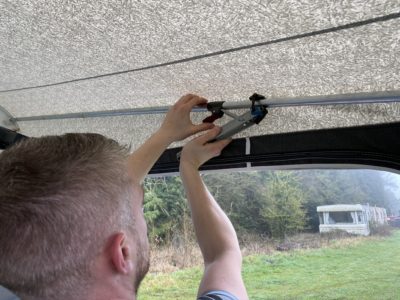 Go around each pole making sure you get the maximum tension you can. If you slacken off the side panels this will enable you to get extra tension into the roof.
Tip 5
Add extra poles and storm straps for stability
If you have a seasonal pitch awning you might want to add extra support poles in the roof and definitely add storm straps for extra stability and to make it more rigid.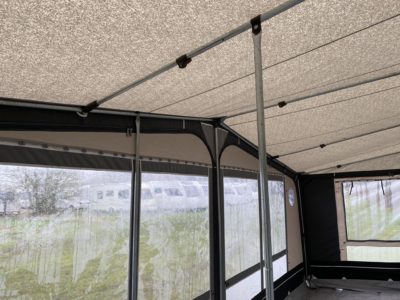 Even on a touring awning, bad weather can strike at any time, so we'd recommend always fitting storm straps.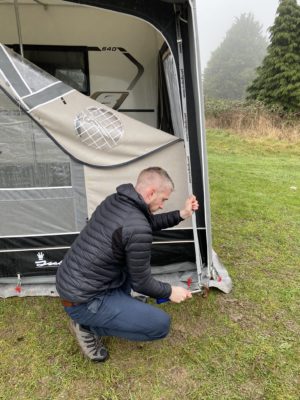 When attaching the storm straps follow the manufacturer's instructions on attachment, placement and distance.
Top tip: Once in place twist the flat straps to reduce vibration and stop them flapping against the awning in windy weather.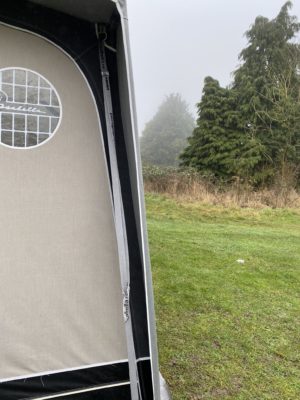 Tip 6
Use the right awning pegs
Make sure you use the right pegs for the ground you're pitching on to, whether that be grass, a hard-standing or soft, muddy conditions.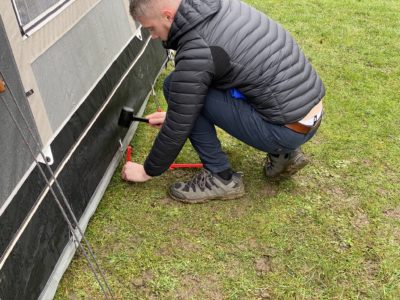 Tip 7
Peg out your awning correctly
Regardless of your awning type, always peg down the back two corners first slightly underneath the front of your caravan so it sits tight against your vehicle.
Before pegging out also make sure you close all the awning doors and that all the panels are fully zipped up.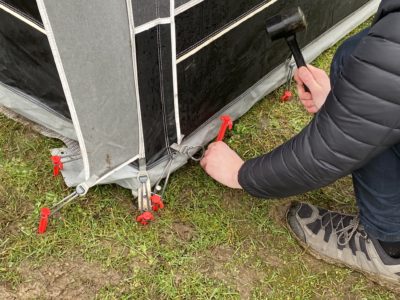 Then go to the front corners of the awning, pull the legs into the seam and peg the foot out to give you a taut straight line to peg out the front of the awning. Use every pegging point on the awning and where a panel meets the main part of the awning to cross those pegging points over for extra tension.
If you're on wet and muddy ground, you might want to peg through your groundsheet to help keep your awning cleaner.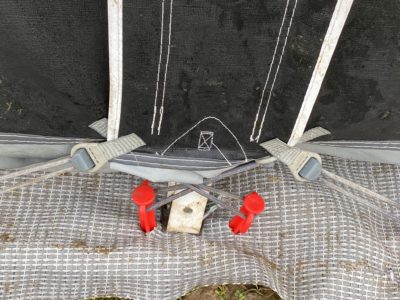 Top tip: Whichever door you're using on the awning, slightly angle that peg so when you open the door the awning remains tensioned.
Tip 8
Check awning panels and roof
Once the awning has been fully pegged out, check that all panels and the roof are nice and taut. If not, you might need to re-peg, making sure that first pegging point at the back underneath the caravan.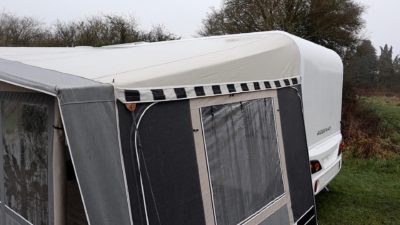 Tip 9
Peg inside the awning
Once you're happy with the outside of the awning, go inside and tuck the skirt in to prevent wind and water from getting in.
Some manufacturers also have products to make your awning fit nice and snugly to your caravan, such as Fix-on, bracket pads or seal blocks.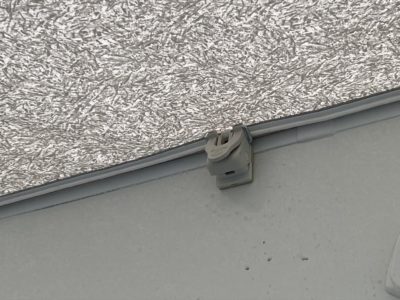 Peg the inside of the awning using the pegging points and finally, lay your carpet on top and you're all set to bring in all your awning accessories and furniture!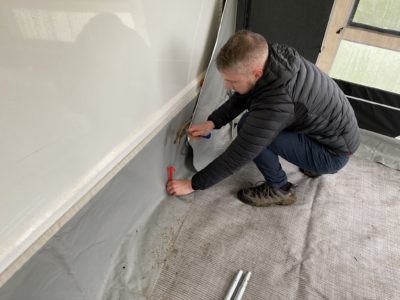 Tip 10
Re-tension poles when temperatures rise
It can be cold when first setting up your awning, particularly on a seasonal pitch if it's at the start of the season. Make sure you re-tension your awning poles as temperatures rise as you'll be able to get more tension into the roof to prevent it from sagging and rainwater collecting there. If using an air awning, also alter the air pressure as temperatures increase.
Take it down
Remember to always take down your awning if stormy weather is forecast and if you're on a seasonal pitch ask your site owner if they can take it down or check up on it when you're not there.
Over to you…
Have you got any tips to share on setting up your awning correctly? Feel free to add them to the comments box below.
Cost to insure: *
---
factfile
| | |
| --- | --- |
| Model | |
| Base vehicle | |
| Axle type | |
| Dimensions | |
| Shipping length | |
| RRP | |
---
Search our blog
---