Pitch up for the season. 
Here's our pick of the top seasonal pitch awnings
…plus some useful advice
.
When you're ready to get out there… you might want to stay out there. That's why seasonal pitching is on the up. And once you've got your caravan permanently pitched for the months ahead, why not accompany it with an awning that's tough enough to stay in place for the duration?  
As well as the top tips here, we've picked seven seasonal pitch awnings you might want to consider for longer-term pitching.  
Top Tips:
Seasonal pitching means 

leaving your awning up on your caravan for a long period. 

This covers April-October, at least, i

.

e

.

 the main touring season here in the UK.

 

Fabric is key. Look for a material that you can be sure will perform in all weathers and has 

good 

UV-resistance so colours won't fade in prolonged periods of sunshine.

 

Because of the better quality fabrics and key features

,

 like heavier-duty zips as well as – usually – stronger poles, expect a seasonal pitch awning to be heavy. 

 

Make sure you have the right pegs for the job, too. Remember the adage: if they go in easily, they'll come out easily.

 

Be prepared to take down your seasonal pitch awning if the weather takes a particularly nasty turn. Your campsite should be able to advise.

 

Also c

onsider, 

where you'

re going to stow any bulky items you'd otherwise leave in your awning when you take it down at the end of the season.

 

Don't forget to budget for options – that's everything from an annexe

,

 with or withou

t

 bedroom, carpet, 

extra

 lighting and storage etc. 

Also

, items such as 

extra 

poles

 and 

storm 

kits or 

straps. 

 

You'll get the best advice from experienced caravan awning retailers. Don't

b

e afraid to ask!

 
Seasonal pitch awning insurance considerations
Check your caravan insurance policy to see if your awning is covered when pitched for extended periods. 
Caravan Guard's caravan insurance provides cover for storm damage to your awning or caravan should the weather take a turn for the worst (subject to inclusion of the awning's value in your insured sums).  Even when your not with your seasonally pitched tourer.
When setting up for the season, make sure your seasonal pitch awning is set up for maximum strength to protect it from damage. 
And because caravan awnings are extremely susceptible to high winds they should be taken down if severe weather is forecast or if conditions become noticeably windy. Checking with your site owner if they're able to take it down for you if stormy weather should strike. 
Star Player #1
Isabella Ambassador Dawn 
The flagship 
Described by Isabella as "the ultimate touring awning, but also designed for seasonal pitching", this is also the Danish manufacturer's best-selling model.  
You get a choice of pole as well as size for this full, 2.5m deep awning – carbon fibre, 26mm steel or 32mm extra-strong steel.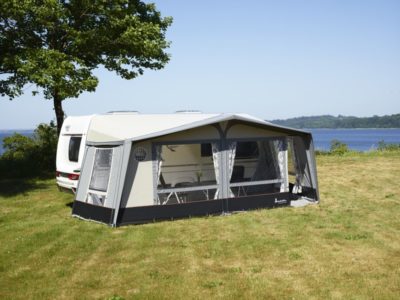 Isabella's own acrylic fabrics include 295g/m2 for the front and sides and 285g/m2 for the roof (see also the Air Cirrus North below). Also, there are mosquito panels on both sides, plus an upper vent triangle.  
In total, there are four removable panels with up to six door options.  
It also comes as standard with curtains, veranda pole, draught skirt, universal wheel arch cover, Fix On brackets, Typhoon storm sashes, plus bags for the canvas, frame and pegs.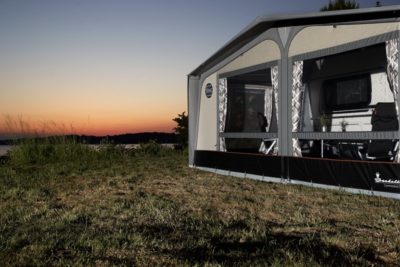 Weights vary corresponding to size, of course, but can be anything between 34.6kg and 85kg.  
Key features Choice of frames, top-rated fabrics, triple-layered roof, full range of options, Isabella pedigree. 
Expect to pay From £1,713 
For more info: www.isabella.net 
Star Player #2
Walker Concept 280 
A Dutch reality 
Produced in the Netherlands, a country that's well versed in outdoor life, this is another seasonal pitch awning that puts quality foremost.  
Also available in a 240cm depth, Concepts are full awnings that feature particularly heavy–duty roofs and walls that are coated on both sides and washable, along with windows with blinds using covered zips. Both sides have mesh ventilated windows.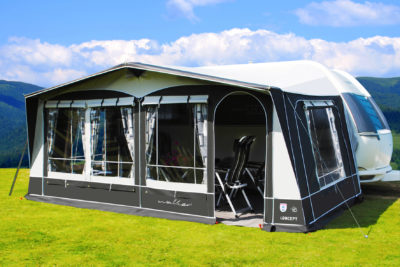 The front walls are interchangeable so you can choose on which position the door will be. Plus, there's a double skirt at the bottom.  
Special features to look out for include a "double wing", which make sure a better fit on shaped caravans, easy-lock clips, easy set-up locking pads and heavy-duty elasticated pegging points.   
All poles are steel, often seen as the best option for seasonal pitching, 28mm for the roof, 25mm elsewhere. Choose from 17 sizes. Roof lining, storm straps, power grips and frame tensioner are among the options.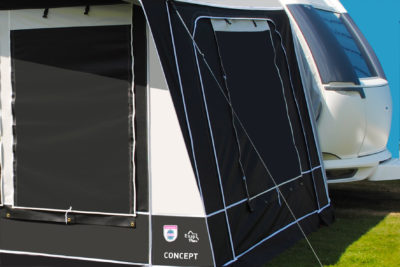 Key features 525g/m2 PVC roof and walls, steel roof poles, covered YKK zips to all windows, internal PVC mud flap, mesh ventilation to side windows, double skirt, interchangeable front panels, draught skirt and wheel arch cover included, 24-month guarantee, full range of options 
Expect to pay From £1,622 
For more info: walker-awnings.co.uk  
Star Player #3
Dorema President XL280 De Luxe 
TenCate fabric, with added coating to minimalise the effect of dirt sticking, is the pointer towards this awning's suitability for longer-term use. At the front, both panels can be rolled down or zipped out altogether.  
As standard, this full awning comes with steel poles (25mm for sizes 6-17; 28mm for 18-22), plus you get two extra support poles and two additional front legs (size-dependent).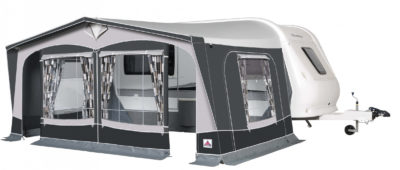 Aluminium frames are available as a lighter weight alternative, but they're not recommended for seasonal pitching.  
Other key features include a high-level zipped ventilation panel, flyscreens to both side panels, and double anchor hooks so the mud flap can be inside or outside. 
As a guide to weight, a size seven is some 35kg.  
Key features TenCate coated polyester roof and walls, mud flap can but inside or outside,  
Expect to pay From £1,143 
For more info: www.dorema.co.uk 
Star Player #4
Isabella Air Cirrus North 400 
An inflatable first 
There's no doubting Isabella's pole position (pun intended) when it comes to traditional seasonal pitch awnings. But the Air Cirrus North 400 represents its first move into inflatable awnings. And yes, it was designed from the outset for seasonal pitching.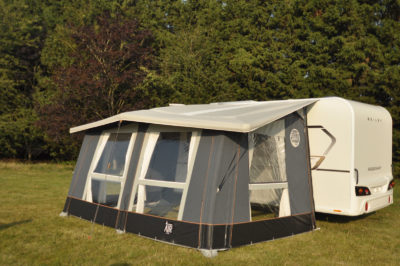 And, of course, it uses proven Isabella materials, such as the acrylic for the front and sides that are fibre-dyed, to prevent any fading in the sun. And there's a lighter PVC, triple-layered roof with exterior coating that's also designed to minimise condensation, while the all-round canopy helps keep the awning cleaner, adds protection and contributes to the distinctive overall look.    
Other key features include light panels in the roof, four removable panels and two door options, mosquito nets on both side panels and inflation pads at the back to give a tight seal against your caravan. Also as standard are draught skirt, verandah tube, wheel arch cover and the company's own Typhoon storm straps. 
The Air Cirrus North is 400cm x 275cm and has a starting weight of some 35.5kg. 
Key features Single-point inflation with isolation valves, 295g/m2 Isacryl main fabric, Isabella pedigree, top quality materials throughout 
Expect to pay £1,990 
For more info: www.isabella.net 
Star Player #5
Vango Vienna 400 
Good nights and days 
Interesting, for this is actually an inflatable porch awning. Yet, thanks to features such as the TenCate fabric, Vango assures it's suitable for seasonal pitching, although it adds it means April to October specifically, and you're best taking the awning down in the event of strong winds or snow.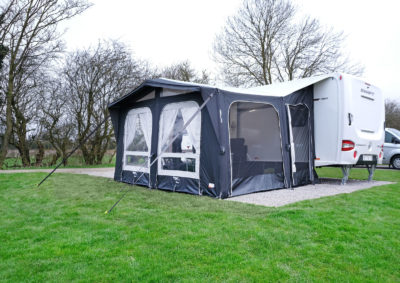 Vango puts pitching time at around the 20-minute mark.  
That main fabric is also designed to reduce condensation – often a particular problem for inflatable awnings, especially, while the Skyliner adds a layer of thermal protection as well as condensation reduction in the ceiling. 
Those inflatable tubes – Vango's term is AirBeam – are pre-angled for optimal headroom as well as providing a more wind-resistant overall structure. Doors are Multi-Flex, which means you can zip them fully closed or fully open, or partway – and removable. There's also an integrated rear door with mesh panel to aid ventilation as well as keep bugs out.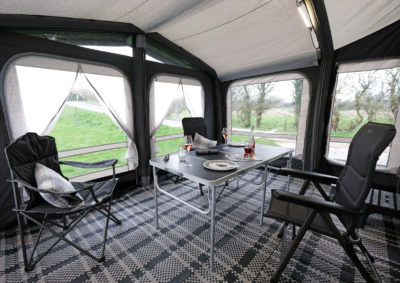 The Vienna also comes with Vango's SkyTrack hanging system, for adding pocket storage and/or lighting. Total weight comes in at 38.8kg. 
Key features Sentinel TenCate Residential fabric, AirSpeed valve, skylight roof windows, reflective storm straps, adjustable pegging for uneven ground, draught excluder pads, PVC draught skirt, two wheel arch covers, steel rock pegs. 
Expect to pay £2,100 
For more info: www.vango.co.uk 
Star Player #6
Outwell Ripple 380SA 
Part of the new wave 
Inflatable pole technology saw several leading tent manufacturers start eyeing up the awnings market – Outwell being just one. Renowned for its family tents, especially, the Danish manufacturer was able to adapt its tent-making expertise to awnings like this, the Ripple 380SA.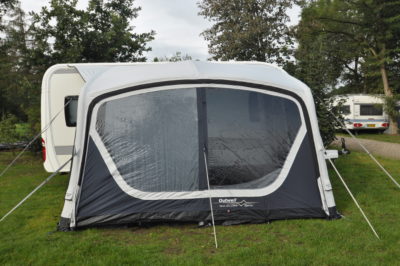 It also boasts the flexibility of any porch awning, relying on as little as 44cm of rail attachment, although you'll probably want to make sure it doesn't cut across any windows on your caravan.  
The main fabric is Outwell's own Outtex HD, a dense-weave, highly water-resistant Taslan polyester that has similar qualities to polycotton and bodes well for longer-term pitching.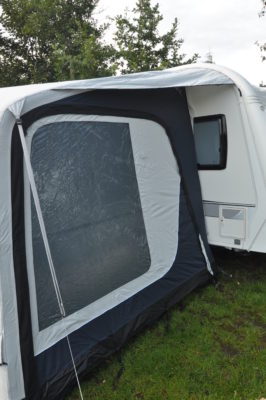 It's packed with features, too. The draught skirt includes two storage pockets, windows are tinted (for better privacy and sun-reflection), clip-on storm straps, rain protection covers over the side doors, insect-proof mesh sections and more. 
Key features Outtex HD fabric, single-point inflation, removable front and side panels, also available in 320 and 440 versions. 
Expect to pay £1,199.99 
For more info: www.outwell.com 
Star Player #7
PRIMA Classic Air
Standing out
PRIMA has quickly become a respectable name in the air awning market, with premium fabrics, quality construction, and innovative design features that stand out from the crowd.
The Classic is PRIMA's premium air awning and incorporates the quality fabrics and construction techniques you would expect on a seasonal pitch awning. They say it's suitable for extended periods away as a practical porch alternative to poled awnings, and that the PRIMA Classic feels like an extension of your caravan.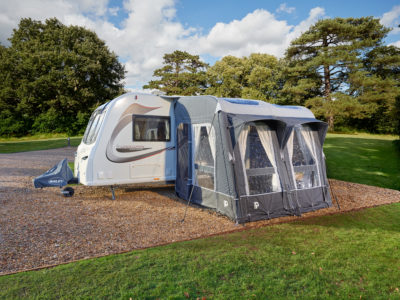 The Classic Canopy is 250cm deep and available in two widths; 260 and 390, and PRIMA's patented Flexi-Inflation System allows you to inflate each pole individually or all-in-one for ease.
Key features Integrated storm straps, large skylights with zippable curtains, reflective trim around the doorways, fully removable no trip doors – great for bikes, wheelchairs and prams. 
Expect to pay £849.99 
For more info: www.primaleisure.com 
See our competitions page as we have a PRIMA Classic Air Awning to giveaway.
Over to you…
Got any advice on seasonal pitch awnings you'd like to pass on to fellow caravanners? Please feel free to add a comment below. 
Cost to insure: *
---
factfile
| | |
| --- | --- |
| Model | |
| Base vehicle | |
| Axle type | |
| Dimensions | |
| Shipping length | |
| RRP | |
---
Search our blog
---