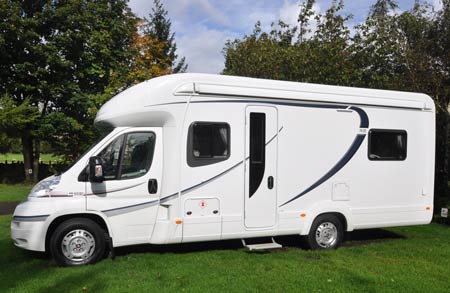 Island beds are great. Space to three sides and supremely comfortable. But, how to squeeze one into a motorhome without literally going to great lengths?
Auto-Trail has the answer in this latest addition to its Tracker line-up. Considering there really is something for everyone in the Auto-Trail portfolio – with its choices of alternative seating plans and rooflines for nearly every model – it's amazing the company has found something new for 2013. But here it is, and it's the biggest (longest) Tracker yet, as well as being the most expensive. All £50,000-plus and 25ft (less an inch) of it.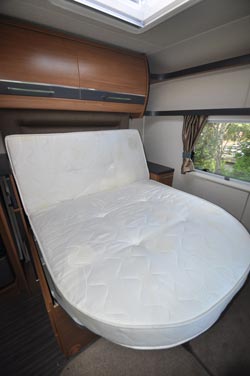 The key feature is indeed the island bed, set at the back of the vehicle but, somewhat uniquely, it's fitted transversely. Now, officially that fixed bed is only 6ft 2in long, and with rounded edges of course. However, it's a simple enough job to pull the mattress forward for a few extra (vital?) inches, although of course this does restrict movement around the bed itself.
Better still, the alignment and reclining backrest feature means you can sit up fully and view the world beyond via the windows opposite and to your left. Or the Heki rooflight overhead. Or watch TV. It's all pre-wired for one here; you just need to add your own bracket and flatscreen monitor.
Not that this Tracker lacks in terms of latest entertainment technology.
The Media Pack may be an option, but not a single Auto-Trail has been built without one since it was introduced some three years ago. To be brief, for an extra £999 on top of the vehicle price quoted here it gives you a 15in TV screen (mounted above the cab for viewing from the lounge) with Freeview receiver and a double-DIN CD/radio/DVD with sat nav. If you want more, investigate the Media Plus Pack, with its satellite possibilities.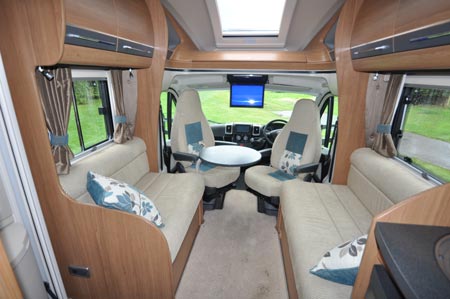 Because this is very much a British-built motorhome, it gets the kind of full kitchen we expect here in the UK. That means a full cooker, plus microwave, large fridge-freezer, sink with drainer (OK, it's not the largest, but there is one), and no stinting on storage or worktop space. Extra lighting (indeed, throughout the whole vehicle) really does help to highlight everything here
The comfort continues to the lounge, with its two short settees and a choice of round table (for coffee time) or free-standing table foe meals.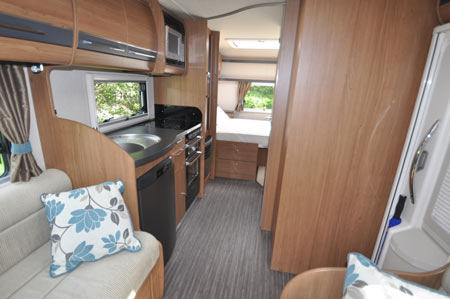 Storage is another aspect where this Tracker excels, although the facility to lift the frame for internal access to underbed area would have been the icing on this cake.
As it is, there are lockers in abundance, including exterior-access, although it does lack the cantilevered low-level outside locker that's sported by so many motorhomes.
Back inside, it's strange to see a Truma heater here. Most vehicles these days opt for a combined blown air system with hot water tank, all tucked away in a seat base. Auto-Trail reckons its customers still like to see a fire front. The big bonus here is, as the latest model, the rattles have been completely extinguished and the control knobs have a much more positive feel to them. Indeed, Auto-Trail has been working hard – and to great effect – on reducing the unwanted noises you so often get with coachbuilt motorhomes, whether it's from fitted equipment or just to do with body mountings and bodywork creaks.
Here's a vehicle that's well in keeping with Auto-Trail's long-held reputation for producing luxury on four (sometimes six) wheels. It's a very stylish newcomer and – at the start of the 2013 season – has very few obvious rivals. Indeed, the alternatives listed below are about as close as you'll get, so far.
Also remember that at this value of over £50,000 Caravanm Guard would require you to fit extra motorhome security, the insurance quote below is based on the customer fitting a Thatcham Category  1 approved Alarm system.
Verdict
Comfort-loving couples who want a good night's sleep? Look no further
Plus: Superb equipment levels and lighting. Comfortable throughout. Excellent washroom. Interesting new floorplan
Minus: Some early bed issues. Shower not ideal for taller folk
In-a-nut-shell: Blissful

Cost to insure: £302.50*
Fact file
Auto-trail tracker RB, based on Fiat Ducato maxi, 2.3-litre, 130bhp, euro v
Price from £50,820
Dimensions 7.60m l, 2.35m w, 3.03m h
Maximum weight 4250kg
Payload 770kg
Key options media pack £999, media plus pack £1,799, sport line £599
Security and safety central locking to all doors, abs, driver's and passenger's airbags
Further reading n/a
MPG estimate 28-32
More info auto-trail (www.autotrail.co.uk)
*Insurance premium for this motorhome based on Auto-trail Tracker RB, £50,820. Fitted with Manufacturer's Immobiliser and Thatcham Cat 1 Alarm system. Kept on driveway at home at TD9 8ED. Insured & spouse, 50 years old, professionals, with no claims, convictions or health conditions in last 5 years. 5 years transferred NCD, 5 years motorhome driving experience. Members of motorhome club doing less than 5000 miles annually. European insurance cover for motorhome costs extra – please call for quote. European Breakdown is £43 extra. Premium includes Insurance Premium Tax (IPT) at 6% and is correct as of 20.11.12.
Cost to insure: *
---
factfile
| | |
| --- | --- |
| Model | |
| Base vehicle | |
| Axle type | |
| Dimensions | |
| Shipping length | |
| RRP | |
---
Search our blog
---