Popular caravan layouts for the season ahead? The evidence is growing that more and more folk are seriously considering the merits of twin single beds.
Plenty of us have discovered the fixed double– and just as soon realised its biggest disadvantage: if one person wants to get out at the wrong time (middle of the night emergencies, for example) it so often means disrupted sleep for the other.
There are two solutions to this: an island bed (with space around it to get out either side – but that's not always as simple as it sounds). And this, the two singles arrangement.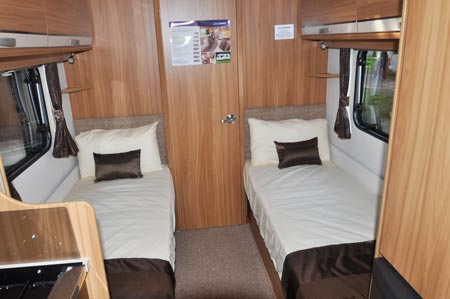 Add in the bonus of a generous size end washroom and you can see why this latest Quasar from Lunar has all kinds of appeal.
For how many, though? This is a four-berth with a bit of a twist. Or, it's perfect for couples who just occasionally want to take the children (or grandchildren) with them.
Of course, Lunar's enduring legacy is one of lightweight. There's still quite a body length here. And it's noticeable how much of it is beyond the wheels, although the lighter overall weight definitely brings it within reach of more potential towcars.
Inside, this all-new Quasar adheres to the current trend for a two-tone finish to the upper locker doors. Again, it's an overall look designed to appeal to many and upset few. Consider that a big advantage, especially when it comes to trade-in time. Meanwhile, there's nothing to stop you jazzing things up with anything from different cushions (or covers) to carpet runners etc.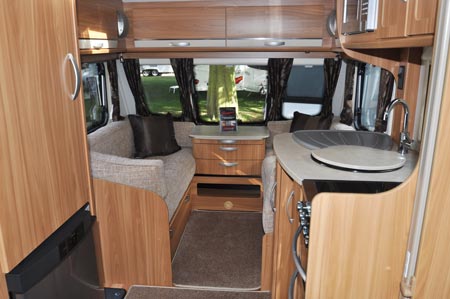 The lounge tends towards cosy rather than out-and-out sprawling. As for the sleeping, the settees translate into 5ft long (child-size) singles, but you can make a double that's a sizeable enough 6ft 7in x 5ft.
For full family use, then, this floorplan could see the children talking the single beds while mum and dad get the benefit of the use of the lounge when the kids have been put to bed, and it's not too much hassle to turn the seating into that big bed.
The rear singles are both 6ft 2in long and 2ft 3in wide. Why is it that bed sizes are still easier to comprehend when we quote them in imperial?
The kitchen is also an area where there's a bit of compromise. An add-on drainer means there is a bit of work surface when you need it, but there's otherwise little elbow room. A microwave oven is standard (a Daewoo 800Watt model), but you could request it's left out in lieu of cupboard space at the time of build; it's a no-cost option.
Putting the fridge over the wardrobe frees up a lot of extra storage within the kitchen module. That fridge may look a bit small, but don't forget it's one of Dometic's latest 8-series models. That means it has a removable freezer section, should you wish to use the whole space as a larder only. It makes a lot of sense for many folk.
Other cooking facilities include a three-ring gas hob with electric hotplate (always a boon if you've paid upfront for your electricity on site).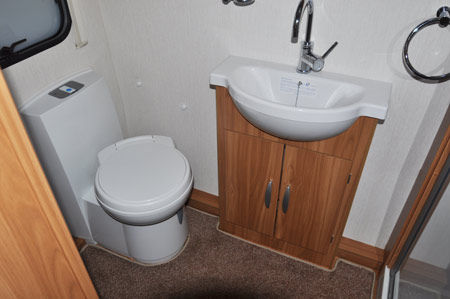 At the back, you're unlikely to have complaints about lack of space in the washroom. A swivel-bowl toilet takes the offside wall, shower cubicle the nearside corner, a sink between the two. It leaves good changing room space, just bear in mind the wardrobe is a short walk away.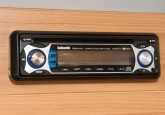 Did we mention family appeal? There's provision to add a TV in two areas, and the ready-supplied aerial comes with a signal status indicator. Plus, there's a stereo radio/CD with MP3 connectivity.
As well as being lighter, pricewise this Lunar also stacks up well against its obvious rivals. That indefinable quality that we often call "showroom appeal" is perhaps missing slightly here, but that's no bad thing. It's the bells, whistles and fancy bits that tend to break first. This 'van sticks with good old traditional values – and is all the better for it.
Verdict
Luxury for two, but with the capability to take a couple more if needed
Plus: Comfortably fuss-free. Light weight. Comfortable beds. Large washroom
Minus: Lacks a bit of pizzazz
In-a-nut-shell: A worthy contender

Cost to insure: £270*
Fact file
Price from £16,495
Berths: 4
Overall length 7.23m
Interior length 5.62m
Width 2.16m
Headroom 1.91m
Miro 1196kg
Mtplm 1355kg
Key options alternative interior trim £250, AL-KO secure wheel lock £219 (10% caravan insurance discount), AL-KO ATC £499 (5% caravan insurance discount), remote control alarm/awning light £279, leather upholstery £1149, touch control extractor fan in lieu of mini heki £179, wrap-around seating £119
Security and safety Al-Ko AKS stabiliser, CRiS registration, AL-KO Secure Receiver
More info: www.lunarcaravans.com
*Caravan insurance cost based on Lunar Quasar, £16,495. Fitted with hitchlock and AL-KO Secure axle wheel lock. Kept on drive at HX4 0BE. Caravanners over 30 years old, claim free for 3 years and a member of a caravanning club. £100 excess. 180 days European cover and up to £75 per day for up to 15 days emergency accommodation cover included. Legal expenses cover, extended European cover and other emergency accommodation expenses cover options are available at extra cost. Quote includes 10% online discount and 6% Insurance Premium Tax and is correct as of 20.11.12.
Cost to insure: *
---
factfile
| | |
| --- | --- |
| Model | |
| Base vehicle | |
| Axle type | |
| Dimensions | |
| Shipping length | |
| RRP | |
---
Search our blog
---