Avondale's luxury single axle reviewed…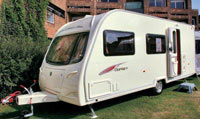 The Osprey, now in 2008 guise, first appeared back in 1999 and is still going strong today. It works as a family caravan but is more likely to be used by retired couples.
Externally, the story is much the same as it was for the 2007 model year range, with a second glance really needed to distinguish it from the lesser Argente range from the outside.
The differences are much more obvious inside. The Argente's flat-fronted framed locker doors and simple handles are replaced in the Osprey, by solid-looking unitary doors that carry with them a pronounced curve and a much richer hue, together with more upmarket handles.
The curvier central table unit is lifted, too, by the provision of a sliding tambour door at floor level, although finding the self-same corner pods and 12v lights as fitted to cheaper Avondales does undo just a little of that good work.
Osprey owners can choose between either a parallel ('S') or L-shaped ('L') main lounge design at no extra cost.
The L-shaped lounge arguably makes more sense in Avondale's fixed-bed Eagle model than it does in the EIY (Erect It Yourself) bed Osprey, simply because the double bed that emerges from any L-shaped lounge is almost always smaller than the parallel equivalent.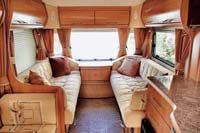 And so it is here: the Osprey S's double bed measures a generous 6ft 8in long by 5ft 10in wide, while the Osprey L's is just 4ft 2in wide, if exactly the same length. The latter loses out on the former's twin single bed option, too.
Whichever Osprey you decide upon, you still get the eternally handy nearside single dinette, complete with fold-out cantilever bunk overhead. At 6ft by 2ft 1in, it's not exactly the biggest bed in the world, although visiting youngsters should feel right at home in the 5ft 6in by 1ft 8in upper bunk.
The kitchen is absolutely huge and well equipped too.
Out back, both the Osprey and Avocet have had their end washrooms tweaked gently for the new season, leaving their characteristically enormous full-width 'littlest' rooms looking and feeling more special than ever before.
If it's safety that concerns you, you'll be pleased to here that the Avondale Osprey is fitted with the new AL-KO ATC anti-snaking device as standard meaning you'll also secure 5% off your caravan insurance with Caravan Guard.
Verdict:
Anyone looking to spend around £15,000 on their next luxury caravan overlooks the Osprey at their peril. While it may have unadventurous styling, it does get an exceptional washroom and kitchen and, of course, two good lounge options.
Fact File:
Price: £15,495
Berth: 4
MRO: 1270kg
MTPLM: 1500kg
Insurance cost: £340*
*Caravan insurance quotes are based on a caravan owner over 30 years of age, caravanning for over 3 years whilst insured and claim free, and a member of a caravanning club. Caravans fitted with wheel clamp, hitchlock and a basic door alarm. Caravans stored at HX3 0AW behind locked gates. Prices quoted include Insurance Premium Tax at 5% and are correct as of 14/04/2008
Source: Outandaboutlive
Cost to insure: *
---
factfile
| | |
| --- | --- |
| Model | |
| Base vehicle | |
| Axle type | |
| Dimensions | |
| Shipping length | |
| RRP | |
---
Search our blog
---