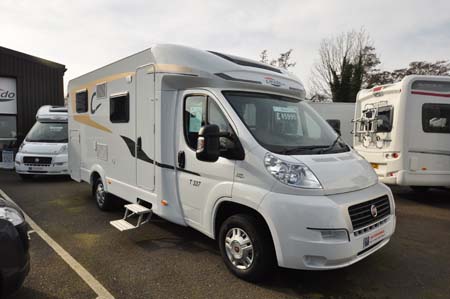 £1. That's all you pay for the UK Edition Pack of "extras" for current season Carado motorhomes. That one pound gets you pretty much all you'd expect in a motorhome, though – ranging from twin airbags and air conditioning in the cab all the way through to a Truma 6 heating and hot water system operating from gas and mains electric.
To reiterate, it's £1. Nobody is going to turn that down, but it's more than sufficient to change a well-priced budget motorhome offering into something worth serious consideration. Stump up the remaining £45,995 and you could be heading out in what will sure be one of the motorhome market's bargains of 2014.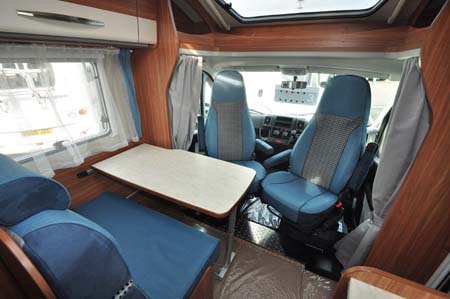 Carado is the relatively new operation that's part of Germany's Hymer Group, but is very much set up with low-cost motorhomes in mind. The T337 here is the middle of a five-model line-up of low-profiles. Carado has just a few hand-picked dealers here in the UK so far, including Heart of England Motorhomes, in Northamptonshire and Kimberley Caravans in County Durham. It rounds off the specification in its Carados, fitting a stereo system and adding cab carpet at no extra cost.
The T337 offers travel for four and sleeping arrangements for two, an arrangement that will certainly suit the majority of British motorcaravanners – especially as the bedroom area at the back offers the choice of two single beds or the opportunity to make a very large double.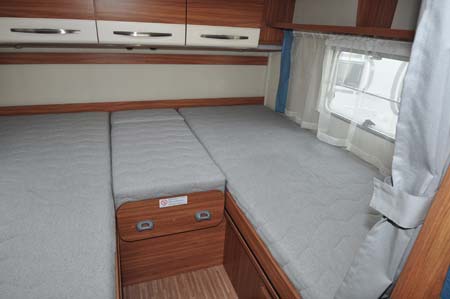 From the outside, it's a purposeful look in white that belies its no-frills pricing level. The option of the champagne bodywork finish, at some £773 more, is certainly a temptation if you want to jolly things up. There's no doubting the solid feel to everything here, though.
The double step at the caravan door also hints at something different. This is the higher Fiat Ducato ladder-frame chassis (it costs less than the specific running gear Fiat offers to motorhome makers).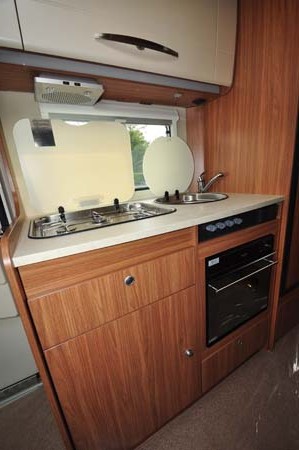 Step inside and it's a floorplan that's offered by just about every manufacturer of low-profile motorhomes, with a lounge up front that also relies on the swivelled cab seats, while the kitchen and washroom take up the middle section of the 'van. You step up into the beds at the back, but mattress comfort is also high and the only criticism here is you can't sit up in bed to read. The compensation is all that storage space below, of course.
Still, it's hard to believe you're in what is supposed to be a budget motorhome. Again, there's a durable air to everything here, plus aspects such as quality hinges and positive catches to the lockers, where the doors are two-tone, the cab seats have additional padding (there's even better support to the rear seat's backrest), there's a sunroof over the cab, and the upholstery – in blue here, but a mid-brown is an alternative – suggests anything but price-cutting.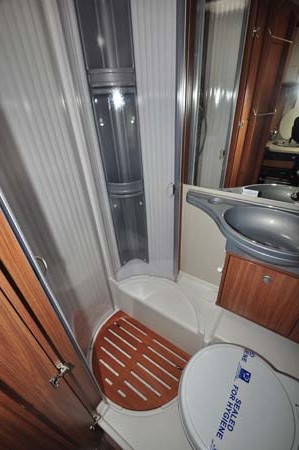 It's a well-equipped kitchen, but it does lack worktop. There's a three-ring hob with an extractor unit and a separate grill/oven. Adjacent is the kind of large fridge/freezer that, again, you'd normally only expect to find in more expensive vehicles.
The washroom gets a similarly high specification. There's a circular shower cubicle here, complete with duckboard section underfoot, plus a swivel-bowl toilet and a decent enough sized sink. Again, storage is pretty good and, although it lacks a window, there's a rooflight over the shower and generous use of mirroring.
Sure, it plays a little on its Hymer Group parentage – Carados are actually built in their own purpose-made factory over in eastern Germany – but the normal Hymer levels of back-up are there in terms of after-sales service. It certainly adds up to a very serious proposition.
Verdict: Superb build quality/specification/price combination
Plus: Solid build, UK specification
Minus: Limited factory options
In-a-nutshell: Pound-stretcher
Cost to insure: £269.50*

In summary
Carado T337
Fiat Ducato, 2.3-litre, 130bhp Euro V
Dimensions 6.93m L, 2.32m W, 2.91m H
Maximum weight 3,495kg
Payload 603kg
Key options: UK Edition Pack £1, Champagne bodywork finish £773
Security and Safety Electronic immobiliser, twin airbags
MPG estimate 24-28
Recommended retail price from £45,995**
There's more information on the T337 at the Carado website. To find out more about our low-cost premiums visit the motorhome insurance discounts page.
Alternatives: Chausson Flash 617GA, Roller Team Auto-Roller 685, Sun Living Lido S 42 SL
*Motorhome insurance cost based on Carado T337 retailing at £45,995 fitted with immobiliser and Thatcham Category 1 alarm. UK travel only. Kept on a drive with a locked gate at TD9 8ED. Motorhome owners – professionals over 50 years old with no claims, convictions or health conditions in last 3 years. 4 years no claims bonus mirrored from car policy and 2 years motorhome driving experience. Members of motorhome club doing less than 5000 miles annually. £300 excess applies. Premiums include insurance premium tax at 6% and are correct at 06/05/2014
**On-the-road, including VAT at 20%
Search our blog
---