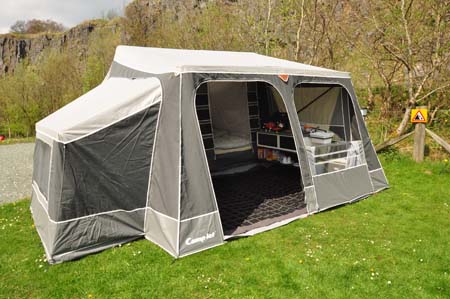 Could this be the unit that tempts you into downsizing from a caravan? It's the Camp-let and this is the Classic, one of a handful of models, with all kinds of adaptations and extras to allow you create a unit to specifically meet your needs (and budget, of course).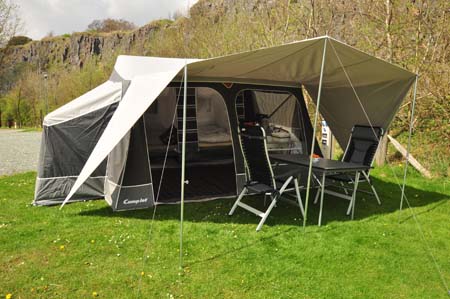 Luckily, also, here in the UK we have Europe's biggest retailer for Camp-lets. Camperlands, which recently moved to new premises on the outskirts of Manchester, but has been representing Camp-let for some 45 years now.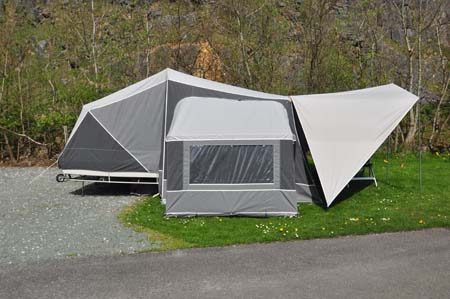 But, what is the Camp-let? If you take a folding camper as a main camping unit that needs little or no pegging directly to the ground and a trailer tent as one that does – the latter almost literally a tent that comes out of its trailer– the Camp-let is something of a hybrid.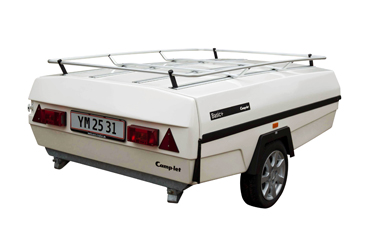 In fact, this is the fifth-generation Camp-let, but not a lot has changed over time. Put that down to the original design being so good.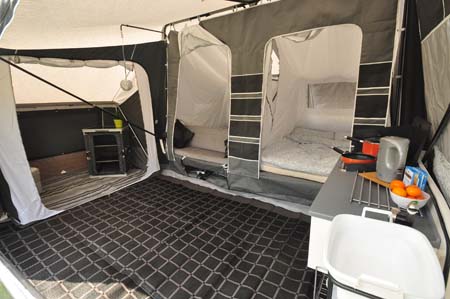 It's all up in minutes, starting with a swing-out kitchen module (that can also be used on temporary stops at lay-bys etc, without having to fold out the rest of the unit). Then, the trailer lid hinges over on gas-assisted struts before the awning and bedroom compartments can be pulled over in one single movement.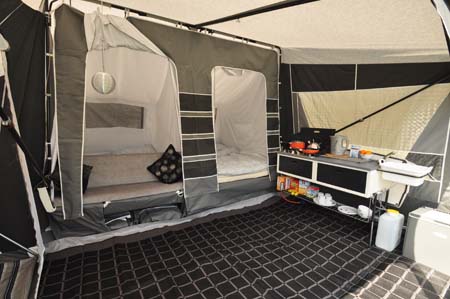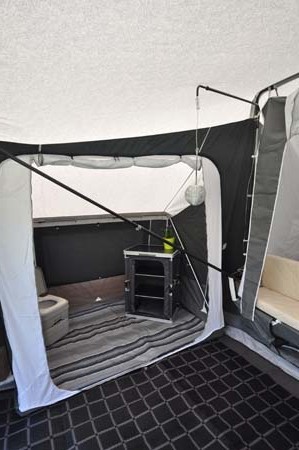 That's two bedrooms and a sizeable "living room" with kitchen in the corner. The bedrooms are side-by-side, although there's space between to fit (optional) rails to create a wardrobe area. Bed sizes are a generous 2.00m x 1.40m on decent enough mattresses with slatting (again, extra-cost) underneath for extra support and ventilation.  There are also plenty of further options to add side annexes etc.
The result is anything up to some 18 square metres of living and sleeping space. And it's then all up to you what you want to add in terms of storage, tables and chairs, even a coolbox/fridge etc.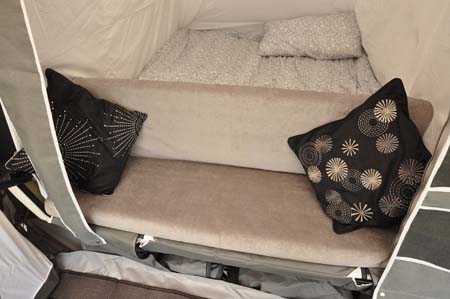 Compared to a caravan, you're absolutely spoilt for space. OK, it also represents a trip back to camping under canvas but it's also a whole lot cosier than you might imagine. One other thing's for sure, as far as build quality is concerned, this is the Rolls Royce of the sector. It's all good quality stuff here, too. The GRP work is superb, all metal-components are "rust-free" stainless steel (or aluminium), while the canvas is such that you can expect it to last for at least 25 years, with normal use.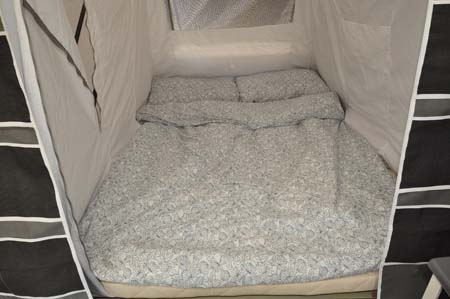 The Classic name denotes the use of quick-drying acrylic for the canvas (fabrics are actually supplied by a fellow Danish company that's well known for its premium caravan awnings, Isabella) – interestingly, it offers better insulation in cooler weather, but doesn't provide the sheer breathability of its cotton equivalent if you're in the full heat of summer (your choice of Camp-let might want to take into account your expected holiday destinations).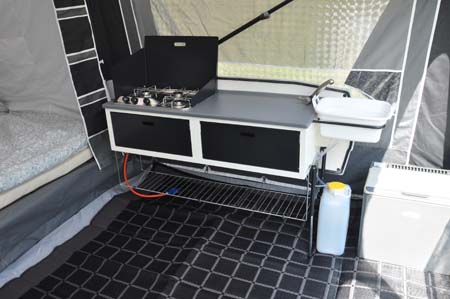 As a caravan alternative it has a lot going for it. Not only will you save considerably on fuel when towing, you could even consider a smaller, more efficient towcar. Even loaded up to the gunnels, the Camp-let's maximum weight is just 500kg (easily half the weight of a small caravan). Units like simply tow like they're not there behind you. And it's easy enough to manhandle off your car and onto its pitch.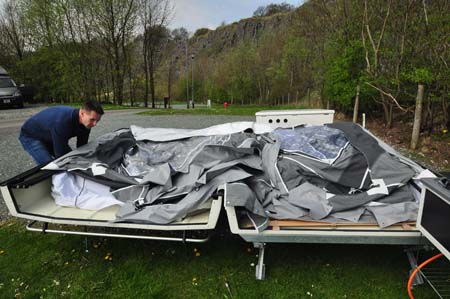 You'll probably beat the prices below, too, thanks to all kinds of offers from Camperlands at different times of the season.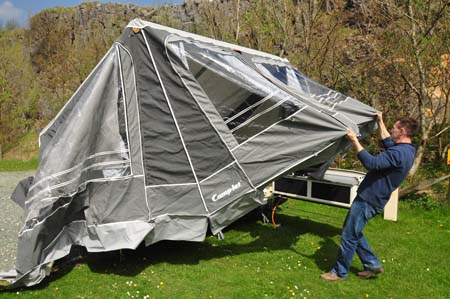 You could end up paying less for storage, too (another option is a fitting to allow storage on its side, in your garage). Oh, and even your annual insurance premium will be a lot less than a new tourer due to the lower insured value. These units are much sought after on the secondhand market, too.
Verdict: Case closed for trailer tents
Plus: Extremely well made, much more spacious than most tourers, economical to own and tow.
Minus: Just the one UK retailer. Insulation is good but of course not up to the standards set by modern touring caravans. You may miss some of the creature comforts offered up by touring caravans!
In-a-nutshell: Camper worth considering
Cost to insure: £118*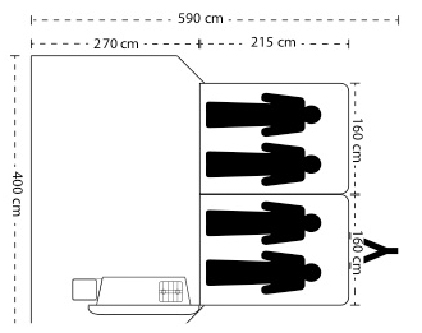 In summary
Camp-let Classic
Dimensions 3.23m L, 1.60m W, 0.95m H (closed)/5.69m x 4.00m (open)
Berths 4-6
MTPLM 500kg
MIRO 250kg
Payload 250kg
Key options: 2014 Season Pack – spare wheel and carrier, Campastore front box, bed slats, breathable awning carpet, alloy wheels (£199), inflatable bucket groundsheet (£215, or £250 with carpet), luggage rack (£225), bike rack (from £262), alloy wheels (£283), Nature Sun canopy (£379), zipped transit cover (£235), jockey wheel (£44), bed slats £145 per bed), annexes (from £658), side storage brackets (£128)
Recommended retail price from £6,740**
Price as reviewed £7,887
There's more information on the Camp-let range at the Camperlands website. To find out more about our low-cost premiums visit the trailer tent insurance page. 
Alternatives: Camplair XL, Comanche Montana, Combi-Camp Valley, Holtkamper Kyte, Raclet Solena, Trigano Galleon
*Trailer Tent insurance is based on Camp-let Classic retailing at £6740. Fitted with a wheel clamp. Kept on drive at HX4 0BE. Campers over 30 years old, claim free for 3 years and a member of a caravanning club. £100 excess. 180 days European cover and up to £75 per day for up to 15 days emergency accommodation cover included. Legal expenses cover, extended European cover and other emergency accommodation expenses cover options are available at extra cost. Quote includes 10% online discount and 6% Insurance Premium Tax and is correct as of 9th May 2014.
**On-the-road, including VAT at 20%
Search our blog
---