There are a number of things to do before you set off in your motorhome or caravan. Known more commonly as pre-journey checks, they help to ensure a safe, secure and incident-free trip.
We all know that pre-journey checks are essential to a smooth holiday, but this month we wanted to find out which check you see as the most important.
Here's what some of you had to say…
Mr Edwards got in touch to tell us, "While checking all the tyres, fluid level, fuel etc is extremely important and must never be taken for granted, I use my motorhome far too often to have to check these each time I use it. I usually look at the oil at some fill ups and I've fitted tyre monitors so they let me know if they require air and I pump up accordingly. I prefer to do checks such as security of those items inside the motorhome, the fridge door, wardrobes etc, as these can come open during transit and spill everywhere."
David also thinks it's important to check inside the motorhome before doing anything else, "I find it disconcerting when there's a lot of 'different' noise whilst driving, hence my vote for ensuring all internal cupboards are secure, and more importantly everything inside is secure as well."
Tim, however, thinks that noseweight should be a caravanner's main priority, "I have voted nosewieght, as in my opinion the next stage should be coupling to the tow vehicle, at which time, one should be into a set routine of safely attaching tow ball and breakaway cable."
It's time to reveal how you voted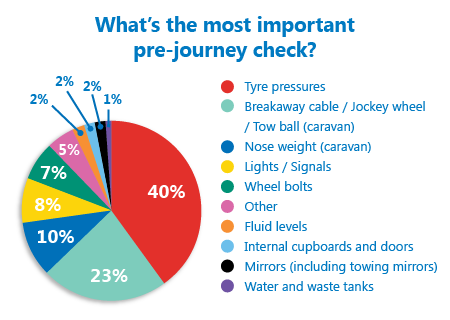 One option not on the list was insurance which both Dave and Colin agree is important, "Breakdown insurance and travel insurance are my two priorities," says Dave.
"I have not chosen Insurance, as this is an essential that needs no words," Colin tells us. "Tyres need checking on the car and caravan as these are the first line of safety followed by brakes and lights. Tow hitch comes high on the list too."
Those who voted 'other' got in touch to say, "Many of the checks you have listed are all essential. Leaving out one or two of them could prove disastrous; besides, doing all of these checks is good practice. Not doing them cold quite deservedly get you into some trouble either legally or practically."
The final comment from last month's poll comes from Ian whose come up with a great way to remember all the pre-journey checks: "When I first started towing the caravan I made up a check list listing the things to check before every outing and the things to take when away with me. This meant I wasn't taking things with me I wouldn't need or use thus keeping weight of the van to a minimum."
Want more advice on essential checks?
We'll have a new poll for you to get involved with shortly.
Cost to insure: *
---
factfile
| | |
| --- | --- |
| Model | |
| Base vehicle | |
| Axle type | |
| Dimensions | |
| Shipping length | |
| RRP | |
---
Search our blog
---