Your caravan awning might be warm during the day but temperatures can drop in the evening and into the night when you might be taking advantage of that extra space.
Last month we asked if you use heating in your caravan awning and after hundreds of votes we can reveal how popular caravan awning heaters are.
Here are the results…
Some caravanners don't agree with the use of heaters in awnings for environmental and safety reasons. But the votes are in, and almost 60 per cent told us that they used heating in their caravan awning. A further nine per cent said they were even considering buying a heater.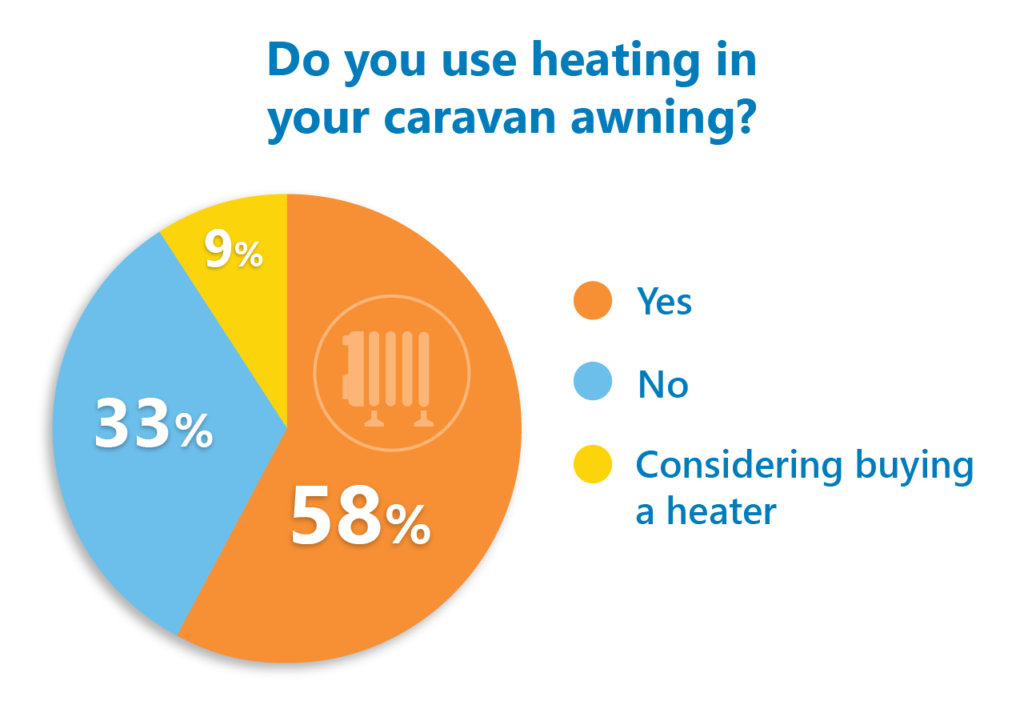 But for a third of voters heating up the awning was a no-no (33 per cent).
Your awning heater comments…
With the votes almost split on awning heaters, the comments were similar, with some caravanners sharing their warming stories, whilst others were worried about safety and the impact on the environment.
Peter Williams thought the use of awning heaters was dangerous.
"Often we read of campers, caravanners, etc being overcome by using anything from open cooking fires to electric or gas heating in the awnings," he commented. "If one has to heat an awning then a purpose made caravan electric small heater with a cut off tilt/fall over facility is critical, as is how it is plugged in. Use of ceramic, gas, halogen, barbecues in side awnings are in my opinion both stupid and endangers lives. We all strive to enjoy caravanning and yet we all see bright heating elements (Halogen) heaters shining in the awnings. Remember you can not then complain about site fees etc when a site has 150 pitches and 50% are using additional heating in the awning, just think of the cost."
Jackie Lilley was also concerned about site fee increases: "As the only safe option is electric heating, this would ultimately raise the site fees for all tourers and is a particularly selfish thing to do," she said.
And David Hinchliffe couldn't see the point in wasting heat on an awning: "If it's too cold for sitting in the awning, sit in the caravan which is better insulated," he commented.
But for some, sitting in the awning offers a change of scenery on some evenings, as well as a bigger space to dine in. Michael White will use a heater if it gets a bit chilly or when entertaining friends.
Steve Harcus also said: "Christmas dinner in our awning wouldn't have been so nice without our heater!"
Let us know what you make of the results in the comments box below.
Cost to insure: *
---
factfile
| | |
| --- | --- |
| Model | |
| Base vehicle | |
| Axle type | |
| Dimensions | |
| Shipping length | |
| RRP | |
---
Search our blog
---