A kind-hearted Caravan Guard customer has donated her campervan to a local care home for a member of staff to self-isolate in during the Coronavirus lockdown.
Anne Peachey, of Holmfirth, is currently locked down in her holiday home in Greece but was alerted to an appeal from Meadow Court Residential Care Home in Slaithwaite, Huddersfield, for motorhomes or caravans for 16 of their staff to stay in over the coming weeks.
Mrs Peachey was delighted to be able to help after already discussing the possibility of lending her Globecar Campscout campervan for a paramedic friend to isolate in.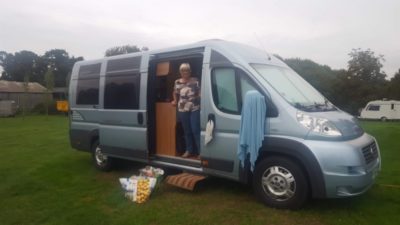 We were able to quickly make some amendments to her campervan insurance policy so it could be driven to the care home and set up on their temporary campsite for a number of weeks.
"As a company we care completely about our customers and community and wanted to be able to help Mrs Peachey fulfil this wonderful offer of support," said PR & Communications Manager Liz Harrison.
Mrs Peachey's son-in-law Christopher Easton was added to the policy and had to remove her personal belongings, collect it from storage, plus take instructions from her on how to get it ready for the care worker to use.
Mrs Peachey then had to talk through how to set up the water and electrics in the campervan with one of the care home Directors Stephen Humble.
"Anne was fantastic giving me the rundown on how everything worked in her campervan," said Stephen. "She knew exactly where everything was – it was like she was in the van not in Greece!"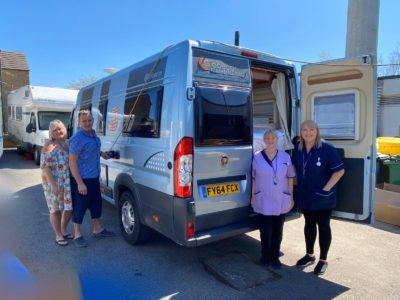 Mrs Peachey had planned to spend the summer with her grandchildren in her campervan but is happy that it's been put to good use during the pandemic.
"I was delighted to be able to help, as I've not been able to do anything to support the local community whilst stuck in Greece," she said.
Meadow Court's residential care home manager Stephen said they had been overhelmed by the support from the local community after they took the decision for a team of staff to stay at the home to protect residents, staff and their families, from the virus.
"We have eight vehicles for our Meadow Court Angels – but could have had about 20 – and the team has really pulled together, self-rostering and helping each other out with various tasks. We are blessed to have such an amazing team," he said.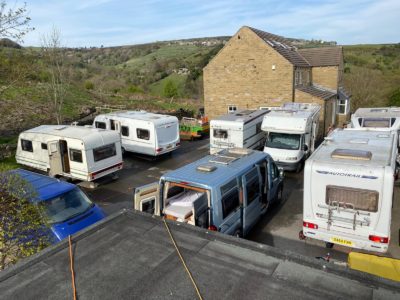 The care home team had a barbecue on their first night on their temporary campsite and Stephen said it was like a big family, with everyone supporting each other.
Caravan Guard's caravan policies allow its customers to lend their caravan to a friend or family member. If owners want to lend their caravan or motorhome to an NHS or keyworker who is not a family or friend the insurance specialists would need to check its use meets their policy conditions. Caravan Guard can be contacted on 01422 396 777.
The Caravan Guard team is staying safe during the Coronavirus pandemic. Their contact centre staff are working from home and customers can still renew their policy or get a new motorhome, campervan insurance or caravan insurance quote.
Cost to insure: *
---
factfile
| | |
| --- | --- |
| Model | |
| Base vehicle | |
| Axle type | |
| Dimensions | |
| Shipping length | |
| RRP | |
---
Search our blog
---