Fancy going for a bike ride? Here's how to make things that bit more relaxing – with an electric bike or e-bike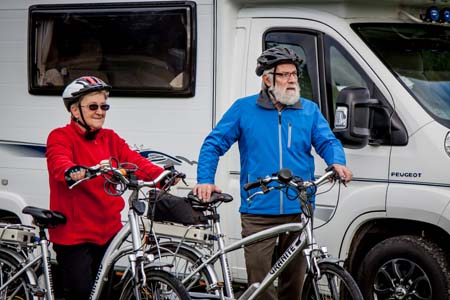 Pedal Power…!
We all need a bit of help from time to time – particularly when we're out on our bikes. An electric bike, can literally give you extra pedal power exactly when you need it, for example when going up hills, or facing head winds, or even when you simply want to maintain steady speeds wherever you go.
There's actually a European definition of an electric bike – also known as an e-bike or, increasingly, a pedelec (short for pedal bike with electric assistance). Specifically:
– The motor must not give more than 250W of powered assistance
– The powered assistance must cease at 15.6mph (25 KPH)
– You may only receive powered assistance when pedalling
E-bikes don't start off cheap – and the usual "you get what you pay for" provisos apply – but they're actually the perfect complement to a motorhome (or caravan), giving you the freedom to explore areas you might not want to take your motorhome or towcar.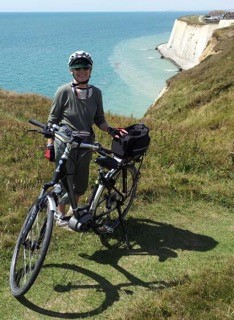 And, with typical charging times of up to five hours, there's no reason why you can't get up and go – again and again!
You'll get occasional bargains, as well. At the time of writing, for example, there were big reductions on the Viking range at E-Bikes Direct www.e-bikesdirect.co.uk.
Top Tips
Range can be critical so think how far you're likely to want to go. Batteries are mostly measured in Watt hours (Wh) and generally, the higher the figure, the further you can go between charges.
Do think about how you are going to transport your bikes. Motorhomes with garages can be ideal, but there's always a weight limit to consider as well as how easy it is to load bulky items into such locations. Likewise, if you opt for a rack, take into account its location and weight (as well as stress) factors. Caravan owners also need to consider transportation as a couple of bikes could take a hefty chunk of your payload. Carrying them on your tow car might be a better option.
Think about extras. Most e-bikes come with handy accessories such as luggage carriers, but there's always more. You can often upgrade key items of the original bike, too.
Buy from a specialist. They can tell you more about the sheer choice of electric bikes out there, plus what size best suits you. If you're really lucky, you'll also get an electric bike expert who understands motorhomes or caravans!
Note Caravan Guard's motorhome or touring caravan insurance doesn't extend to e-bikes so you'll need specialist insurance to cover your electric bike.
Former Caravan Guard customers Maggie and Mick Drury loved to take their electric bikes with them when they had their motorhome. Here's a quick video…
Let's take a look at a selection of electric bikes…
V'Lec Pocket+ – light on weight and price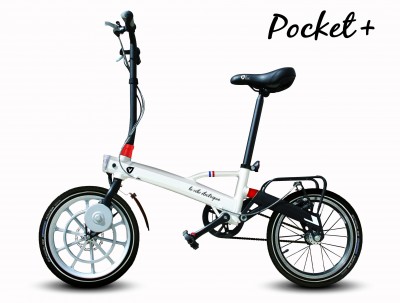 Lighter weight shouldn't mean a drop in quality. This single-speed, folding e-bike weighs some 10.6kg in total and can carry a weight of up to 100kg.
Its lithium Panasonic 24V 8Ah battery takes three to five hours to charge and can take you up to 18 miles before needing a recharge so is ideal for those wanting to travel short distances – note the e-bikes reviewed below let you travel much further but at a higher cost. The charger only draws 2amps, so can be used via a campsite mains hook-up or even an on-board inverter.
Clip on/off pedals are among the features, making it even slimmer and easier to carry when folded down to its compact 76cm x 16cm x 60cm dimensions.
Price from £999
Key features 160Watt front wheel motor, aluminium alloy frame, 16in tyres
More info www.batribike.com/vlec
Francis-Barnett – mixing modern and traditional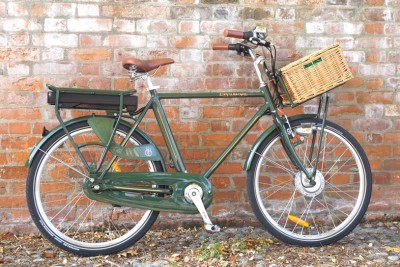 This can trace its roots back over half a century, when the first bike bearing the Francis-Barnett name was produced in Coventry.
The vintage design is a real head-turner, with these latest versions – in crossbar or step-through styles – offering five levels of pedal assist.  Designed for comfort and a more leisurely way of cycling, it boasts a vintage-style sprung saddle.
Maximum range is 60 miles, and the standard specification even includes LED lighting and a built-in Datatag. Total weight is 25.9kg. Baskets are among the optional extras.
Price from £1,499
Key features 250Watt motor, seven-speed Shimano Nexus hub gears, 36V/10.4Ah battery, 26in puncture-resist tyres, 17.5in aluminium alloy frame
More info www.batribike.com/francis-barnett-electric
Winora Radius – when you want to go lightly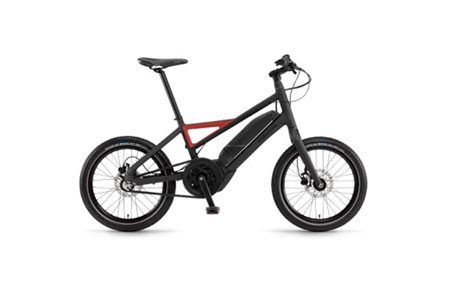 This isn't just light (models start at less than 20kg), it's also easy to store. It doesn't fold, but you can tuck away the pedals and handlebars making it possible to put in a larger locker or under a bed/seat.
Frame size is 35cm and that triangular section in the frame is designed to act as a handle. Those chunky tyres help compensate for the lack of suspension.
The rear hub gears and protected chain promise easy maintenance. It's motor can take you up to 170km (105 miles) when riding in its most economical mode. This model weighs 16.7kg.
Price from £1,800
Key features 20in wheels, folding pedals and handlebars, Yamaha 400Wh motor, hydraulic disc brakes, Schwalbe Big Ben tyres
More info www.winora.de/en
Raleigh Motus – bringing the best out of Bosch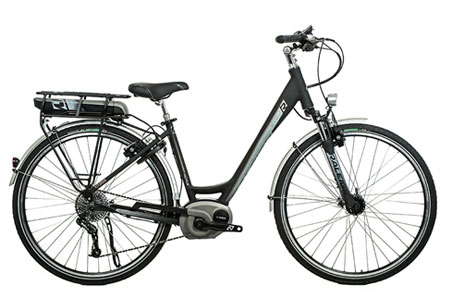 Europe-made and already very popular with motorhomers, this is powered by the Bosh ebike system, and the 400Wh battery is good for as much as 180km (112 miles) between charges, when used in Eco mode.
Eco is one of four phases of assistance, going all the way up full-on turbo when you really need some extra oomph. It's also particularly quiet.
Shown here is the Low Step model. There's also a Cross Bar version, with the same starting price and specification. Accessories include full mud guards with cable guide and alloy rack rear carrier. A mini pump and kickstand are among the extras. The bike weighs just over 24kg.
Price from £2,000
Key features Alloy frame, 700c wheel size, Magura HS11 hydraulic rim brakes, Schwalbe Big Ben tyres, Bosch 400Wh battery
More info www.raleigh.co.uk
Koga e-Nova – the connoisseurs' choice
Built to order only (expect a wait of at least three month's from order), this Dutch model is hand-finished. Shown here is the Low Step version (a Crossbar variant is also available), which is actually the budget model in the e-Nova range.
It still has plenty of features, starting with a double-hardened aluminium frame with cabling routed through it, and using Koga's own suspension system.
Weights start at just under 25kg. The Bosch motor and battery has a range of up to 175km in Eco mode.
You can also choose between 400Wh and 500Wh batteries, which slot away neatly into the rear rack and are easily removable.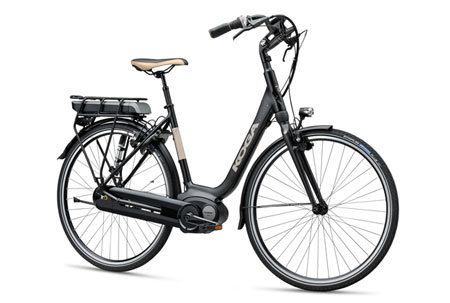 Price from £2,199
Key features Bosch motor, choice of frame sizes, batteries and hub gears, enclosed chain, Magura rim brakes, Feather Shock front fork suspension, leather grips, Schwalbe Energizer 37mm tyres.
More info www.koga.com/en
Haibike XDuro Trekking RX – German quality to the fore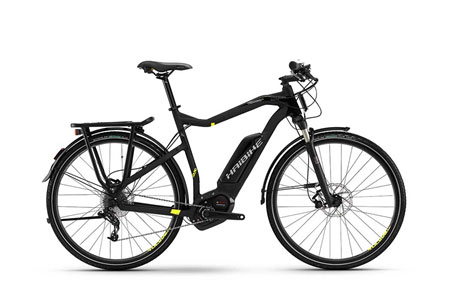 A German manufacturer offering a comprehensive range, and best known for its electric mountain bikes, with prices heading well over £10,000. Lower down the range the XDuro Trekking models still offer real premium qualities, including Bosch motor, battery and Intuvia display. Given all these features the bike still only weighs just over 23kg.
Also, the hybrid style of the RX makes it ideal for all kinds of trips – across campsites as well as out on the open road and designated paths.
Price from £3,000
Key features Bosch 250W motor with 500Wh battery, choice of frame sizes, men's and women's versions, Tektro Gemini brakes, Schwalbe Energizer tyres, SRAM nine-speed/Shimano 11-speed gears
More info www.haibike.de/en
Our thanks
Special thanks for helping with this article go to Graham Rowe, owner of Brighton-based Electric Bikes Sussex ( www.ElectricBikesSussex.co.uk Tel: 01273 625060) and Sue Coulson of Batribike (www.batribike.com). Both fully understand the extra needs of motorcaravanners when it comes to e-bikes.
Over to you
Got any advice on e-bikes or stories of your adventures on an electric bike to pass on to others? Feel free to add your comments below.
Cost to insure: *
---
factfile
| | |
| --- | --- |
| Model | |
| Base vehicle | |
| Axle type | |
| Dimensions | |
| Shipping length | |
| RRP | |
---
Search our blog
---