Should we jump to it? Or are there better ways of making sure your motorhome's starter battery doesn't reach the point of no return?
Winter time, and the batteries are not necessarily so easy. That's why some folk like the reassurance of having a jump-starter available. Certainly, advances in battery technology mean a jump-starter doesn't necessarily have to be a hefty lump of kit.
So, what does a jump starter do?
It's ideal for emergencies when you have a completely flat battery and cannot start your engine. Connect up and turn on, wait a short while, and it should provide enough power to turn over your engine.
It's no excuse for running around with a completely flat battery, of course. But, winter is the time when it's more likely your motorhome will be left standing idle, even for just a few days. That's when batteries are likely to discharge, even if seemingly nothing is connected, or simply self-discharge as a consequence of their non-use.
A vehicle battery should be OK to stand unused for up to a few weeks, although items such as alarm systems, trackers and more, will draw power. Anything beyond a month of non-use and you need to consider some way of making sure your batteries get a charge.
However, there are alternatives to carrying a jump-starter with you, wherever you go. For many, a set of stout jump leads and the opportunity to rein in a willing volunteer is a far more straightforward solution than carrying around a heavy item of kit you (hopefully) will never have to use.
Split charging
Many motorhomes have a set-up that includes a vehicle (or starter) battery, a leisure battery and a split charging system, which means both batteries can be charged from the same source, eg mains input, solar panel, generator etc.
The split charge system will connect the batteries during the charging process, but will also make sure the batteries remain independent – for example, to ensure operating your vehicle's habitational 12V system doesn't drain the starter battery. Also to avoid potential damage to the leisure battery during the engine starting process.
A split charge relay system makes sure the leisure battery is recharged when the engine is running.
Do note, also, although vehicle and leisure batteries may look the same on the outside, they are designed to perform differently in the way they deliver their power.
Top tips
If you're putting a battery into storage, charge it fully first.
Likewise, a brand new jump-starter will need to be fully charged before use.
Standard jump starters can be very heavy. You might have space to carry them around in your motorhome, but they could end up taking some toll on your fuel economy and payload.
If your vehicle is going to be stood around inactive for long periods, do consider other methods of maintaining battery power.
If you're fortunate enough to have a solar panel system, it's perfect for ensuring at least a trickle charge to your batteries to keep them in tip-top condition when you're not on the move. Even on winter days, they'll be capable of supplying a bit of a charge. That won't be the case if you store your vehicle under cover, of course.
---
Star Player Number 1
Cobra JumPack CPP 8000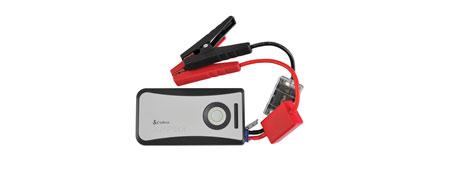 A good example of the latest generation of jump-starters that is small enough to stow away easily in a glovebox. With a 360amp peak current, Cobra reckons this is sufficient to jump start most mainstream motorhomes as well as having a 6000mAh lithium-cobalt battery designed to hold a charge for longer than rival, traditional jump-starters.
Also included here is a 2.4amp USB port, for rapid charging of portable devices such as mobile phones, tablets, plus a built-in LED flashlight – suitable for working under the bonnet, but it also has an emergency strobe SOS function.
Features also include: 180amp starting current, one-year warranty, dimensions 140mm x 73mm x 17mm, weight 261g.
Expect to pay £79.99
---
Star Player Number 2
Ring RPP265 PowerPack with 300W Inverter and Charging Station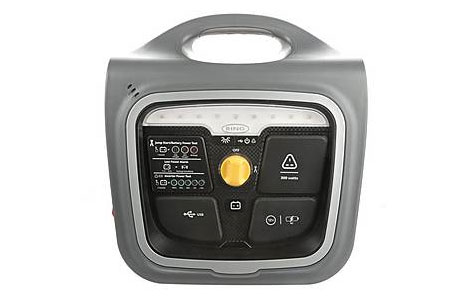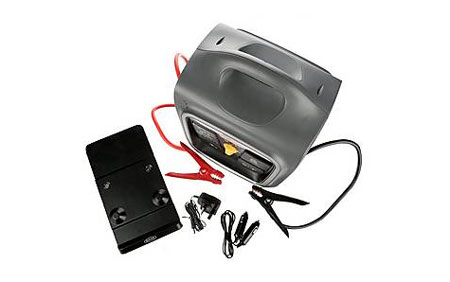 A piece of equipment that really does do it all and, for that reason, could well be worth consideration to cover all emergencies.
For jump starting diesel engines up to 2.5-litres (petrol 3.5), maximum output is a commendable 800amps. This unit also includes a 300Watt inverter, to provide 230V AC mains power, as well as a 2.1amp USB port, for charging mobile phones etc.
Plus, it comes with a charging station. The PowerPack can be placed on this and it starts charging.
The battery test button and battery power alarm give instant readouts of power levels and warning if the PowerPack needs charging, respectively.
Features also include LED light, battery test button, dimensions 325mm x 360mm x 355mm, weight 14.92kg.
Expect to pay £150
---
Star Player Number 3
Phantom Power Plus Battery Jump Starter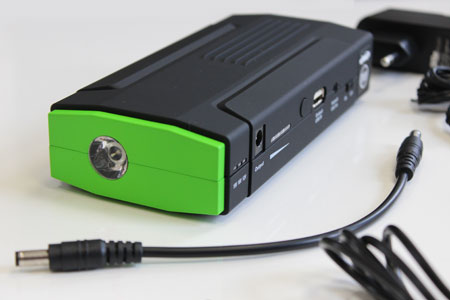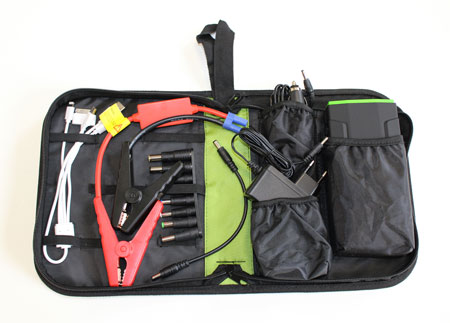 The more expensive of two such jump starters offered by Phantom, the company best known for its tracking systems. This model is designed for engines up to four litres.
The Power Plus is a powerful and compact battery charger, ideal for any number of tough situations from starting your vehicle if you get caught with a flat battery to charging your laptop or phone. It's compact size means it's perfect to keep in your glove box in case of emergencies.
Features also include Jump leads, accessory charging leads and 12V adaptors, LED lighting, zipped carry case; dimensions 165mm x 35mm x 80mm, shipping weight 998g.
Expect to pay £89
---
Star Player Number 4
Votronic Battery Master
You won't even need to think about a jump-starter if you fit a product like this. It's a simple solution if your leisure battery charging system isn't linked to the vehicle battery.
A fit and forget product – installation can be anywhere but ideally as close as possible to the batteries – it automatically charges a vehicle's starter battery at up to two amps using the leisure battery as its power source.
So, as long as your leisure battery set-up is being charged in some way – mains charger, solar panel, generator even – it will keep a current flow to the starter battery, making sure it never goes flat and helping extend its useful life.
Features also include 2amp maximum current output, dimensions 90mm x 60mm x 38mm, weight 52g, suitable for lead batteries
Expect to pay £32.99
---
Star Player Number 5
Halfords 35mm Booster Cables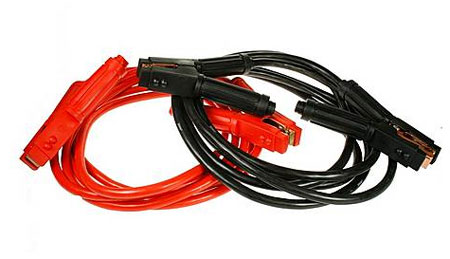 With some 300 stores nationwide, plus online ordering facility, you've more chance of getting to a Halfords than other automotive retailers. These heavy-duty jump leads claim to be suitable for diesel engines up to 4,000cc and petrol up to 7,000cc.
Features also include Multi-strand copper cable, 4.5m lengths
Expect to pay £35
---
Star Player 6
Maplin Heavy Duty Jump Starter 700A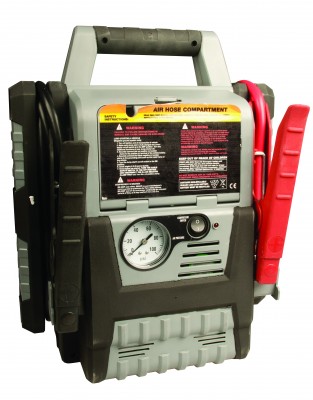 This unit doesn't just provide a powerful charge, it also includes a compressor capable of pumping up to 100PSI.
Also here are an LED worklight and 12V outlet.
As far as its jump-starting capabilities are concerned, amps peak at 1,400. Maplin recommends, for optimum performance, this is best fully charged before use and recharged straight after use. If left for long periods, it should be fully charged every two months.
Features also include 22Ah internal lead-acid battery, compressor with pressure gauge,
Expect to pay £99.99
---
Star Player 7
Snooper Ventura PB80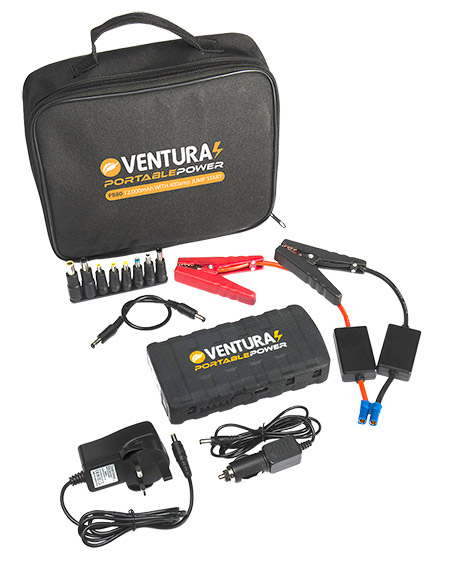 An all-in-one portable powerbank with 400amp jump start facility. It also incorporates an LED flashlight. Dimensions are an easily manageable 160mm x 75mm x 28mm and it weighs just 420g.
Ther are also two 12V outlets – 19V/3.5A and 12V/10a – and a 5V/2A USB.
Features also include Lithium-ion rechargeable battery, 12,000mAh capacity, copper-tipped jump start leads, carrybag
Expect to pay £100
---
Will it affect my insurance?
A jump starter device can get motorhome owners back on the road quickly and save the need to seek "homestart" help from their breakdown provider.
All Caravan Guard's motorhome insurance policies come with roadside assistance breakdown cover as standard, however, homestart cover is not included.
We advise our motorhome owners to care for their batteries and make sure they remain charged throughout the winter – in many cases security devices are reliant on the battery for power so letting your battery run flat could affect your insurance policy cover. 
Over to you…
Do you have a jump starter? We're always keen to hear from you if you want to share your experiences or key advice with other Caravan Guard fans. Feel free to add your comments below.
Cost to insure: *
---
factfile
| | |
| --- | --- |
| Model | |
| Base vehicle | |
| Axle type | |
| Dimensions | |
| Shipping length | |
| RRP | |
---
Search our blog
---