In a recent poll it was revealed that 30% of you had fitted solar panels to your motorhome, making it the number one modification amongst Caravan Guard voters. But if like 70% of those who voted, you haven't got round to fitting solar panels yet, this latest gear guide has all the information you need…
Solar savers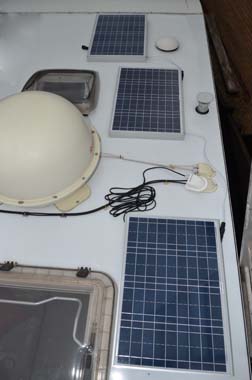 Chances are, you've got a pretty good area of roof on your motorhome or campervan. So, why not make the most of it? Solar panels aren't necessarily cheap – although for some folk they can indeed mean considerable savings on the cost of energy – but there's a certain feelgood to getting electricity from as green a source as possible: direct sunlight!
You can go as far as making your own calculations as to your vehicle's power draw and what size (in Wattage) of solar panel you'll need to sort this. To make things easier many suppliers offer some kind of calculator – or will happily advise first-hand.
With solar back-up, you'll feel more confident about venturing to places that are "off-grid". As for savings, in theory you may never need to pay for mains electricity again…
Get the right kit
As well as getting the right panel to suit your needs, you'll want a regulator/controller. Its main task is to ensure the batteries don't get overcharged, and to tell you when charging is taking place, voltage levels etc.
You get what you pay for here, with the more expensive and efficient units featuring maximum power point tracking (MPPT).
Solar panel kits will come with a suitable selection of cabling (make sure there's sufficient length), fuse, gland (the weatherproof cover to fit where the cabling from the panel goes into the vehicle), fixings (screw and/or glue etc) and more.
If you're into DIY, a home fitting can save some money. Otherwise, as well as the specialists, most motorhome workshops have solar panel fitting experience.
Do solar panels work?
They certainly do. Direct sun is best, of course. But even when the weather isn't so good, daylight hours will see you getting some kind of charge. Remember, solar panels don't work if any part of them is covered.
Anyone who's got a solar panel on their motorhome will tell you it's largely a fit and forget item that simply goes about its business with no further fuss.
Of course, by obviating the need to connect to a mains hook-up everywhere you go, there are plenty of potential coast savings, too.
Plus, as a fully renewable energy source, it couldn't be friendlier to the environment.
Will it affect my insurance?
With Caravan Guard's motorhome policy there are no special terms and conditions relating to solar panels. As with all modifications, you should notify your insurer if you fit solar panels to your motorhome. With Caravan Guard a solar panel is classified as a fixed item of equipment and hence its value should be included in the insured value for the motorhome itself. Fitting solar panels is likely to increase the overall value of the motorhome by at least a few hundred pounds so in order to remain fully covered, you will need to increase the sums insured on your policy.

Vision Plus Solar 40 system
Things aren't always straightforward on leisure vehicle roofs – and that's where this clever kit comes in very useful.
It starts off with a 40Watt Master panel and fitting kit, after which you can add as many as three more Slave panels – depending on how much power you want to supply, or what panel configurations you can fit onto your roof. It certainly means greater flexibility as you can manoeuvre around rooflights, TV aerial, heater flue etc.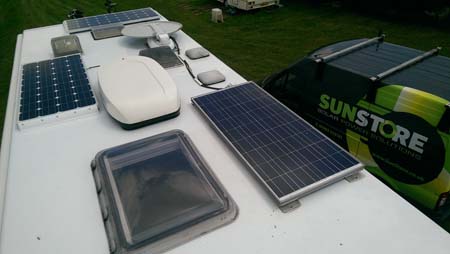 Each panel measures 66cm x 45.6cm and is 5.7cm high, weighing 3.8kg. The fitting kit includes a power controller, 5m of cable plus cable gland (ie protective cover for where the cable enters the roof), 35cm of female link cable with a waterproof cap, in-line fuse etc. Plus you get a set of instructions if you fancy attempting a DIY fitting.
Key features 20-year warranty, DIY or professional fitting
Expect to pay £179.95 (Master)/£119.95 (Slave)

GB-Sol Reflex
The future for solar panels? Slimline "flexible", self-adhesive units like this, from the GB-Sol Reflex range are ideal for motorhomes.
Because they stick direct to the roof – and they're just 3mm in depth – they are highly discreet, and don't act as a trap to debris, a regular criticism of panels that sit proud of the roof. These Reflex units are also semi-flexibly, making them ideal for roofs where there's a slight curvature.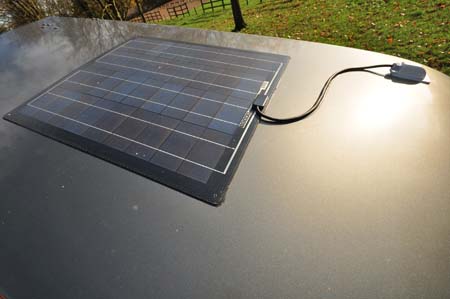 Plus, they're very light. This 70Watt example is 3.2kg, measuring some 74cm x 66cm, yet it can manage an 18.7 volts output and a 4.8amp peak current.
Because of their adhesive nature, there's just one hole to drill, for running the cable into the vehicle below. As per the above, panels can be linked together.
Key features Anodised aluminium backplates, 25-year warranty, 6m cable
Expect to pay £330 (70Watt)
Other key contacts
The following are general motorhomes accessories suppliers with particular expertise in solar power systems, unless noted otherwise:
*Amperor and Associates Leading power supply expert. www.amperorassociates.co.uk
*Energy Development Co-operative Alternative energy specialist. www.solar-wind.co.uk
*LA Leisure. www.laleisure.co.uk
*Outdoor Bits.www.outdoorbits.com
*Photonic Universe Solar power specialist across lots of applications. www.photonicuniverse.com
*Select Solar Solar power specialist. www.selectsolar.co.uk
*Solar Solutions. www.solarsolutionsltd.co.uk
*Solar Technology International www.solartechnology.co.uk
*Sunshine Solar Renewable energy specialist.www.sunshinesolar.co.uk

Any time of year is a good time to consider solar, even winter. Even if your vehicle is not in use, if it's outdoors a solar panel can be sufficient to trickle charge the leisure and/or vehicle battery and prevent issues with alarms/trackers etc draining power.
Over to you…
Caravan Guard Gear Guides aim to give you an introduction to a specific product sector. But, we're always keen to hear from you if you want to share your experiences or advice with other Caravan Guard fans. See below to add a comment.
Cost to insure: *
---
factfile
| | |
| --- | --- |
| Model | |
| Base vehicle | |
| Axle type | |
| Dimensions | |
| Shipping length | |
| RRP | |
---
Search our blog
---