Following our recent article on motorhome modifications, we were interested to find out how many of you had updated your motorhome to make it safer, more economical or to improve its performance
It's often thought that making changes to your motorhome could affect how much you pay on insurance, but this isn't necessarily the case as our article explains.
We've calculated the votes and can now reveal the most popular motorhome modification as voted for by you.
Here's how you voted…
It was a popular poll and surprisingly 78% of voters said they had made a modification to their motorhomes.
At the top of the list, 30% of voters told us they had added solar panels to their motorhomes (a number of you also left a comment to let us know you had fitted a second leisure battery in combination with the solar panel).
22% admitted to having never modified their motorhome in any way.
Cruise control was a popular choice, scoring 10% of the final vote, so too was installing an air suspension system which again, scored 10%.
Motorhome engine remapping or rechipping received 8% of the vote, while upgrading tyres came in with 4%.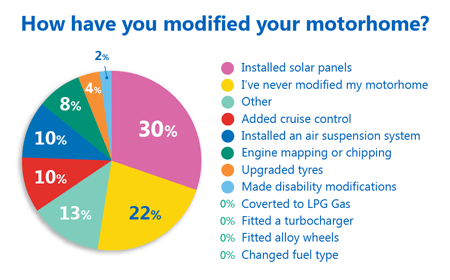 The voters have spoken!
In addition to the eleven options you had to choose from, we were keen to see if you had any more modification suggestions. Here's what you had to say:
"I added a second leisure battery as my campervan has an Eberspacher diesel space heater and it draws a lot of current ampage when starting and firing down." Dave Hall
"I fitted a Electric Hook Up Cable Warning Buzzer. This was after I drove off once and pulled the plug out Fortunately no damage was done." R A Woods
"Habitation LPG (Gaslow)
Reverse sensors
LED Habitation lighting
High power reversing Led's & Beeper
Bedside 12V skts for PCs
Wi-Fi and 3G boosters"
John Barton
I added extra leisure battery to go with the solar panel, I also changed to LED lighting." Super slim
"My motorhome came with a solar panel already fitted as standard, I fitted a second one matched to the first plus added second leisure battery. All I can say is brilliant! We go away month at a time in this country and never use an electric hookup which are now becoming a rip off on campsites. I've also fitted air suspension to the rear which not only aids stability on motorway cross winds and any passing wagons, is great for aiding levelling when parking on cl's with uneven ground." Dave Henderson
"We installed air suspension to a Burstner 675 A Class, it's the best thing we ever did. Great driving on concrete M27 and elsewhere as well as amazing self levelling facility whenever we stop." Moxey
"I fitted an extra leisure battery with a dual battery bank charge controller now connected to 2 x 100amp/hr leisure batteries, and linked to a 3rd battery and 1500watt inverter for HID Hair dryer! Split charger from Leisure batteries to vehicle battery so when leisure batteries are fully charged solar energy is not wasted. Extra pin hole reversing camera fitted at low level so I can see people that are driving to close behind when the bike rack is being used. Gaslow system fitted; Gas detector fitted along with carbon monoxide and smoke alarm." Bill D
"I fitted extra power points. Changed the fold down sink. Moved the taps. Put a pump switch in the bathroom.Removed panels to make more storage space (the Bessacarr E350 is quite small). Peter Whiting
"I have a Mohawk (2010) I added, reverse steadies, heaters in fresh water tank and waste tank, a Camos Dome for satellite TV, water filter so even if I used dirty river water, what I drank or cooked in would be totally pure and clean (this should be a standard on all motorhomes); LPG tank for auto gas for my on board gas needs and gas generator 2.5K. – all underslung. Upgraded weight to 4250 – paperwork exercise. Giving me loads of personal KG use." Maryann Plumbley
"VW SWB T5 Transporter. Fitted carpets in the front cabin and rear; fitted passenger swivel seat; added LED lighting and a clock; made and fitted glide-out drawers to cupboards; made and fitted clips in a cupboard to hold the wine bottles; designed and had made a holder for the folding table which now fits neatly behind the rear seat; made and fitted an awning; fitted daytime running lights; fitted a socket near the pedals for the sat nav so no more trailing cable. Had cruise control fitted and just had the engine remapped from 102 to 130 BHP." Ash
Click here to read all the comments in full.
Do you agree with the 30% majority? Share your thoughts below.
Cost to insure: *
---
factfile
| | |
| --- | --- |
| Model | |
| Base vehicle | |
| Axle type | |
| Dimensions | |
| Shipping length | |
| RRP | |
---
Search our blog
---