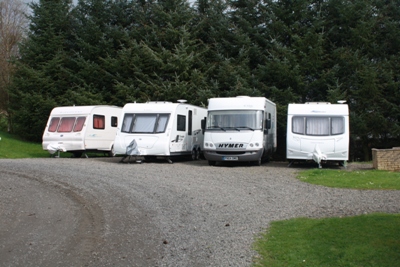 Caravan Guard has seen a huge rise in insurance claims involving caravans being reversed into walls, fences, gateposts and trees and want to warn caravanners to take extra care as you put your caravan into storage for the winter.
Just looking at the settled claims so far in 2011 already shows a 24% increase against total claims in 2010, and with a large number of claims continuing to be reported, the total annual increase looks set to be well over 30%.
Teresa Eastwood, Claims Liaison Manager at Caravan Guard, says the cost of repairing a caravan following a reversing accident makes having caravan insurance cover extremely important,
"We've had claims for reversing accidents which cost well over £5000, and the average cost of a claim is a substantial £1500 – this firstly highlights the importance of having appropriate insurance cover in place, and secondly shows that what seems like a small bump can actually cause a great deal of damage."
Accidents often occur when owners are putting their caravans into storage, "A significant proportion of reversing accidents occur when caravans are being put back into storage. The most common accidents include reversing into trees, walls and gate posts." Teresa added.
Reversing cameras or sensors can make the process of reversing much easier, and there are lots of devices which can be fitted by caravan dealers and accessory suppliers.
Teresa had this final piece of advice to add,
"Cameras and sensors are available for caravans and are great as they increase your visibility or spatial awareness when reversing, but are no replacement for being comfortable and confident in the movement of your 'van. We would always recommend that a new caravanner attends on a towing course or gets some practice in reversing their caravan in a wide open space such as a very quiet campsite or very empty car park, before attempting to negotiate a tricky reversing manoeuvre at home or on site."
Of course, even with plenty of practice accidents can still happen, and as such good quality caravan insurance is a must if you don't want to be left out of pocket. Caravan Guard boast an excellent claims satisfaction rate with 84% of claimants surveyed in 2010 rating their overall claims service as exceptional or above average.
For tips on how to manoeuvre your caravan safely why not read our recent article: "Reverse your caravan like a Pro".
Cost to insure: *
---
factfile
| | |
| --- | --- |
| Model | |
| Base vehicle | |
| Axle type | |
| Dimensions | |
| Shipping length | |
| RRP | |
---
Search our blog
---