Manoeuvring your caravan on to a tricky pitch is a nightmare made worse only by the fact it's usually done in front of an audience on the campsite. The fear of doing it wrong, crashing into something and causing damage to your 'van is enough to give anyone sweaty palms.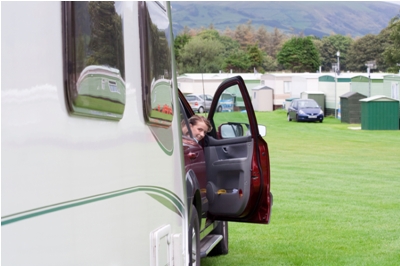 But by following a few simple rules, and remembering our top tips, reversing your caravan needn't be something you dread – in fact, with a little practice you'll be negotiating a tricky pitch with ballerina like precision and poise in no time at all.
Slowly does it
"Slow", "really slow", and "barely moving" are the only three speeds you need when reversing a caravan onto a campsite pitch. Go too quickly and you won't have time to make adjustments correctly, which will slow things down in the long run. Plus you're much more likely to have an accidental bump when moving too quickly.
Practice makes perfect
The more times you've done it, the easier it will be – so get in some caravan reversing practice in a wide open space such as a deserted car park, flat open field or a particularly quiet campsite. Go slowly and get a feel for how the caravan moves in relation to input on the steering wheel, and practice reversing in a straight line slowly as well. Just make sure you've got plenty of room!
Ignore the audience
As already mentioned, it's fairly likely there'll be some friendly (if a little nosey) observers when you're reversing on to a caravan pitch. The main thing is not to rush and don't worry about people watching! They've all done the same thing and you definitely shouldn't pander to the crowd and try to speed up your usual technique.
It takes two
Whilst it is quite possible to reverse onto a pitch with one driver and no helpers, having a well-trained partner relaying instructions makes the job a whole lot easier and quicker, as there's no need for the driver to keep getting out and checking progress or looking at spacing.
It's all about visibility

As well as having a willing and able helper outside the car, investing in some good quality towing mirrors will make reversing much easier, as you'll have a much better view of where the caravan is moving. Plus, adjusting the angle of the mirrors when ready to reverse will allow you to see obstacles lower down which may obstruct the caravan. If you're into your gadgets you could consider a caravan reversing camera that sends live footage from behind the caravan to a small screen inside your tow car.
Have a routine
Handbrake off, mirrors adjusted, window wound down, partner at the ready. Check?! Having a mental checklist stops little oversights (like leaving the handbrake on) slowing down the process as a whole and gets you in the right frame of mind from the start.
Consider a caravan mover!
Caravan movers are a great invention as they take all of the work out of manoeuvring on to a pitch. Simply drive up, unhitch, and using a handheld remote simply steer your caravan onto the pitch whilst walking around it to check the spacing. If you don't feel confident reversing, or simply want an easier life, this is the device for you. Remember though that motor movers can be costly and if you do invest in one make sure your caravan insurance policy includes cover. If you're insured with Caravan Guard you would need to make sure you have included the value of your motor mover within your caravanning equipment insured value.
Feeling fit?
Ever pushed a car that wouldn't start? Then you can push a caravan. On a flat (don't attempt it on a slope!) dry pitch it's perfectly possible for one or two fit people to push and pull a small or medium sized caravan around by hand. So if you're struggling to make a small adjustment to the caravan's position with the car, then consider unhitching and giving it a push, it might just be easier.
Back to storage
Of course, many of the above tips apply when you return from your trip and reverse your caravan back into its storage position. As a caravan insurance specialist, we receive hundreds of claims every year for manoeuvring mishaps at home or in storage sites. Watch out for those pesky drive posts, gate posts, walls, trees, and other caravans!
Cost to insure: *
---
factfile
| | |
| --- | --- |
| Model | |
| Base vehicle | |
| Axle type | |
| Dimensions | |
| Shipping length | |
| RRP | |
---
Search our blog
---