Tracking devices, also known as after theft recovery devices, are becoming ever more popular on UK caravans. In recent years several caravan manufacturers, notably Swift, Bailey, Coachman, Lunar and Elddis have fitted trackers at the point of manufacture to various ranges.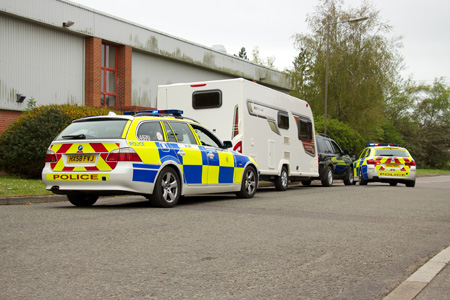 Also in the last 15 years several manufacturers have developed specialised devices for caravans – including the likes of Phantom, Tracker, SmarTrack and Hal Locate.
A tracking device offers the best chance of recovering a stolen caravan quickly!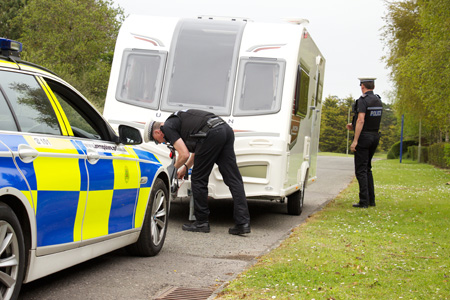 It's a much debated subject on whether GPS (using satellites to establish position of a stolen caravan) or VHF (using radio wave based technology to locate a stolen caravan) type tracking devices offer the best level of protection for you caravan. We won't get into that on this blog, all we'll say is that Caravan Guard do currently accept devices of both kinds for their touring caravan insurance customers. Check out our tracking page to see which specific devices are acceptable.
What we do want to discuss is whether you need to do anything to ensure your caravan tracking device remains operational. If you currently have a caravan insurance policy on which you have stipulated that a tracking device is fitted, it will likely be a condition of theft cover that you do all you can to keep the tracking device operational – that's certainly the case for Caravan Guard customers.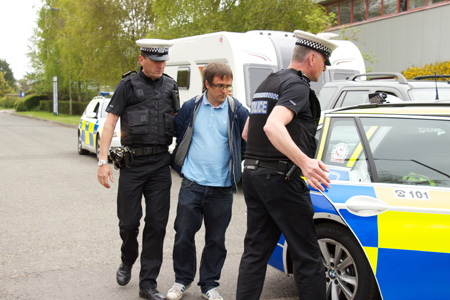 So what do you need to consider?
Check battery levels
Maintain subscriptions
Test for location
Test proactive features
Useful apps and online tools
Read on for more information on each of these subjects
Battery drain
The first issue we wish to discuss is power drain.
Devices which use GPS technology tend to be wired into a caravan's electrical system and rely on the caravan's leisure battery for power. Several well known VHF systems such as Tracker's Monitor are also wired into the caravan's electrical system.
When your device enters its last year of battery life, it's well worth speaking to your tracking device provider as they may offer you a cut price deal on a newer model.
A common feature of some caravan specific tracking devices wired into a caravan's electrical system is low power consumption (many operating on under 15 milliamps) so that a device can remain powered and operational for long periods via a caravan leisure battery without the need for charging. This is particularly useful when a caravan is kept in storage for long periods.
That said, despite low battery drain, your leisure battery may not keep your tracking device powered if your caravan is left in storage for over three months at a time. Whether it lasts even this long may also depend on the type of tracking device you have installed and the condition of your leisure battery and other electrical devices you may have running even when not in use such as an alarm system.
Note many proactive tracking devices will run in conjunction with an alarm (using an alarm is a great way to trigger an alert your tracking device's monitoring centre if the caravan has been moved or broken into).
What can I do?
Many devices which rely on your leisure battery for power have a low battery alert feature which will send a warning to you by mobile SMS text. (Note some of these devices may also have a back up battery to provide power to the device for a temporary period after power from the leisure battery has been used up).
Phil Prior, Quality Specialist from Thatcham Research, one of the leading bodies for testing and accrediting Tracking devices states: "With Thatcham certified products (connected to the caravan's leisure battery) you will get two alerts – the first is for the caravan's own battery, for when it drops to a point where the tracking system has to switch to its own power. This is followed by a second alert to warn that the system's own battery is reaching a level where it needs recharging."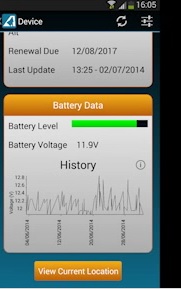 You may also be able to monitor battery levels via a live smartphone app or online tool such as in the case of the Phantom Pro iii device (shown left).
If you know your tracking device is reliant on your leisure battery, and you don't act to recharge it, ultimately your tracking device will stop working making your caravan vulnerable to theft and potentially nullifying theft cover on your caravan insurance policy if it is discovered your device was not operational at the time of theft (and having an operational device is a condition of cover).
So if you know your tracking device is about to run out of power, it's time to act and recharge your leisure battery.
Even before periods of winter storage it's worth carrying out some basic maintenance of your caravan leisure battery to ensure its performance. It's also worth ensuring you have the necessary equipment to charge your battery when needed.
Subscriptions and airwaves
All the tracking devices Caravan Guard approve are professionally monitored by operating centres run by the tracking device manufacturers. To ensure that your device is monitored throughout the year you will need to pay a subscription fee or airwave fee.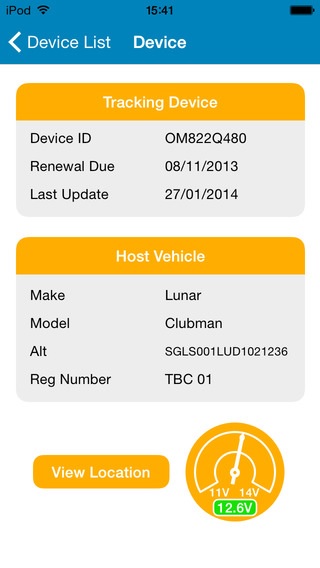 The Phantom Pro iii app records details of when your airwave package falls due for renewal
Subscription fees cover the tracking device company's costs of running its operating centre. In some cases this fee goes towards the ongoing cost of a mobile SIM card which devices use to communicate information to and from the operating centres.  It's vital for all devices to have this operating centre support, and without it your device will be effectively switched off and unable to be tracked in the event of theft. Of course the operating centres are also vital in co-ordinating a police recovery of a stolen caravan.
If you own a proactive tracking device that alerts you in the event of break in or movement of your caravan, keeping your is subscription paid will ensure the operating centre is able to alert you and quickly establish if a genuine theft is taking place ensuring a quick police response.
Don't forget your tracking device may have come with an initial subscriptions package which most likely will have been one year, but dependent on the deal you were given could range from 3 months to 5 years! It's important to know when your subscription period ends to ensure you renew and ensure continuous monitoring of your device.
Owners of Tracker Monitor systems fitted to Bailey Unicorns between 2010 and March 2015 should be aware that these devices won't be supported after 31st March 2018. Also the device has an internal back up battery which kicks in if power from the caravan's leisure battery is cut – bear in mind this back up battery will only last between 3 and 5 years.
How else can you check your tracking device is working correctly?
We've already raised how your tracking device company may allow you to access information on battery levels via smartphone apps or the internet. Some of these web based facilities may also let you check to see if the tracking device can give you an accurate location for your caravan. It's certainly worth asking your tracking device company about these features and if available using them from time to time to give you peace of mind that your tracking device works as it should.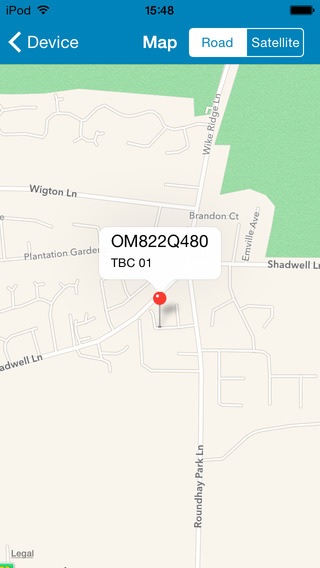 The Phantom app allows you to check the location of your caravan using your phone. Phantom are offering owners of older Phantom devices a special offer to upgrade to the new Pro iii device. Call Phantom for details.
Of course it's not all on you to check your device is operational. It may be of interest to ask your tracking device operator how often they check your device.
Many operating centres regularly perform what's known as 'polling' which essentially sends a test communication to a tracking device to confirm it is still working and capable of giving a location.
If you have a proactive tracking device that triggers by an alarm or motion sensor, you may have already been able to test out your device already.
Generally, if you forget to disarm either trigger, it will result in your tracking device company calling you to establish if a genuine theft is in progress. Manufacturers of tracking devices may hate us for saying this, but once a year it may be worth creating a false alarm to see if and how your device does work!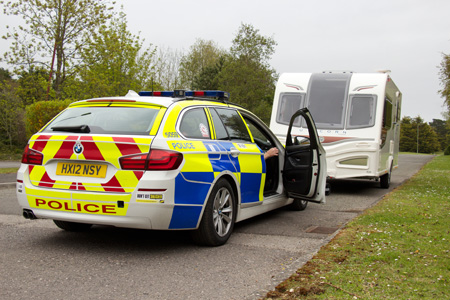 Have you ever checked your tracking device? Maybe you've let your subsciptions expire? Tell us in the comments box below:
Cost to insure: *
---
factfile
| | |
| --- | --- |
| Model | |
| Base vehicle | |
| Axle type | |
| Dimensions | |
| Shipping length | |
| RRP | |
---
Search our blog
---