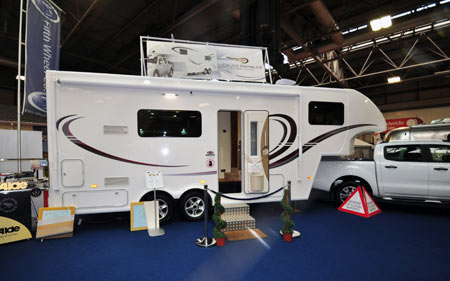 Ford Ranger. Nissan Navara. Toyota HiLux. Volkswagen Amarok. If these are your idea of a decent towcar and you want to optimise those tugging capabilities, how about a fifth wheeler caravan?
The Celtic Rambler is a multi-award winning fifth wheeler unit that offers far more than a conventional caravan, but arguably bridges the gap between a top-end tourer and anything from the world of ultimate motorhomes. Technically, fifth wheel is the term used for the coupling between the unit and its towing vehicle.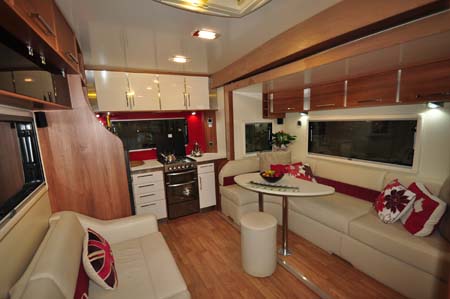 Such is the design, though, overall length when attached to your chosen tug is minimised. So, a typical nose-to-tail overall outfit length is some 9m, which suddenly makes it comparable to a similar size motorhome. Except, on-site the Celtic Rambler goes on to trump this with a slide-out section which, in turn, means oodles of living space. And of course you are still left with a tow vehicle that can be used to explore your campsite's surroundings.
Celtic Rambler's producer, the Fifth Wheel Company, was founded in 2002, initially importing such units from the USA. But, it soon became clear that the way forward was to build them itself, which brought them far more into line with European expectations. Hence, it's no wider than any caravan when out on the road, yet has the steadying benefits of twin-axle running gear.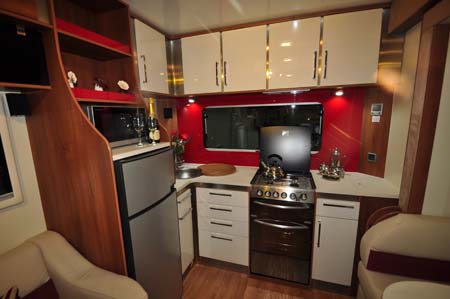 And it's all UK-made. Including the chassis, which comes with full suspension system to which most owners happily add the auto-levelling system for almost instant – and incredibly easy – pitching when you park up.
This is actually the third-generation Celtic Rambler. Bodywork construction is wood-free, with vacuum-bonded panels and a tough GRP exterior.
It's fully winterised, too. That body has Styrofoam insulation and there's Alde's "wet" central heating system here, complete with underfloor heating (Fifth Wheel Company was arguably the first UK manufacturer to adopt the latter for its leisure vehicles).
Head up the steps and you'll soon see there are no compromises indoors, either, as it lives up to its "penthouse on wheels" designation. There's certainly oodles of living space here – thanks to a huge lounge, with full slide-out, a kitchen across the back and then, at the front, the separate bedroom and full en suite washroom facilities. Penthouse is just about right, especially as you're doing your living so high up from ground level.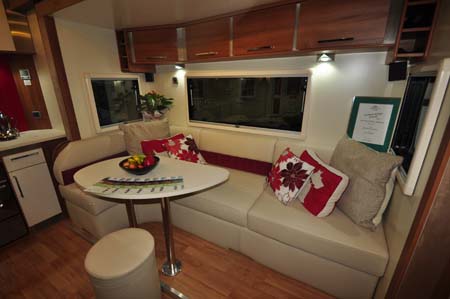 You'll recognise many of the fittings throughout – Spinflo Caprice cooker with four gas rings and separate grill and oven, Dometic fridge/freezer, Sharp microwave oven etc – but, it's all "customisable". There's certainly sufficient space, strength and payloads to take items up to dishwashers (a popular option).
It's a small step up to the bedroom and washroom, the former boasting a full-size island bed flanked by his and hers wardrobes. Thinking of allowing guests to stay over? A further double can be made from the lounge settee.
Meanwhile, the standard of furniture and soft furnishings all around is absolutely top-drawer. To stress, it's all made in-house at the Fifth Wheel Company's Denbighshire base.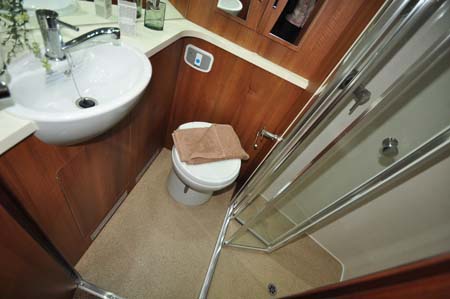 Plenty of other aspects are recognisable – there's a 230ah battery, two x 13kg gas locker, swivel-bowl cassette toilet etc.
Customers can then go on to specify what they want. The key options below are a small taste of what can be added. Plus, you get a say in the interior colour schemes.
Back to those towcars and you're looking at a total outfit price of, say, anything around £85,000 – assuming a brand new, double-cab pick-up (adapting it to take the unit is part of the Fifth Wheel package) and a Celtic Rambler fitted out to suit your specific needs. Indeed, alongside a motorhome of comparable size and luxury, the Celtic Rambler suddenly looks rather good value. What do you think?
Note Caravan Guard can provide insurance for fifth wheel caravans but do not insure the pick up vehicle. We require an approved tracking device to be fitted where 5th wheel caravan value exceeds £40,000. The Fifth Wheel Company offer buyers the chance to specify an Outsmart the Thief Defender tracking device as one of the many optional extras available.
Verdict: The customer is king (of the road and the campsite)
Plus: Huge living space, bespoke qualities throughout
Minus: The usual weight disadvantages… and you'll need a pick-up to tow it
In-a-nutshell: Caravan? Motorhome? Or a fifth-wheeler…
Would you swap ever your touring caravan or motorhome for a fifth wheel caravan? Let us know by adding a comment in the box lower down the page.
Cost to insure:£538
In summary:
Fifth Wheel Company Celtic Rambler
Dimensions 8.5m L, 2.3m W, 3.3m H
Width with slide-out extended 3.3m
Key options: Auto-levelling system (£985), 17ft Carefree awning (£1,150), 150Watt solar panel (£750), Fire Safety Pack (£43), 40in TV (£575), DVD home cinema (£595), bedroom TV (£450), vinyl flooring in main living area, leather upholstery (2,000)
Safety and security: Gas detector, alarm and Outsmart the Thief tracking device optional (£695 plus subscription)
Recommended retail price from £52,500**
There's more information on the Fifth Wheel range on the Fifth Wheel Company website and to find out more about our low-cost premiums visit the fifth wheel insurance discounts page. 

Alternatives: None? Concorde motorhome, Airstream tourer… maybe!
*Fifth Wheel Caravan insurance cost based on Fifth Wheel Celtic Rambler caravan retailing at £52,500 fitted with an approved tracking device & Pinlock. Kept on drive at HX4 0BE. Caravanners over 30 years old, claim free for 3 years and a member of a caravanning club. £100 excess. 180 days European cover and up to £75 per day for up to 15 days emergency accommodation cover included. Legal expenses cover, extended European cover and other emergency accommodation expenses cover options are available at extra cost. Quote includes 10% online discount and 6% Insurance Premium Tax and is correct as of 20/10/14.
**On-the-road, including VAT at 20%
Cost to insure: *
---
factfile
| | |
| --- | --- |
| Model | |
| Base vehicle | |
| Axle type | |
| Dimensions | |
| Shipping length | |
| RRP | |
---
Search our blog
---