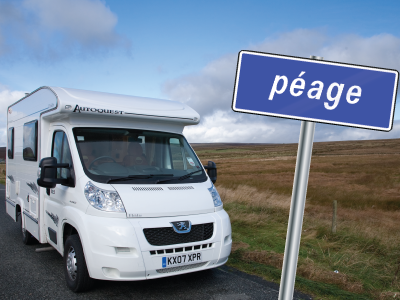 On European motorways or autoroutes, particularly on French 'toll roads', if your motorhome breaks down you should call for assistance using the roadside emergency telephones. The police will answer the call and arrange for the motorhome to be picked up, and tow you and your motorhome off the motorway to a local garage or a motorway service station. This is because on most European toll roads your own recovery company will not be allowed to access the motorway or autoroute.
One thing that many motorhomers don't realise though is that if this happens then you will have to pay for this help on the spot, and it's something that some insurers do not cover. However it's a cost that Caravan Guard insurance does cover you for, simply get a receipt and keep it, and we will pay you the money back.
Once you and your motorhome are towed to a safe place, call our recovery helpline and we will also arrange any other help you may need. In some cases the organisation that have picked you up may even accept our guarantee over the phone to pay them.
Because Caravan Guard are motorhome insurance specialists we understand the specific needs of motorhome owners, and how they are very different to other motorists.
It's for this reason that we chose AXA Assistance (UK) Limited as the recovery company to look after our motorhome insurance policyholders in the UK and abroad. They have no size or weight restrictions and because of their huge 30 office recovery network, can recover any motorhome, anywhere in Europe.
For more general information about AXA Assistance you can read our article on the motorhome recovery service we offer.
Cost to insure: *
---
factfile
| | |
| --- | --- |
| Model | |
| Base vehicle | |
| Axle type | |
| Dimensions | |
| Shipping length | |
| RRP | |
---
Search our blog
---