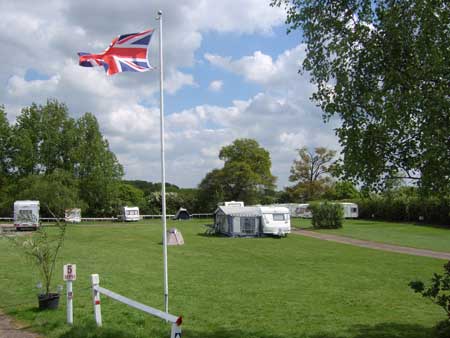 Olympic fever has hit us like a Bolt out of the blue (sorry we couldn't resist that) here in the Caravan Guard offices with only 84 days until the start of London 2012 which start on the 27th July. We asked our special Olympic correspondent to don his track suit and get set for the off by looking at campsite arrangements within easy reach of the Olympic venues.
There are a number of large temporary sites arranged for the Olympic Games by several different organisations, many are for tent campers only, and those for tourers and motorhomes are already getting booked up.
If you are not a member of one of those organisations and you are trying to make your own plans we hope that the following information may be helpful. These are sites which have availability at the time of writing (2/05/2012) and do not represent a recommendation as to quality. It is essential that you make contact with the park to establish availability, price, grading, opening hours and any special services being offered for Olympic visitors. It's wise to phone the site to make your booking, not all are taking bookings via websites and you may want to ask which specific services they offer, i.e. transport to and from the nearest train station or time the site barrier closes.
If you have tickets for events remember that it is necessary to leave early to get into the venues and you may be returning late in the evening.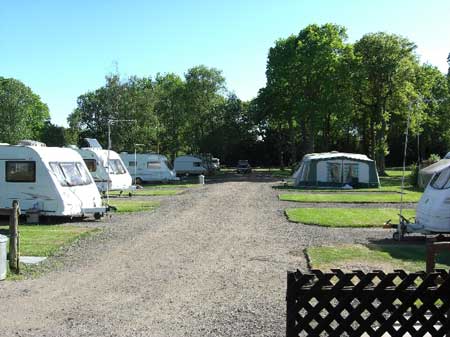 If you don't have tickets but still want to soak up the atmosphere, remember there are Live Sites, big screens, being erected in regions around the UK including Hyde Park in central London, Victoria Park in Tower Hamlets and Woolwich.
Don't forget the Paralympics too, which are just as exciting and start on the 29th August.
The sites listed for London all have a railway station nearby, this is the recommended form of transport for speed and comfort, driving to a venue is not a practical option.
For more information: http://www.london2012.com/
Olympic venues in London:
The new Olympic Park
Stadium (athletics, opening/closing ceremonies)
Aquatic centre (swimming, diving, synchronised swimming, water polo)
Velodrome (track cycling)
BMX track (BMX cycling)
Hockey complex (hockey)
Multi-sport complex (basketball, fencing, handball, volleyball, modern pentathlon events)
Tennis complex (Olympic training venue and Paralympic competition venue)
Venues in and around London
Greenwich Arena (badminton, rhythmic gymnastics)
Broxbourne, Hertfordshire, (canoe slalom)
Wembley Stadium (football finals)
Wimbledon (tennis)
Lord's Cricket Ground (archery)
Horse Guards Parade (beach volleyball)
Hyde Park (triathlon)
Regent's Park (road cycling)
Greenwich Park (equestrian; modern pentathlon)
ExCel exhibition centre (boxing, judo, taekwondo, weightlifting, wrestling, table tennis)
The Dome (gymnastics – artistic/trampolining; basketball)
Royal Artillery Barracks, Woolwich (shooting)
Eton Dorney, Berkshire rowing centre (rowing and flatwater canoe/kayak events)
Hadleigh Farm, Essex (mountain biking)

Caravan sites within reach of Olympic Venues in and surrounding London:
Homestead Lake Park
Thorpe Road (B1033)
Weeley
Clacton-on-Sea
Essex CO16 9JN
T: 01255 833492
F: 01255 831406
Email: [email protected]
Willows
Lippitts Hill,
High Beech
Loughton
Essex
IG10 4AL
T: 07816 847541
Lee Valley Campsite
Sewardstone
Sewardstone Road
Chingford
London
E4 7RA
T: 020 8529 5689
F: 020 8559 4070
Email: [email protected]
Highclere Country Touring Park
Newbarn Lane
Seer Green
Buckinghamshire
HP9 2QZ
T: 01494 874505 / 875665
F: 01494 875238
Email: [email protected]
Lee Valley Camping and Caravan Park
Meridian Way
Edmonton
London
N9 0AR
T: 020 8803 6900
Email: [email protected]
The Elms Caravan and Camping Park
Lippitts Hill,
High Beach
Loughton,
IG10 4AW
Email: [email protected]
Web: http://www.theelmscampsite.co.uk
T: 0044 (0)20 8502 5652 (8.30am – 8.30pm)

Caravan sites near Eton Dorney rowing centre:
Highclere Country Touring Park
Newbarn Lane
Seer Green
Buckinghamshire
HP9 2QZ
T : 01494 874505 / 875665
F: 01494 875238
E-mail: [email protected]
Laleham Camping Club
Laleham Park
Thameside
Laleham
Middlesex
London TW18 1SS
T: 01932 564149

Caravan sites near Paralympics road cycling Brands Hatch:
Thriftwood Holiday Park
Plaxdale Green Road,
Stansted,
Sevenoaks,
Kent TN15 7PB
Sevenoaks, Kent,
TN15 7PB
T: 01732 822261
F: 017 01732 82226132 824636
Email: [email protected]

Caravan sites near Weymouth-Portland (sailing):
Pebble Bank Caravan Park
90 Camp Road,
Wyke Regis,
Weymouth,
Dorset
DT4 9HF
Contact: Ian and Dot Hartley. T: 01305 774844
Email: [email protected]
East Fleet Farm Touring Park,
Chickerell,
Weymouth,
Dorset.
DT3 4DW
T: 01305 785768
F: 01305 784680
Email: [email protected]
Bagwell Farm Touring Park
Knights in the Bottom
Chickerell
Weymouth
DT3 4EA
T: 01305 782575
F: 01305 780554
Portesham Dairy Farm
7 Bramdon Lane,
Portesham,
Weymouth,
Dorset, DT3 4HG
T: 01305 871297
Email: [email protected]

Caravan sites near the various Olympic Football venues:
Old Trafford (Manchester)
Holly Bank Caravan Park
Warburton Bridge Road
Rixton,
Warrington,
WA3 6HL
T: 0161 775 2842
Web: www.hollybankcaravanpark.co.uk
St James' Park (Newcastle)
Derwent Park Caravan and Camping Site
Rowland's Gill,
Gateshead,
NE39 1LG
T: 01207 543 383
Bobby Shafto Caravan Park
Cranberry Plantation
Beamish
County Durham
DH9 0RY
T: 0191 370 1776
F: 0191 370 1783
Email: [email protected]
Hampden Park (Glasgow)
Craigendmuir Caravan & Camping Site
Clay House Road,
Stepps,
Glasgow,
G33 6AF
T: 0141 779 4159
F: 0141 779 4057
Email: [email protected]
Millennium Stadium (Cardiff)
Cardiff Caravan Park
Pontcanna Fields
Cardiff
CF11 9XR
T:029 2039 8362
F:029 2039 8362
Email: [email protected]
Vale Touring Park
Port Road West
Barry
Glamorgan
CF62 3BT
T: 01446 719311
City of Coventry Stadium (Coventry)
Hollyfast Caravan Park
Wall Hill Road
Allesley
Coventry
CV5 9EL
T: 024 76 336411
F: 024 76 338007
Email: [email protected]
Cost to insure: *
---
factfile
| | |
| --- | --- |
| Model | |
| Base vehicle | |
| Axle type | |
| Dimensions | |
| Shipping length | |
| RRP | |
---
Search our blog
---