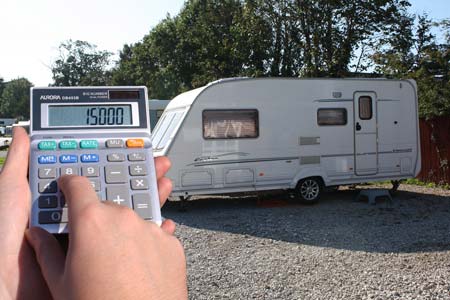 There are many different factors which affect the price you will be quoted for your caravan insurance. Some of these factors, such as the price of your caravan or your claims history, are fairly obvious but others you may not have considered.
By understanding which rating factors affect your caravan insurance you can take the necessary steps to ensure you are in a position to receive the best quote possible.
Calculating an insurance premium
Most insurance companies first calculate a base premium using a combination of two or more variables – these will be major rating factors such as storage location, value of the caravan being insured, or caravan type (single or twin axle).
Once this base premium has been calculated then a long list of discounts or loadings will be added depending on various other factors such as caravan security, age of owner, number of years claim free caravanning, voluntary excess amount etc. The order, weighting and number of rating factors will change from one insurer to the next and are often adjusted regularly in reaction to current claims statistics – hence the reason insurance premiums can fluctuate from one year to the next.
Reducing your insurance premium
Reducing your insurance premium is about hitting the big rating factors. The first thing to look at is the price of your touring caravan as most insurance companies will have price brackets, meaning a £1000 difference in the price of two models could take hundreds off your premium. When looking at new vans why not give us a call and let us do some sample quotes for comparison?
New for old insurance is generally more expensive than market value insurance as premiums for such cover are worked out on the brand new replacement cost of your caravan. So if your caravan is over a year old you could consider switching to market value insurance, which bases your premium on your caravan's current value which obviously takes account of depreciation. The great benefit of new for old cover of course is that if your caravan is stolen or damaged beyond economic repair, providing your sum insured is sufficient, you would be supplied with a brand new equivalent caravan. Market value of course would simply pay out the caravan's value at the time of the theft or accident.
Another big rating factor is the storage location of your caravan, so before moving your caravan to a storage site (or back home from one) always find out the postcode of the new location and check with your insurer how this will affect your premium. It's also important to have a storage location with good security, so if you're opting to keep your van at home then why not get a drive post or locking gates fitted? Or if using a storage site then opt for one with security such as perimeter fencing, CCTV, access control and 24 hour monitoring. Better storage security can result in premium reductions. For more information on caravan storage locations visit our caravan storage page.
The security fitted to your caravan can also make a huge difference. For example we offer a 25% caravan insurance discount for the fitting of an approved tracking device, and a 10% discount for the fitting of an axle wheel lock such as the Al-Ko Secure, plus many more.
You can also get discounts for safety features such as electronic anti snaking devices and Tyron wheel safety bands.
A large number of new or recent model caravans come with many of these discount qualifying security or safety features as standard. For a list of our safety and security discounts visit our caravan insurance discounts page.
Cost to insure: *
---
factfile
| | |
| --- | --- |
| Model | |
| Base vehicle | |
| Axle type | |
| Dimensions | |
| Shipping length | |
| RRP | |
---
Search our blog
---