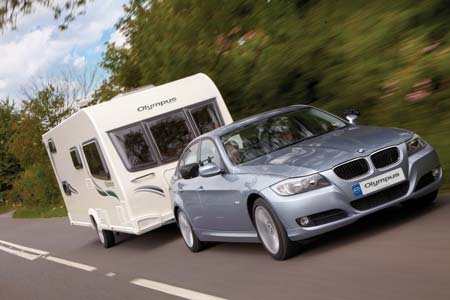 Why it's still important to secure your caravan
Despite the reduction in caravan thefts seen in recent years it's not time for the industry to let its guard down yet. Theft is still the second highest claims cost caravan insurers face, after accidental damage claims, with up to 1000 caravans stolen in the UK each year, not to mention numerous thefts of equipment following break ins.
The key to keeping thefts down is the continuation of the security conscious approach that owners and manufacturers have adopted over the last decade.
Most caravan insurers still have a minimum requirement for a wheelclamp and hitchlock to be fitted whenever the caravan is left unhitched and unattended – so if you're new to caravanning it's a good idea to invest in these two items before hitching up your new caravan and pulling off the dealer forecourt.
Wheelclamps and hitchlocks are a first line of defence that will prevent an opportunist thief attempting to steal your caravan. That said, for higher value caravans and twin axle models it's worth taking extra steps to secure your 'van.
It's great to see more caravan manufacturers fitting the excellent axle wheel locks (or receivers for) and various other security devices as standard, especially on larger, twin axle caravan models.
The security and safety devices being fitted as standard including axle wheel locks, alarms, tracking devices and electronic anti snaking devices offer great peace of mind both when leaving your caravan unattended and whilst towing.
Fantastic insurance discounts
Caravan Guard and many other specialist caravan insurers continue to offer insurance discounts that reward the fitment of security devices. Caravan Guard offers a 5% discount for fitment of caravan alarms and 25% off for fitment of an approved tracking device.
Many sure to be big selling 2012 caravan models are fitted with the receiver only for an axle wheel lock such as AL-KO Secure. Buying the locking mechanism may cost you more than your average wheelclamp, but not only does the axle wheel lock often count as a wheelclamp (helping you to meet the minimum requirements of your insurance policy), it will earn you a healthy 10% insurance discount at each renewal. Please note the maximum combined security device discount for caravans is 30%.
Further 5% caravan insurance discounts reward the fitment of risk minimising devices such as electronic snaking systems such as AL-KO ATC or BPW iDC and even Tyron Safety Bands.
Even if your caravan doesn't have many security and safety features at the moment they can always be bought and retrofitted so it's well worth asking your dealer to go through options available.
Cost to insure: *
---
factfile
| | |
| --- | --- |
| Model | |
| Base vehicle | |
| Axle type | |
| Dimensions | |
| Shipping length | |
| RRP | |
---
Search our blog
---