In last month's poll we asked you to tell us what you thought should be the maximum cost of a caravan. Before we go through a few of your comments, let's get straight to the all-important results.
Here's how you voted…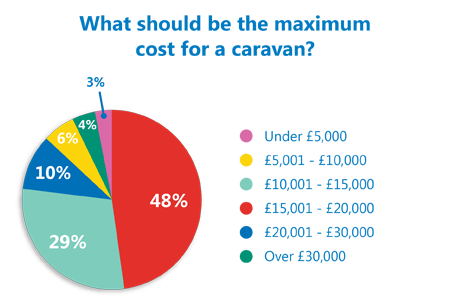 As you can see the majority told us that between £15,000 and £20,000 should be the maximum price for a brand new touring caravan, but 29% of voters told us they wouldn't spend more than £15.000.
Only 4% said they would pay more than £30,000.
Now let's find out what you had to say…
Stuart got in touch to tell us, "As the owner of a 2011 Buccaneer Clipper I run a caravan that cost in the high 20ks. I believe that if you want luxury and quality you have to pay for it. However I do think that the overall manufacturing quality of UK caravans is not keeping up with the increasing prices." 

David agrees with Stuart in part, telling us, "I don't think you can put a maximum price on a caravan. Caravans are improving all the time with more and more extra luxuries available; but there will always be somebody who wants that something else that makes their caravan more to their liking, so are prepared to pay the extra cost, and as long as the manufacturers keep adding these things to the basic vans the cost will continue to increase because nothing comes free."
He continues, "My only real wish is that manufacturers would do more to ensure that new vans leave their site in a more perfect state."
At the opposite end of the spectrum is Jon who simply says, "For me, £18,000 max."
Meanwhile Rob says that, "Whilst I agree that if you want quality you have to pay for it, I am finding that the vast majority of vans now have what used to be extras fitted as standard. I don't require a microwave, as we don't usually have hook up, or a state of the art music system, or TV. Comfort without the add ons doesn't seem to be available."
Do you agree with the vote? Let us know using the comment box below.
Cost to insure: *
---
factfile
| | |
| --- | --- |
| Model | |
| Base vehicle | |
| Axle type | |
| Dimensions | |
| Shipping length | |
| RRP | |
---
Search our blog
---