If the credit crunch has thwarted your plans to go abroad with your motorhome this year, don't despair as there are ways to make the holiday budget go even further and still head off to foreign fields.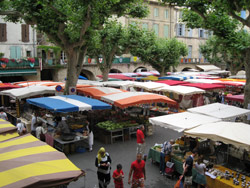 Travelling off-season is obviously cheaper than high season.
Shop around to get the best price. When booking your pitch, ask "Is that your best price?"
Be flexible with your days and travel times.
Take a prepaid Mastercard or Visa debit card that you load up with money before you go and then use it as a payment method or to withdraw cash whilst abroad. You can only spend what is on it but you can top it up whilst you are away. You can buy them at Travel agents, or on-line but shop around to get the best one for you.

Use Camping Cheques. These are low season vouchers that cost £11.95 per night and can save you up to 60% over the campsite's normal pitch fee. Over 550 quality campsites across Europe accept them and each voucher is valid for one night, for two people on a standard pitch, including electricity. Many of the campsites offer special deals too, like pay for six nights, but stay for seven. In most cases you don't need to book ahead, either, just turn up at a campsite that accepts them and say you want to pay with Camping Cheque. Sounds simple, doesn't it, and it is. You need to buy the Camping Cheque site directory (£3.00) and the right number of Camping Cheques before you leave the UK as they can't be bought on campsites. You can combine a ferry crossing with the purchase of Camping Cheques too. Tel: 01580 214 002 www.campingcheque.co.uk

Another way of cost cutting is using the recently introduced Castellissime Card from Les Castels group of 39 four star camping sites in France. It's a V.I.P. loyalty card that you purchase for 10 € and offers points for every overnight stay booked via its website or at your holiday destination, in every season and at every Les Castels site. The point-earning scale (2% to 15% off accommodation expenses) is variable according to the season and points can be redeemed for price reductions on future visits to a Les Castels campsite. It has the advantage that you only have to pay a deposit when you make your booking – pay the rest when you get there, and as a card holder you'll receive special member only offers. Tel: 00 33 02 23 16 03 20 (English spoken) www.les-castels.com

Use toll free roads; Brittany and the A75 in France are toll free, as is Holland.
Ask at the campsite reception or local tourist office for details of any free tourist attractions.
Eating from the fixed price menu (menú del dia in Spain, or menu du jour in France) rather than the à la carte can be much cheaper.
Before setting off, please make sure that your motorhome insurance includes cover for trips abroad. Caravan Guard make European Insurance optional but it can be added at any time if you haven't already included it on your policy. You may also want to consider European breakdown cover (again optional with Caravan Guard). Also don't forget to take out travel insurance with a reputable provider.
Search our blog
---