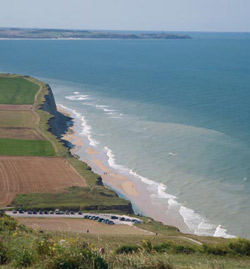 Visit Cap Blanc Nez with your motorhome
If you fancy a quick weekend away in your motorhome but also want to enjoy being abroad then Northern France is the perfect destination, being just a short hop over the Channel.
The region offers the visitor a wealth of things to see and do once you arrive, all within easy travelling distance of each other.
So, where should you head for? Here are some suggestions:
Cap Blanc Nez
Just a few miles along the coast from Calais, this area offers spectacular views along the Opal Coast. A walk along the cliff tops is the ideal activity to build up an appetite for lunch and the younger members of the family will enjoy playing in the rock pools or digging in the sand. It can be breezy so take advantage of this with a spot of kite flying.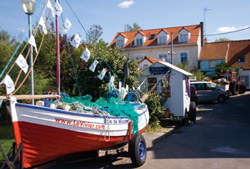 The picturesque port of Wissant
Wissant
Just a few miles further along the coast, this picturesque port is all about fishing nets and lobster pots. Here, you'll see vintage tractors parked outside the homes of the fishermen that are used to tow their boats to the sea. From the beach on a clear day you can see the White Cliffs of Dover, a reminder that you're not too far from home!
Boulogne
Situated at the mouth of the river Liane, this old fortified town is France's biggest fishing port. A mixture of expensive yachts and ocean trawlers greet you and the area is littered with fancy restaurants – the fresh fish is a must! There's also a sea life centre and sandy beaches to enjoy. Interesting fact: The town was Napolean's base while he prepared to invade England in the early 1800s.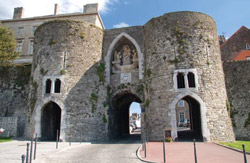 Fishing port in Boulogne
Le Touquet
One of the most popular areas to head for it's full name is Le Touquet Paris-Plage and it's a traditional coastal retreat for Parisians. The resort, a 45-mile drive from Calais, boasts an interesting architectural mix – there's some classical Normandy, a dash of Flemish and a dose of Swiss, so it's all very interesting. You enter Le Touquet on a road that carves its way through an area of extensive pine woods, setting the scene for the chic seaside resort with many great restaurants you are about to enter. There's also an annual sand sculpture exhibition that runs from May to August 31 each year – so be quick if you want to catch it this year!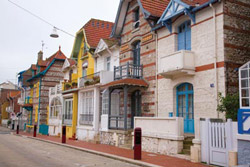 Coastal Retreat of Le Touquet
Here are some campsite suggestions:
Kawan Village Château du Gandspette

Rue du Gandspette
62910 Éperleques
T: 00 33 3 21 93 43 93
www.chateau-gandspette.com
E-mail: [email protected]
Just 17 miles from the Norfolkline ferry terminal at Dunkerque, this family run campsite is set in the grounds of a 19th century château. The staff speak English and Camping Cheques are accepted in low season. The motorhome service point is easily accessed. The baker calls at the site six mornings a week and there is a village shop about half a mile away.
Camping L' Eté Indien
Hameau Honvault
62930 Wimereux
T: 00 33 3 21 30 23 50
www.eteindien-wimereux.com
E-mail: [email protected]
A little to the north of Boulogne, this campsite has pitches on grass and a dedicated motorhome service point. It is well situated for exploring the Côte Opale as well as Calais, Boulogne and Dunkerque. English is spoken and the campsite is open all year.
Kawan Village La Ferme des Aulnes
1, rue du Marais
Fresne sur Authie
80120 Nanpont St Martin
T: 00 33 3 22 29 22 69
www.fermedesaulnes.com
E-mail: [email protected]
Restored 17th century farm buildings dominate this campsite and it's worth the drive to stay for a few nights. Camping Cheques are accepted in low season, English is spoken and there is a dedicated motorhome service point, a heated indoor swimming pool and a very relaxing piano bar.
Cost to insure: *
---
factfile
| | |
| --- | --- |
| Model | |
| Base vehicle | |
| Axle type | |
| Dimensions | |
| Shipping length | |
| RRP | |
---
Search our blog
---