The Expo factor
Fancy aspiring to this? It's easy to argue this is one of the finest Volkswagen-based camper conversions money can buy.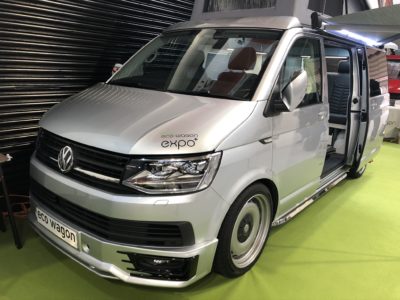 Ecowagon itself needs some introduction. It's a small, fully independent converter that sells direct and has always specialised in Volkswagen vans. OK, so there are hundreds of such companies throughout the country, but there's one thing that makes Redruth, Cornwall-based Ecowagon special – its total commitment to quality.
And yes, that does mean paying higher prices. Brace yourselves, because the vehicle here, complete with a whole string of optional extras (as listed opposite, some £13,000 in total, although there are more), comes out at some £88,750.
You did read that right. And that's before you take into account what level of specification you want on your Transporter base (as here, it's the T6 with Highline trim). Hence, it's easier to talk of the Expo Plus conversion price starting at £34,995 – and that's on top of your personally selected base vehicle.
As you've surmised, then, this is very individualistic and – to be frank – if you're going to order a vehicle like this you need to know exactly what you want.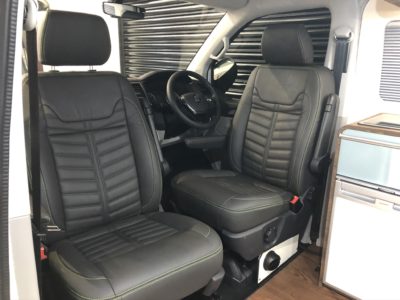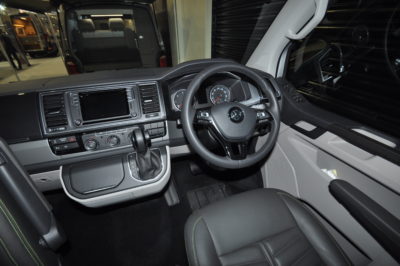 The "standard" Expo Plus comes with a choice of Reimo Easy (electrically operated) or SCA elevating roof including bed, a rear travel seat/bed system you'll only find elsewhere in Volkswagen's own California, the usual VW-based camper fittings (two-ring gas hob, 50-litre compressor fridge) and then a fair sprinkling of "desirables" ranging from wind-out awning to 160W solar panel, underslung gas tank, diesel-fuelled heating, and much more.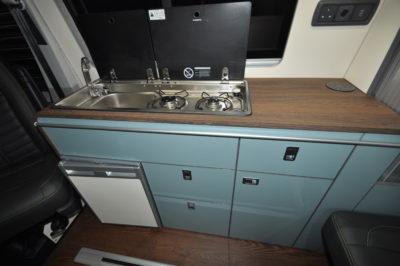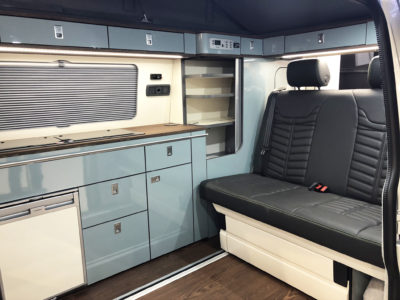 On top of this are some unique Ecowagon fittings, such as its own curved-edged furniture, and blinds with flyscreens, through to external shower with its own supply tank. It's all highly bespoke. Or, as Ecowagon puts it, "If we can design it or fit then we will." And, of course, you can have a virtually unlimited choice of colourways to suit your final choices on overall specification.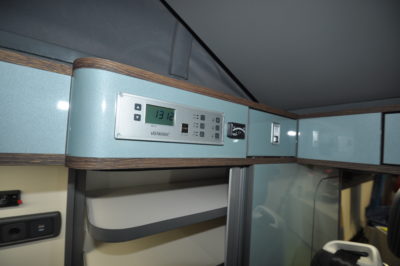 The overall quality, however, is what really shines through. It also backs it all up with its own "no quibble" three-year warranty.
Ecowagon doesn't deviate from the classic VW camper floorplan, with furniture along one side and that California-derived sliding rear seat/bed (adapted for UK use by Ecowagon). And items like the combination hob and sink are typical of any campervan conversion. On top of all this, however, you will want to consider quality such as the catches for the lockers, runners for the drawers etc.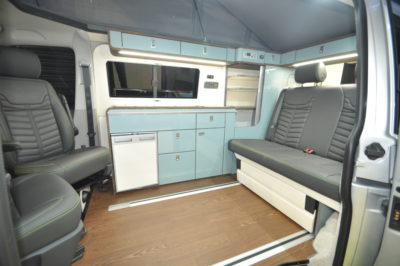 There really are so many clever touches here, too. Examples range from dimmable LED lighting, to the folding table system, to the upper-level lockers, to the folding shelving in the wardrobe and – again – more.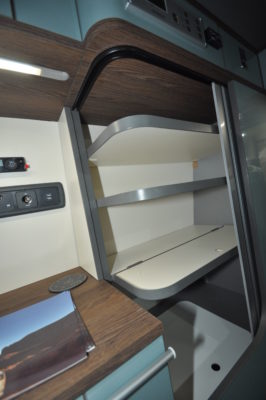 Also, note the main control panel and associated fuses etc are all tucked away neatly inside the wardrobe but – and it's an important but – are oh-so practical.
A dream machine for many, of course. This nevertheless shows what can be done these days with a VW campervan conversion. Inevitably, though, it's with you, the paying customer, where the ultimate responsibility lies.
Campervan insurance
Here at Caravan Guard we offer comprehensive and specialist campervan insurance cover for "bespoke", professionally converted campervans such as this.
If your campervan converter isn't listed on our website when getting an insurance quote online then please call us on 01422 396852 and speak to one of our specialist advisers.
---
Verdict: Top-of-the-tree bespoke VW-based camper
Plus: Superior quality bespoke work, sensible features
Minus: Prices!
In-a-nutshell: A campervan plus!
There's more information on the Expo range on the Ecowagon website. Find out more about insuring this or your current campervan on our campervan insurance discounts page.
---
Alternatives: Autohaus Ashton, Hillside Birchover Executive, Rolling Homes Classic, Volkswagen California Ocean
Cost to insure: £600.50*
---
Ecowagon Expo+ factfile
| | |
| --- | --- |
| Model | Ecowagon Expo+ |
| Base vehicle | Volkswagen Transporter |
| Dimensions | 4.89m L x 1.91m W x 2.01m H |
| Berths | Four |
| Travel seats | Four |
| Maximum weight | 3,200kg |
| Payload | 800kg |
| MPG estimate | 30-34 |
| Safety & security | ABS, engine immobiliser, front airbags, Thatcham Cat 1 alarm/immobiliser (base vehicle-dependent). |
| Key options | VB air suspension (£5,750), Side bars (£425), banded steel wheels (£1,900), leather upholstery (£2,495), Bluetooth-operated lighting (£300), 100Ah lithium leisure battery (£1,440), Voltronic 1,200W inverter (£965) |
Search our blog
---