Whether you are storing your motorhome at home or at a storage facility this winter, there are a few things to be aware of. This month we're looking at the ways you can reduce the risk of fire damage – one of the most serious and most costly perils there is.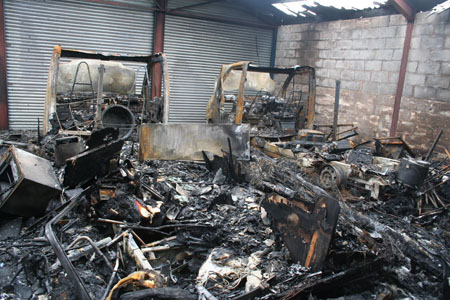 Similarly to storm and flood, fire can cause a huge amount of damage in a short space of time. Motorhome fires often result in the vehicle being written off and in extreme cases, can even cause fatalities.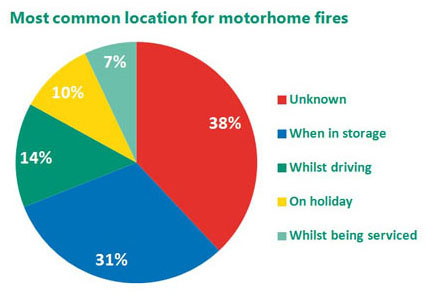 Average value of fire claims
We looked into our claims records to give you a better idea of how severe fire claims can be.
The first thing that struck us was the costs involved; almost 46% of all motorhome fire claims were valued at £10,000 and over. On average, each claim cost £19,385.
Looking specifically at fire claims made whilst the motorhome was in storage, we discovered that the average claim cost considerably more at £26,296.
Where the risks lie
Most motorhome owners store their vehicle at home where the risk of fire is relatively low if the right precautions are taken. For motorhomes kept in storage facilities, the risks are slightly different. These facilities can house hundreds of motorhomes in one place, which not only increases the risk of fire but the threat of more widespread damage too. After looking at the total number of motorhome fire claims we found that over 30% happened when the motorhome was in storage.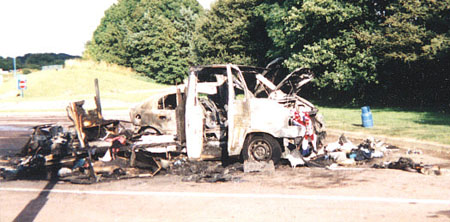 Fire can also occur when the motorhome is in use. In these cases problems tend to arise because of electrical or engine faults. We've handled many claims where policyholders have noticed smoke coming from either the rear or under the bonnet of the motorhome. In fact, 14% of all motorhome fires happened whilst the motorhome was being driven.
We have also heard from customers who've been victim to motorhome fire whilst on holiday. When motorhomes are being used naturally the risks increase which is perhaps why claims of this sort are so varied. In one particular case a customer's motorhome set on fire after a candle fell over, causing over £2000 worth of damage.
Preventing motorhome fires occurring in storage
Many motorhome fires are preventable. It's recommended that motorhomes, their base vehicles and their habitation areas are serviced on an annual basis, even if the motorhome isn't used that often. This is because problems can occur during long periods of storage.
It's important to have the motorhome base vehicle serviced for two main reasons: it must be deemed roadworthy by a qualified mechanic and there must be no signs of deterioration on tyres, suspension, in the engine and in other areas.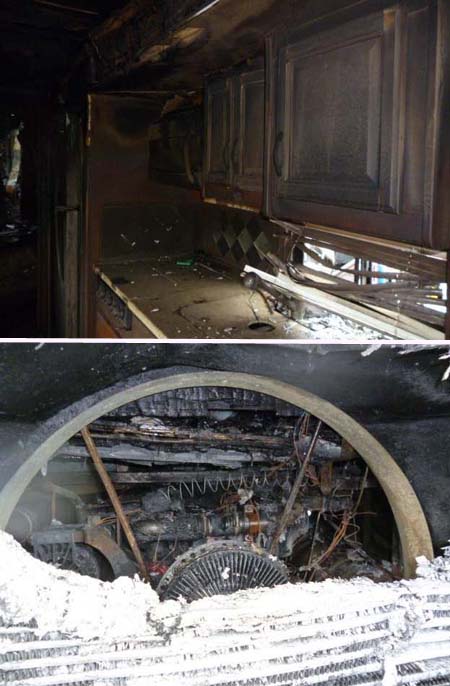 A full habitation service for example, covers gas pipes and water heater checks, sockets and charging systems, alarms and ignitions, lights, exhausts, tyre pressure, seals and even fridges. Fridges are a surprisingly common factor in motorhome fires, in fact they account for 8% of all motorhome fire claims. Fires claims caused by faulty fridges cost £9,201 on average which shows just how crucial habitation services are to preventing and reducing the risk of motorhome fires.
The claims team here at Caravan Guard recently heard from one customer whose motorhome caught fire whilst in transit (see image above and below). The engine fire was caused by an undiscovered bird/rodent nest in the motorhome's exhaust. The fire was so severe, the motorhome – a 2012 American A-Class worth around £130,000 – was written off. Our underwriters, Royal and Sun Alliance (RSA), went on to refund the amount in full.
Although this fire didn't take place during storage, it does highlight how problems can develop following long periods of storage.
It also shows just what's at stake and how important it is to carry out regularly checks during storage. Things like birds' nests and electrical faults don't develop overnight so spotting any problems early really can make all the difference.
Keep your motorhome out of harm's way
Arson is a common cause of fire damage but there are a few ways you can help protect your motorhome from being targeted. First make sure you the vehicle is secure, then make sure the area around the motorhome is well lit overnight which should help to keep thieves away.
If you've used the motorhome through the day make sure you switch the appliances off properly before you go to bed.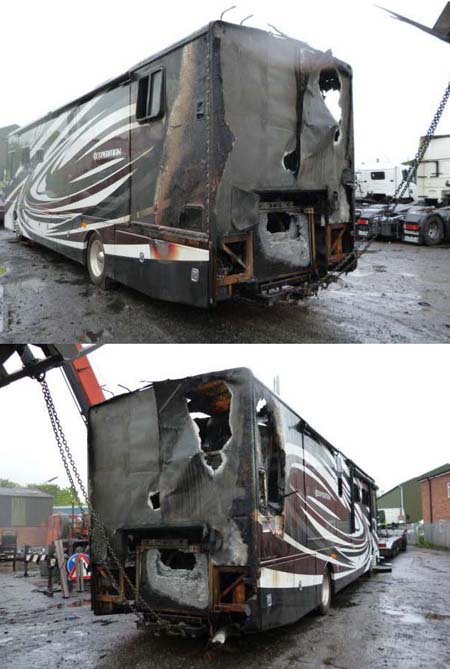 What else can you do?
Knowing how varied these claims can be, we've created this checklist to help prevent motorhome fire risks whilst in storage:
Get your base vehicle and habitation area serviced annually
Check that all appliances (kettle, toaster, lamps) are unplugged when storing the motorhome
Check gas appliances regularly for faults
If the motorhome will be in storage long-term, turn off the main electricity breaker and the gas supply valve
Ensure all gas bottles are stored correctly and well away from the motorhome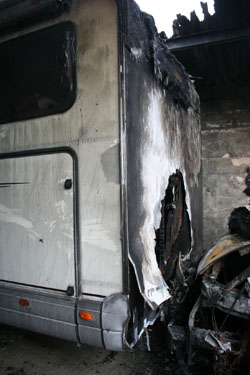 It's easy to forget that motorhomes are incredibly combustible.
They are made of highly flammable material – both internally and externally – so it pays to be that extra bit careful and protect what you own with specialist motorhome cover.
Read our other guide to protecting your motorhome from fire for more handy tips.
Have you ever been a victim of a motorhome fire?
Share your stories and tell us your top tips for staying safe.
Cost to insure: *
---
factfile
| | |
| --- | --- |
| Model | |
| Base vehicle | |
| Axle type | |
| Dimensions | |
| Shipping length | |
| RRP | |
---
Search our blog
---