Fires involving motorhomes are rare, but when they do happen the risk to the people inside is very high, and the damage to the motorhome itself is often very severe, leading to an insurance write off. This is one of the reasons it's important to choose specialist motorhome cover when looking to insure your leisure vehicle.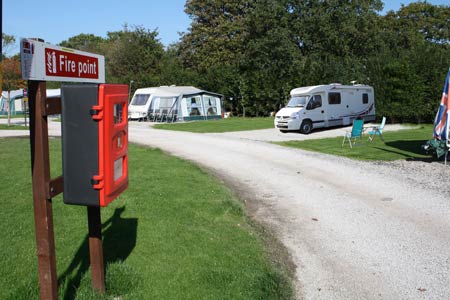 As well as having campervan or motorhome insurance in place, it's important that owners take a few sensible precautions to reduce the risk of a fire and minimise damage should a small fire break out.
We spoke to Scott Donegan, Area Manager for Service Delivery at West Yorkshire Fire and Rescue, for his top motorhome fire safety tips.
"Many motorhomes have LPG cylinders used for cooking or heating so it's important to check the valves on them are fitted correctly, that they are turned off when not in use and not to smoke near them," he said. "Also, make sure a carbon monoxide detector is in place."
He said all the usual home safety guidance applies, including care around portable heaters and candles, and not leaving this unattended.
Smoke alarms
"It's always important to make sure smoke alarms are fitted and working," said Scott.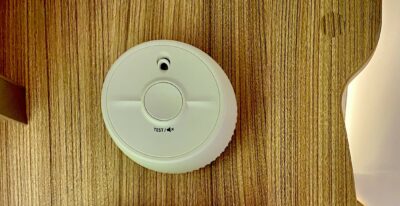 A smoke alarm is the first line of defence, warning you when something has started to give off smoke before it has actually set alight, which can help you to avoid any severe damage being caused. It's important to position your smoke alarm so that it is facing downwards, not horizontally, in order for it to work at its most effective. If you have a large motorhome or American RV you might want to consider fitting more than one smoke detector in order to be completely safe.
You should also test your smoke alarms' batteries regularly by pressing the test button and listening for the beep, and store spare batteries in the motorhome in case the current ones need to be replaced.
Fire blankets and extinguishers
Fire blankets and extinguishers are essential bits of kit for any motorhomer, and can be picked up relatively cheaply if not already installed in your motorhome.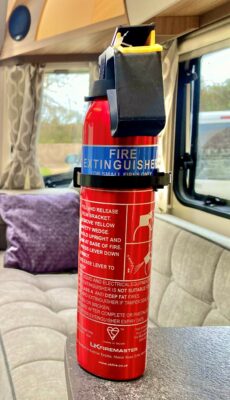 A multi-use dry powder fire extinguisher designed for A, B and C class fires can be used to put out most small fires you would get in or around your motorhome including burning fabrics and wooden fixtures and fittings.
Fires originating from fats or cooking oils are known as F class fires. An ABC fire extinguisher shouldn't be used to combat such fires. Instead, make sure your motorhome is kitted out with a fire blanket that can be thrown over minor cooking fires.
Whilst many fire extinguishers do have expiry dates some portable ones such as those used in caravan and motorhomes don't always have one printed on them. If this is the case then a good rule of thumb is to replace a fire extinguisher every five years or immediately after use.
Keep your fire extinguisher near the door. Some owners carry two – one in the driver's cab and one in the habitation area.
A fire blanket can be stored indefinitely if unused, but just remember to keep it in a handy location where it can be accessed quickly and easily when needed.
Used quickly and in the correct way, a fire extinguisher or fire blanket can be used to put out small fires and avert your motorhome from being completely destroyed.
However, you should only tackle small motorhome fires that you feel confident of extinguishing. Don't attempt to put out a motorhome fire if it's quickly spreading; it could block your escape route from the motorhome; it's not obvious what is burning; there's excessive smoke; or if there's a possibility of explosion, such as a  fire near your gas bottle.
If in doubt get all occupants out and away from the motorhome asap and call the fire service on 999.
Gas and electric appliances
Gas and electrical appliances should be checked annually to make sure they're in full working order and not liable to malfunction. Often a basic safety check of gas appliances will be done as part of a habitation service, but a full service of your gas appliances by a Gas Safe Registered Engineer will be extra.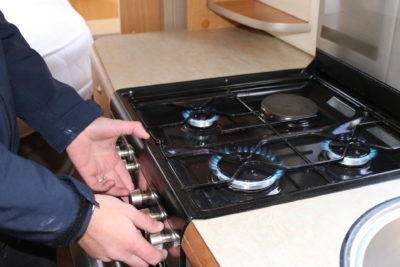 Also don't forget that it isn't just the cooking and heating appliances that can cause a fire, but also appliances such as the motorhome's fridge freezer if not working properly. One of the worst claims for fire damage which we handled was caused by a fridge freezer's exterior elements overheating and setting fire to the side of the motorhome. Luckily nobody was hurt but the damage to the motorhome itself was substantial.
Ultimately it's always worth checking with your service centre exactly what work is being carried out and what will be checked so that a key appliance doesn't get overlooked. The NCC's Approved Workshop scheme has a checklist of what you can expect to be checked as part of an annual motorhome habitation service.
Also remember to keep any flammable things away from your cooker or heater, such as tea towels and bedding.
Be careful around wiring underneath seats and beds when storing bedding or clothing and don't squash any wiring. Also, leave space around your leisure battery.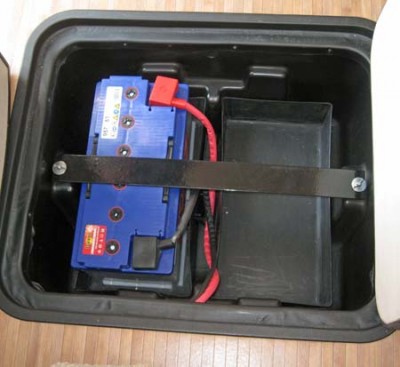 If using a portable heater in your motorhome, don't leave it switched on when you're out, and look for ones with safety cut-out functions if tipped over or to prevent overheating. Don't cover these with clothing or towels and make sure they're cold before packing away.
Never cover up any air vents.
Carbon monoxide detectors
Carbon monoxide poisoning can be lethal in a small confined space such as a motorhome or campervan so it's definitely worth investing in a detector.
Charging mobile devices
West Yorkshire Fire and Rescue also advise taking care when charging your mobile devices when away in your motorhome.
Don't overload plug sockets and always charge mobile devices and laptops with good quality charging cables. Only use the correct charger and power cable that has been recommended by the manufacturer and don't use chargers or cables which you suspect to be counterfeit. These items are likely to breach UK safety standards and the use of poor quality components could increase the fire risk in your motorhome.
Also, avoid charging your mobile phone, tablet or laptop for long periods and don't leave the device charger plugged in overnight or when you're out.
Only use laptops on a suitable hard surface that allows the machine to ventilate and don't allow any of your devices to become covered with pillows, bedding, or clothing.
BBQs
Cooking on a BBQ when on your motorhome holidays is not only one of the most enjoyable ways to cook, it is also a great way to keep the inside of your 'van clean and clutter-free. But it's important that you take a few precautions to make sure your BBQ won't cause heat damage to your motorhome, or cause a fire.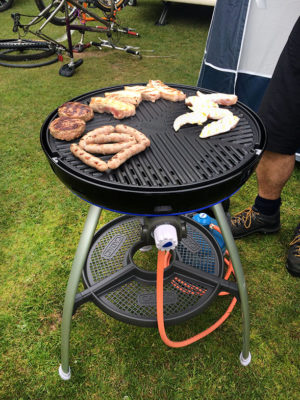 Always make sure there are at least two metres between the BBQ and your motorhome or any awning so if the BBQ was to fall over it won't land anywhere near the side of your 'van or awning material that could catch fire. Avoid using a BBQ underneath a canopy or awning as the heat rising from the grill can seriously damage the material or even set it alight.
"Make sure lit firepits and BBQs, particularly portable ones, are not left unattended and only used designated well-ventilated areas," said Scott.
Make sure that children are not playing near to the BBQ, whether it's a teenager on a skateboard or a toddler with a football, and that adequate care has been taken to make sure the BBQ is out of the way and not likely to be knocked over.
Also leave your BBQ to cool down properly before packing it away and dispose of any embers correctly.
Solar panel safety
The correct installation of a motorhome solar panel is essential for your safety and any solar panel you buy should be recommended for leisure vehicle use and meet UK specifications.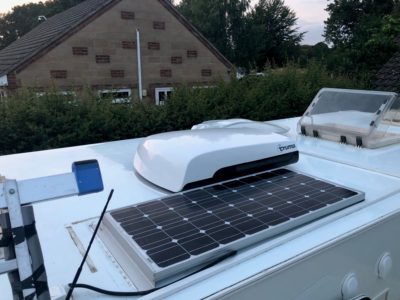 Cheap, imported solar panels, poor installation, and the wrong regulator could pose a potential fire risk.
It pays to deal with an expert and invest in an approved solar panel, fitted professionally.
Andy Harris at RoadPro, said it was important to use a suitable cable when installing a panel and to connect it correctly to a suitable regulator.
"If the installation is not done correctly, not only will the panel not perform at its best, but the battery could be damaged," he said. "In a worst-case scenario, if a panel is faulty for some reason, there could be heat build-up and resulting damage."
Motorhome storage
Choose a storage site where motorhomes are not parked too close together and that has all the necessary fire precautions.
Over to you…
Got any motorhome fire safety advice you'd like to pass on to fellow owners? Please add a comment below.
Search our blog
---