The latest sat nav from Garmin is designed specifically for campervans. We took one for a test when we headed out on a trip to an outdoor show.
This GPS sat nav is for use in smaller campers rather than being specific to coachbuilt motorhomes or large van conversions, where you'll want to enter your 'van's height and width to avoid an unsuitable road or potential sat nav accident spot.
First impressions of the Garmin Campervan sat nav
It's a smart looking sat-nav which resembles a small tablet or large smartphone! And this large (6.95inch) touch screen has lots of benefits when you're on the road.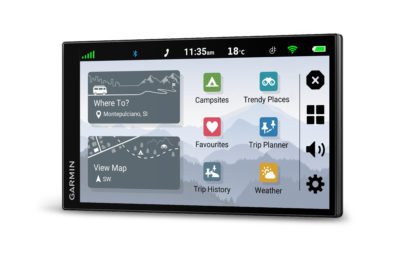 The high-resolution, colour screen is super-clear and after you've set it up there are some simple widgets on the home screen for route planning, plus touch buttons for the settings, volume control, pairing up to your mobile phone and setting up apps for Garmin Drive, the weather, traffic updates etc
Setting up the Campervan sat nav
Simply charge it up and switch it on, using the power button at the back. Once you've agreed to the terms, country, etc the GPS does the rest and finds your location.
The sat nav comes with a USB charger for home, or in the campervan, and one to connect to your campervan's auxiliary power outlet (cigarette lighter). You'll need to keep the battery topped up.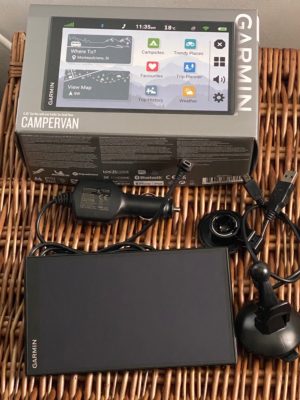 There's an attachment to go into the back of the sat nav which then clips onto a suction pad, which quickly and easily fixes onto your campervan's windscreen.
Planning your campervan route
You can either tap the "where to" widget and enter a postcode, address etc or you can plan a trip in advance, with stop-offs or waypoints and the sat nav will save them as pre-planned routes.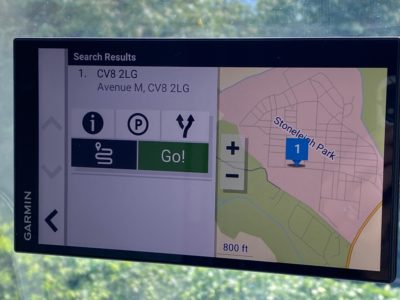 Although not used in the testing, this sat-nav has maps of Europe.
Road warnings
When on your travels there are audible warnings for things like steep hills, and reminders to watch your speed if you're driving too fast for the road speed limit.
And the voice assistant means you can talk to the sat nav to re-route your journey or navigate to a different destination.
Campsites and stopovers
There are a variety of pre-loaded campsites and stopovers so you can find a place to stay for the night, close to your destination or along the way. These can be filtered by price and amenities.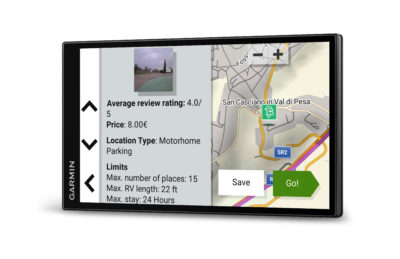 Along with Tripadvisor traveller ratings, the CamperVan also comes with Local Spots™ and Trendy Places™ content which recommend popular places to visit along your route, and listing top-rated eateries and other attractions.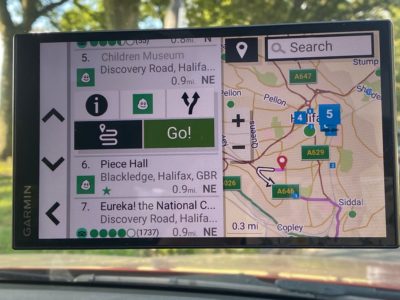 Garmin tells us that the CamperVan is also the first van-dedicated sat-nav to come preloaded with the Green Guide from Michelin, that includes pictures, descriptions and ratings for places that are worth a closer look.
"As the popularity of road trips in smaller vans continues to grow, Garmin set out to make a sat-nav that's easy to control and rely on for every trip," said Thiemo Weinschenk, Garmin Europe senior product manager for consumer automotive. "CamperVan recommends attractions along the way and even shows travellers preloaded directories for campsites, and stop-overs – no need to plan a trip or second-guess a route. Just explore."
Our verdict of the Garmin Campervan
The Campervan was really simple to use and the audible warning of increased speed was a great way to make sure you stay on the right side of the law – and safe!
The large touchscreen gives you a clear view of the map but it needs positioning carefully on your windscreen so you have a good clear view of the road.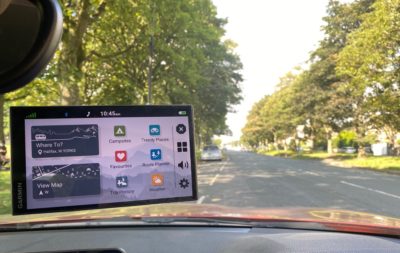 The buttons and icons are nice and big so you're not having to re-type postcodes etc. Make sure there's a charging point not too far away to keep it on charge.
We think the option to add a Garmin BC 40 or 30 wireless reversing camera is a great feature and will give you a discount on your campervan insurance with Caravan Guard! Plus you won't be short of information about places to stay and visit with all the key features the CamperVan sat nav has to offer.
This sat nav will definitely appeal to UK or European travellers who want to plan their adventures at the touch of a screen!
Expect to pay: £259.99
For more information: Visit www.garmin.com
This month, we have a Garmin Campervan sat-nav up for grabs. Simply head on over to our competitions page for your chance to win one of these essential motorhoming accessories.
Search our blog
---