Time to consider a dash cam for your motorhome and caravan travels? Capturing the moment is what they're all about
It says something about their recent surge in popularity that everyone recognises the term "dash cam". The other side-benefit of this increasing popularity – one estimate suggests some three million dash cams are currently in use across the UK alone – is prices are coming down.
As far as leisure vehicle users are concerned, the key benefits of dash cams when motorhoming and towing a caravan are twofold – ideal for providing back-up evidence if you are involved in or are witness to any kind of accident where there may be an insurance fault dispute; plus, a dash cam can capture fantastic memories of memorable road trips.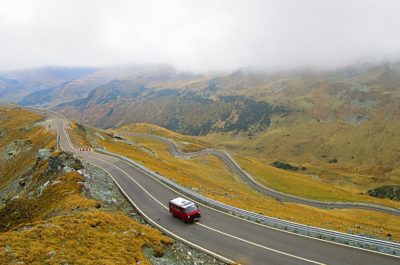 Put simply, a dash cam is a small video camera that's powered by your vehicle's electrics and sits on your dashboard and/or directly onto your windscreen that then records any journeys you go on. Information is generally recorded onto a microSD card, with the facility to download or stream via your smartphone.
Where applicable, you might also want to supplement a forward-viewing dash cam with one that watches what's happening behind you. Thereafter, different models offer all manner of extra high-tech features. Check out the following…
Our dash cam buying tips
Motorhome owners especially need to consider where to fit and place a dash cam, especially if you want a permanent one. Be wary of the possibility of impeding any windscreen screens etc.
Be careful not to restrict your vision. Typically, high up behind your rear-view mirror is a favoured location, ideally then tucking all wiring away.
Get the right SD cards. Buy best quality and remember, you need to cater for wide temperature fluctuations in your vehicle.
Voice activation, for example for taking still photos, can be a major help and means you don't need to take your hands off the steering wheel whilst driving.
Parking Mode can mean your dash cam is "on alert" when parked up – it's especially handy for capturing information if someone bumps into your vehicle whilst parking, for instance, or if there's an attempted break-in.
Check power consumption and/or battery monitoring to make sure your dash cam can't run your batteries flat if left unattended for long periods.
The facility to include/add a polarising filter to your lens will give better contrast and less reflection as well as extra protection.
Travelling abroad? Check the legality of dash cam use in any countries on your itinerary.
Here we take a look at six dash cams…
Star Player #1
Nextbase 622GW
This new flagship model from a leading player in the dash cam market was only introduced in the summer of 2020. And, as you might expect, it's absolutely packed with all the latest features – like voice control via Alexa (if you want directions, for example) and what3words geo-location. The latter means you can pinpoint your exact location – perfect for meeting friends or in any kind of emergency.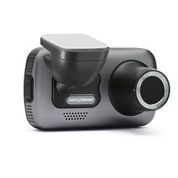 Another clever touch is Extreme Weather Mode, for improved image in poorer weather conditions, including night time.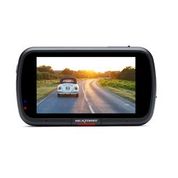 Options include a hard wire fitting kit and rear window camera.
Features also include 140-degree viewing angle, polarising filter, Emergency SOS, compatible with Nextbase rear-view cameras, Intelligent Parking Mode, 3in touchscreen, image stabilisation, patented Click&Go mount
Expect to pay £249
Star Player #2
Garmin 66W
Small, but with a full 180-degree view, this takes a micro SD card of at least 8GB, plus the Travelapse feature allows you to edit highlights of any journey for sharing with others.
Extra safety features include warnings for potential forward collisions, lane departure, red lights and speed cameras – plus a Go alert to tell you when traffic in front of you is starting to move.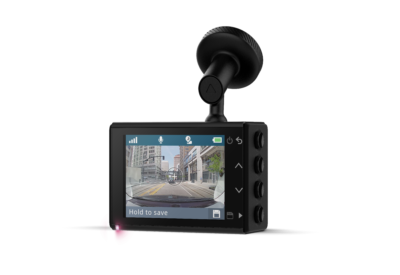 The Garmin Drive app means its compatible with your smartphone. Plus, a dual UDB allows you to plug in phone and camera.
Previously priced at £199.99, it was at the lower price below at the time of writing this report.
Features also include 1440p HD recording, 180-degree view, built-in GPS, voice control
Expect to pay £169.99
Star Player #3
Road Angel Aura HD3X
Whilst Road Angel products tend to be more expensive, there's good reason. Built to automotive standards, HD3X is a new range-topping package that comes with front and rear cameras as well as a host of features right up to built in G-sensoring that detects sudden movements, acceleration etc.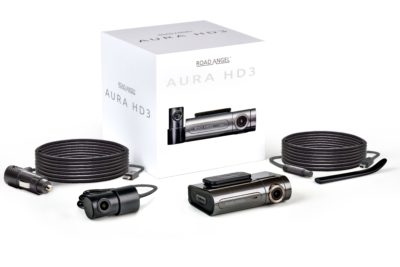 Minimum micro SD card size is 32GB, but it can go on up to a whopping 128GB if you want. Plus, Road Angel explains, this unit records extensive telematics data for every journey. There's also a Parking Mode for battery-saving time-lapse recording when you're parked up (you'll need the optional hardwiring kit for this).
There's top-level recording performance, too – 2K 1,440P at 25 frames per second for the front camera, 720P at 20 FPS at the back.
The Live Preview feature lets you watch real-time recording on your smartphone, with WiFi for rapid streaming.
Features also include 120-/140-degree view (rear/front), 1,440P Ultra HD recording, built-in WiFi plus real time video preview, built-in GPS, smartphone app
Expect to pay £249.99
www.roadangelgroup.com
Star Player #4
Snooper DVR-5HD
Now owned by Road Angel (see above), Snooper is another big name in the world of dash cams. The DVR0-5HD model here is a full front and rear camera set-up that can be hard-wired.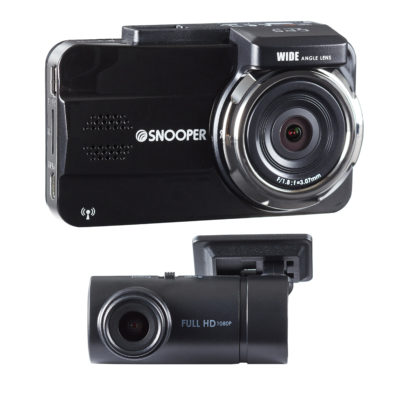 Its built-in G-sensor and GPS antenna allow recording of speeds, location and time and – if an incident is recorded – the data is overlaid onto Google Maps. The sensor will also monitor any impact from three directions.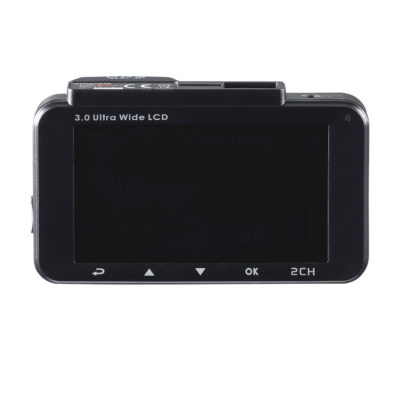 Features also include Three-axis G-sensor, 3in LCD screen, speed camera alerts, forward collision and lane departure warnings, 152-/130-degree front/rear viewing angles,  built-in microphone, WiFi connectivity, supplied with adhesive and suction mounts, 32GB SD card included
Expect to pay £179.99
www.snooper.eu
Star Player #5
Kenwood DRV-A501W Travel ProPack
A recent winner, Kenwood's DRV-A501W scooped an EISA Award (Expert Imaging and Sound Association) for Best Product 2020-2021.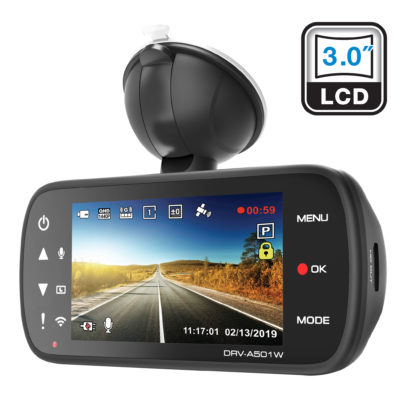 While the camera (including 16GB micro SD card) alone starts off at some £130, the Travel ProPack includes a 64GB microSD card, polarising filter and carry case.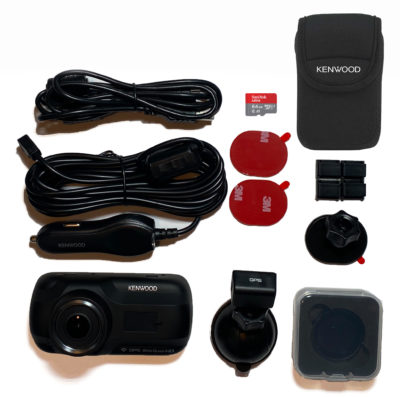 You could then go on to add a rear-view camera (motorhomes only), with a hardwire kit also available as an option.
Features also include 3in LCD screen, 126-degree viewing angle, 1,440P at 30 frames per second recording resolution, cigarette lighter adaptor and 110cm USB cable included three-axis G-sensor, on/off audio recording mode, built-in GPS receiver, smartphone app
Expect to pay £151.96
Star Player #6
Halfords HDC400
Automotive retailer Halfords sells a wide range of branded dash cams as well as this model, one of six, under its own name. The HDC400 fits directly to your windscreen.
Built-in WiFi pls the MyHDG app means you can track and record your journeys as well as view and ultimately download recordings to your smartphone. A G-shock sensor will automatically save footage if you are involved in a collision.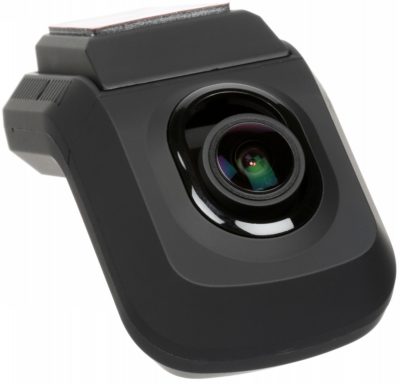 Another handy feature is the parking mode, designed to automatically save any footage if your vehicle is bumped into whilst parked.
Options include a rear camera addition as well as hard wiring kit. At the time of writing, the all-in price offer of £124 included fitting.
Features also include 180-degree view, 1,440P HD resolution, WiFi, maximum SD card size 32GB (not included), automatic loop recording, WDR (wide dynamic range) night vision
Expect to pay £89
Dash cams and motorhome insurance considerations
Dash cam footage might be used to support a motorhome insurance claim and could be a used to record damage or attempted break-in activity when you're away from your vehicle. Footage could also be passed on to the police in the event of theft, damage or a road accident but remember that dash cam footage may not always be conclusive.
Over to you…
Got any advice on dash cameras that you'd like to pass on to fellow Caravan Guard blog readers? Add your comments below.
Cost to insure: *
---
factfile
| | |
| --- | --- |
| Model | |
| Base vehicle | |
| Axle type | |
| Dimensions | |
| Shipping length | |
| RRP | |
---
Search our blog
---