Summer's here. Is that a whiff of barbecue in the air?  Read on to review key features, safety tips and nine great gas barbecues for motorhomes, campervans or caravans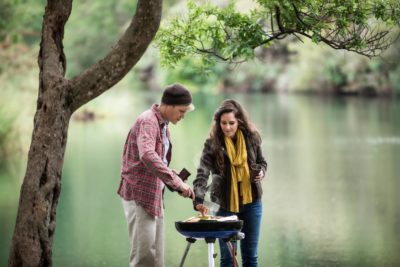 Lucky you! Not only do you have a caravan, campervan or motorhome, it also has an exterior gas outlet.*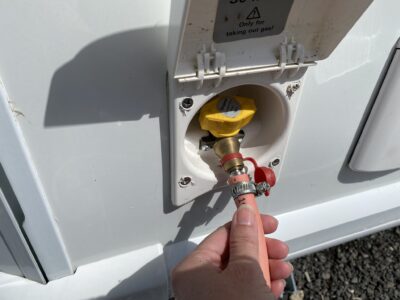 That means you can hook up a barbecue and use your vehicle's gas supply for some al fresco cooking, whenever you like, with instant heat to get sizzling your food! Read on to see our round-up of top gas barbecues that are perfect for touring trips in your motorhome, caravan or campervan.
Before lighting up, do spare a thought for your neighbours, before the smoke wafts across others' pitches – they might not be as fond of barbecued food as you are. Then again, it could be a great way to meet new friends…!
Also, just be wary of having any barbecue too close to your leisure vehicle – a lot of heat can be given off and you wouldn't want to damage your bodywork.
*Okay, if you don't have such a fitting (or even want one added as an aftermarket addition), there are still gas barbecue alternatives that will perfectly suit your needs. Read on.
Buying considerations and key features of gas barbecues
Gas barbecues come in all shapes and sizes, so before you buy, consider how much space you have in your motorhome, campervan caravan, or towing car for your outdoor cooking grill. Look for removable legs or a barbecue that will safely sit on a table-top so you're sizzling your food in a comfortable position.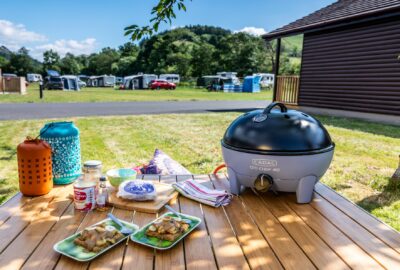 Features on a gas barbecue can also vary, from a basic cooking grate to durable porcelain-enamelled grills, with griddles, lids, warming racks, fat collectors and more! It all depends on how much you plan to cook outdoors on a barbecue, how many you're cooking for and how adventurous you want to be.
Some compact gas barbecues will allow for cooking all manner of meals in a variety of styles, whether it be traditional grilling, roasting, boiling or even baking. You can also look out for extras, such as pizza stones and special cook pans if you really want to put your culinary skills to the test.
If you're wanting a gas barbecue that's easy to clean then look for a cooking surface made of cast iron or porcelain-enamelled – but do consider that they'll be heavier, eating into your payload. Fat trays or collectors will also make cleaning easier. Griddles can be easier to clean than a rack and will give you greater cooking versatility, allowing you to fry, saute and stir fry all manner of foods.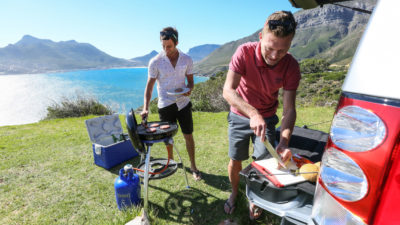 Lids on barbecues are great for acting as a windbreak, as well as keeping food warm. Some lids can also be used for cooking and those with an in-built thermostat will let you know when the barbecue is reading for grilling, as well as allowing for roasting and even baking. Plus a domed lid is great for steaming or even smoking food, for extra flavour.
If you like to cook with plenty of sauces and spices and have your utensils and dishes to hand then check out barbecues with storage shelves or racks. And the number of people you're generally cooking for will determine the size of your gas barbecue's cooking surface.
Top safety tips
Never cook in an enclosed space like an awning. Don't even take a cooling barbecue into your awning for extra heat.
Keep a fire extinguisher and/or fire blanket, plus a first aid kit, handy – just in case!
A windbreak can also protect your barbecue on a breezy day as well as cordoning off a cooking area from pets, children etc.
Always check your chosen campsite is okay with barbecues. Most are, but there are occasional exceptions.
Consider using a fire retardant mat underneath your barbecue to protect the surface it's standing on.
Star Player #1
Cadac Carri Chef 50 BBQ Dome Combo
Cadac gas barbecues are big favourites with leisure vehicle users – just look around any campsite! And like most gas barbecues, this is light, easy to clean, as well as stowing away neatly for travel.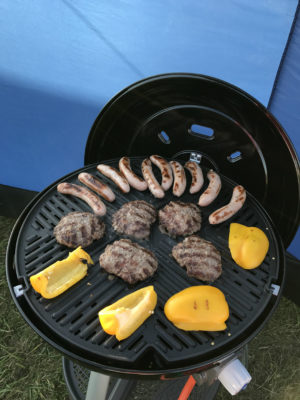 The Carri Chef 50 has a stainless-steel burner with automatic piezo ignition, plus a removable dome lid that clips on for wind protection. Keep the enamel lid on and you can oven roast or smoke your meats or veggies, or even try a bit of baking! Take it off for traditional barbecuing and grilling.
The Carri Chef 50 BBQ Dome Combo comes with a ceramic-coated BBQ grid and a removable pot stand, plus a handy utility tray for your condiments, and to give extra stability.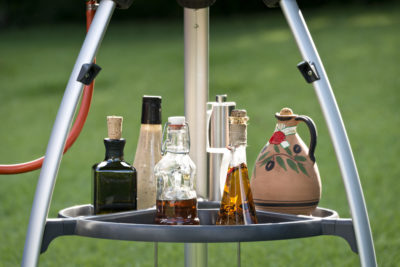 The cooking area on the barbecue grid is 46 cm in diameter and it weighs 10.5kg. The Cadac range of modular options also includes a chef pan, pizza stone, paella pan and more – or, look out for different Carri Chef variants, or even the entry-level and super lightweight Cadac Grill2Braii BBQ, at 7kg. Each comes with a two-year guarantee.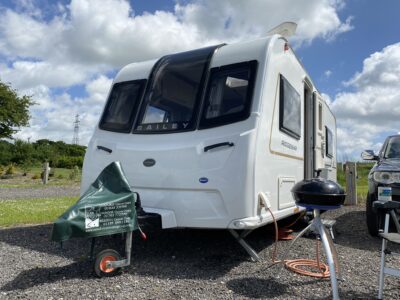 Price from £265
Key features Anodised aluminium legs, thermometer in the lid, heat-resistant handle, removable fat pan, storage bag, lots of accessories and cooking options.
More info www.cadacuk.com
Star Player #2
Weber Traveler gas barbecue
Barbecue and grill anywhere with this gas barbecue on wheels.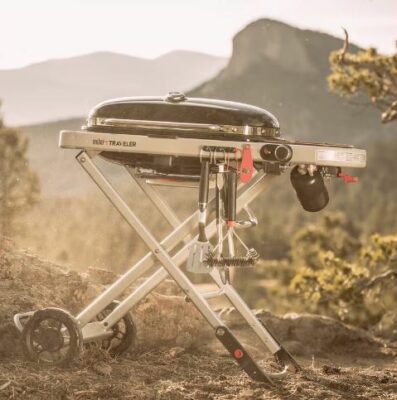 The Weber Traveler is both compact and foldable but with its 63x34cm cooking surface, you can have up to 15 burgers sizzling on its large porcelain enamelled cast iron grates.
The barbecue is attached to a folding trolley with durable wheels for taking almost anywhere. It weighs just over 28kg and uses disposable gas canisters, or with a hose and regulator it can connect to a gas bottle.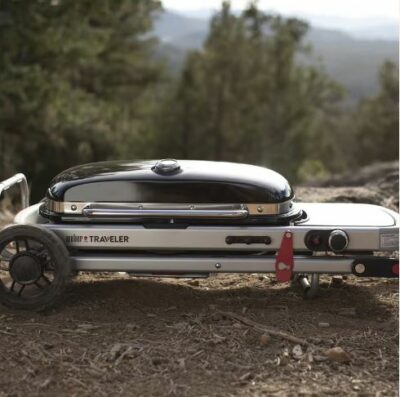 With a stainless steel burner, the chef can lower or increase the cooking temperatures and there's even a built-in thermometer in the lid. And Weber has a range of accessories you can use to hang on to any of the three tool hooks.
Price from £490
Key features Porcelain enamelled lid with automatic locking, heavy-duty frame, all-weather wheels, stainless steel burner and tool hooks.
More info www.weber.com
Star Player #3
Campingaz Party Grill 600
More than just a barbecue, this will also grill and griddle and operate as a conventional stove. You can even extend its abilities further with the pizza stone and paella pan options – all of which fit inside the lid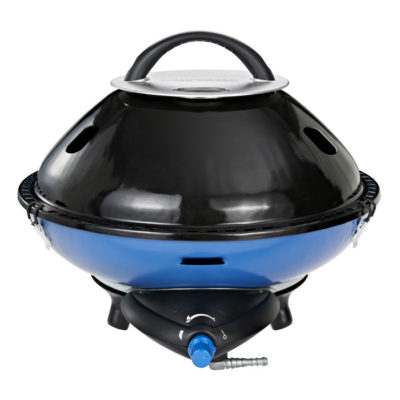 It's also particularly easy to transport, thanks to its detachable legs and locking lid.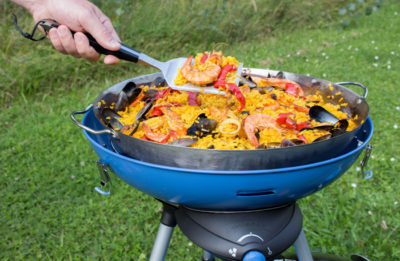 This runs on butane or propane Campingaz cylinders, weighs some 10.72g, has an overall diameter of 52cm (suggesting a wide cooking area) and stands 99cm tall when up.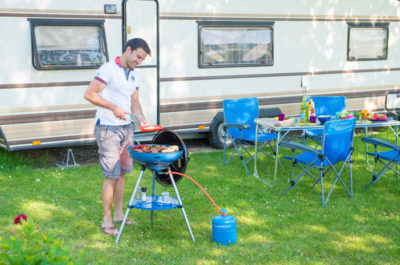 The Party Grill is also available in smaller sizes, the 400 and 200.
Price from £243
Key features Non-stick coating to grill and griddle, piezo ignition, grease collector, carrybag.
More info www.campingaz.com
Star Player #4
Cadac Citi Chef 40
The very compact tabletop gas barbecue from Cadac will not only have you grilling in minutes it's bound to make heads turn with its sleek design.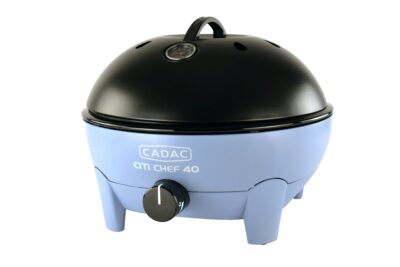 Ideal for barbecuing at your 'van, or even down the beach, as it comes with a handy storage bag.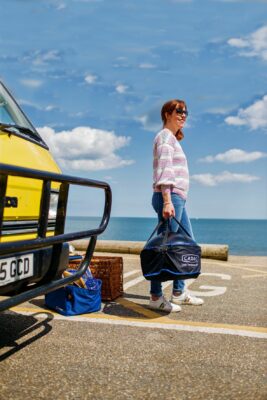 With lots of cooking surfaces available, on top of the ceramic coated BBQ grid and removable pot stand, you have the option to grill, barbecue, bake, roast or create a paella.
It also has a lift-out drip pan for easy cleaning.
The Cadac Citi Chef 40 weighs 7.1 kg and measures a very compact 45.5cm x 45.5cm x 34.5cm. The grilling diameter is 37cm.
Price from £140
Key features Porcelain-enamelled removable fat pan, automatic piezo ignition, rubber feet to prevent slipping. Five years warranty.
More info www.cadacuk.com
Star Player #5
Outwell Corte
A distinctive looking tabletop gas barbecue from Outwell, the Corte packs down to a very compact 65.5cm x 44cm x 32.5cm, opening up to 96cm x 44cm x 32.5cm – size enough to feed a family.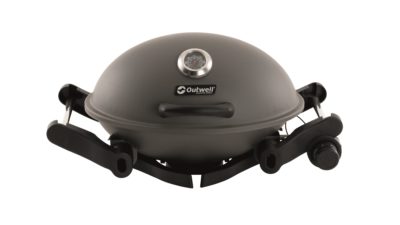 The two-piece grill comes in two sections in cast iron, with a stainless-steel burner. Total weight is 7.56kg.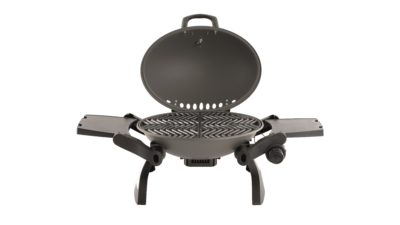 It also has removable side sections that act as mini worktops/food storage areas for the chef. Other features include a temperature gauge, drip tray, heat-resistant lid and piezo ignition.
Price from £184.99
Key features Cast iron grills, variable heat control, ventilation holes in the lid, heat-resistant handles
More info www.outwell.com
Star Player #6
Weber Gas Go-Anywhere
Here's a gas barbecue, from one of the big names in the market, that doesn't rely on a connection to your leisure vehicle. Instead, it operates from easily attached cartridges.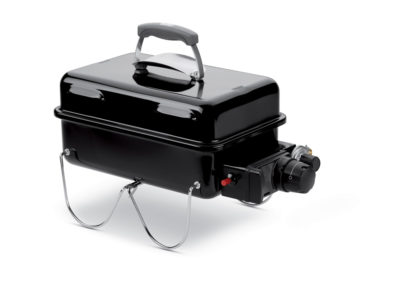 The cooking area is 42cm x 26cm, supplied via a single burner.
The base and lid have the added protection of porcelain enamelling, while the legs fold over to lock everything into place for travel. Dimensions with the lid closed are 36.9cm x 53.4cm x 31cm. It comes with a 10-year guarantee. and weighs 7.22kg
Price from £175.99
Key features Porcelain-enamelled steel grate, stainless-steel burner, plated steel legs, spark ignition, GRP handles, and a full range of extra accessories.
More info www.weber.com
Star Player #7
Cobb Premier Gas+ BBQ
As well as grilling, you can cook up a roast dinner with this versatile gas barbecue.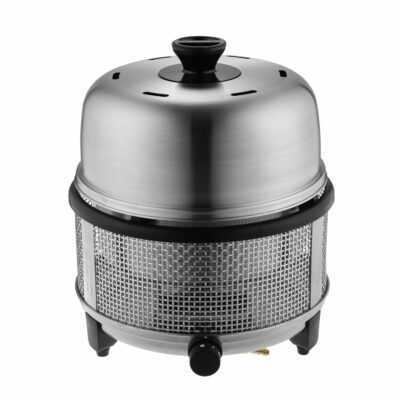 The Cobb Premier Gas+ BBQ weighs just 3.9kg and with its stay-cool base, you can stand it pretty much anywhere, such as on a camping table top or on your grassed pitch.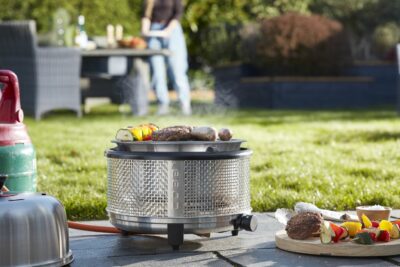 It's compatible with large gas bottles or small canisters and has a built-in Piezo ignition for quick and easy lighting.
Measuring just 33cm in diameter and 40 cm tall with the domed lid on, it's not going to take up too much room in your leisure vehicle.
That domed lid will not only lock in the flavour, but it also means you can use this barbecue for roasting and baking too.
Price from £209.99
Key features Stainless steel bowl and dome, non-stick grill, a range of Cobb Premier accessories available. Three-year Lakeland guarantee.
More info www.lakeland.co.uk
Star Player #8
Crusader Gordon gas barbecue
Keep it simple with this bargain 'barbie', which still uses a layer of lava rock coals for authenticity, too – not just for looks, they also impart a "smoky" flavour. It's a classic design, with fold-over legs that also act to hold the lid and barbecue together for transportation.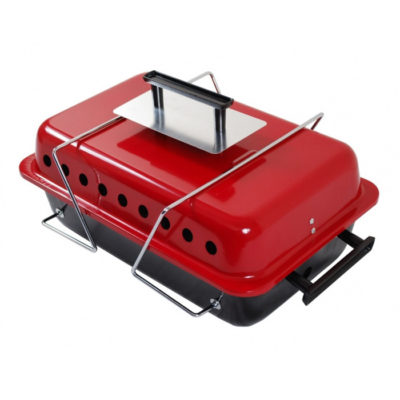 The cooking area is some 41cm x 26.5cm, so there's plenty of space for the family's sausages, burgers and more. Overall dimensions are 48cm x 29.5cm x 28.5cm.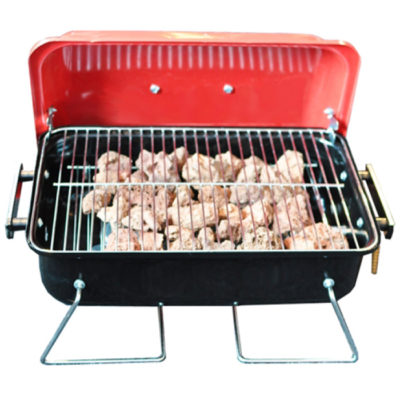 Price from £49.99
Key features Steel body, chrome-plated grid, heat-resistant handles, can run on butane or propane (pipe and regulator not included)
More info www.crushaderproducts.co.uk
Star Player #9
Ooni Koda 12
Not really a gas barbecue but with this gas-powered pizza oven you can cook stone-baked pizza in just 60 seconds.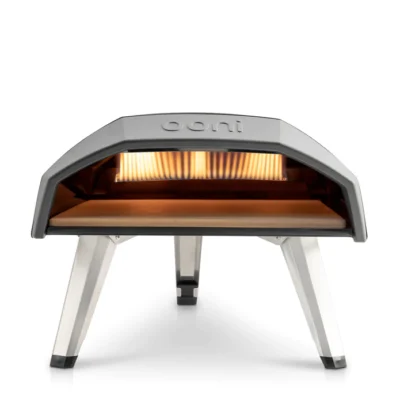 And with a skillet, you can also cook other foods, such as steak or roasted vegetables.
The Ooni Koda 12 has folding legs and weighs 9.25kg so great for your very own pizza party on-site!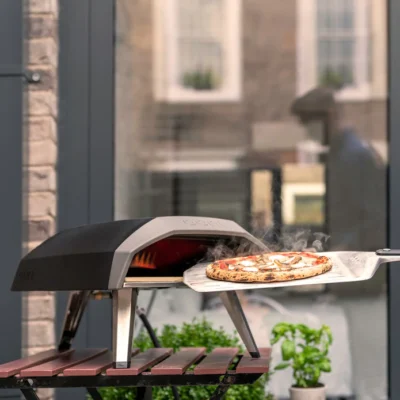 It's pretty compact too. Overall dimensions are 62.8 cm deep, 39.5 cm wide and 29.8 cm tall and a Cordierite stone baking board is also included for that authentic pizza taste.
Price from £349
Key features  Reaches 500°C in 15 minutes, carbon steel body with powder-coated finish, gas regulator and hose included, compatible with propane gas cylinders. Three-year warranty
More info www.uk.ooni.com
Over to you….
Got any advice on gas barbecues and barbecuing to pass on to others? Feel free to add your comments below. And for more information about charcoal barbecues, see our earlier gear guide.
And don't forget to include the value of any gas barbecue or outdoor cooking device to your caravan sums insured. If you have a motorhome or campervan insurance policy with Caravan Guard your barbecue will be covered as part of our equipment cover, which comes as standard.
Cost to insure: *
---
factfile
| | |
| --- | --- |
| Model | |
| Base vehicle | |
| Axle type | |
| Dimensions | |
| Shipping length | |
| RRP | |
---
Search our blog
---