Pump it up!
They're growing! We're talking inflatable awnings and their ever-rising popularity amongst caravanners.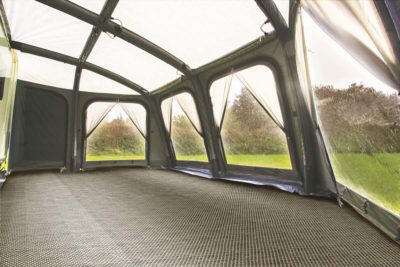 It's a simple enough concept – rather than the metal poles used for the framework of traditional awnings, inflatables use a system of air beams, often interconnected so that just a few pumps of air are all that's needed to set up the whole awning, before (or after) pegging out in the usual way.
The major plus is, generally, they're so much easier to put up. And, with no metal poles, there's less chance of causing any accidental damage to your caravan and a insurance claim.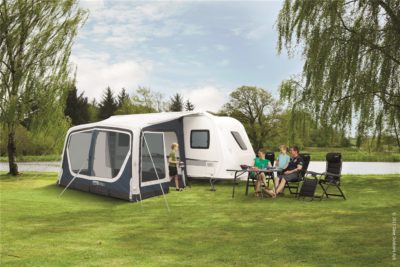 On the downside, inflatable units aren't suitable for seasonal pitching – not just because they can lose pressure over long periods, but also because the air inside the beams can rise or fall in temperature over time. Ironically, though, they can perform better in adverse weather compared to traditional poled awnings – that's because the air beams simply bend in strong winds, then instantly pop back into place.
Choose from a variety of main fabrics – ripstop material tends to be lighter and less expensive, but not necessarily UV-stable. More durable are various acrylics and coated polyesters, although they'll also be heavier. Check, also, for any hydrostatic head rating – the higher the figure, the more waterproof.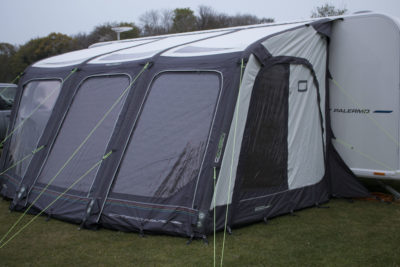 Oh, and in case you're wondering, inflatable beams tend to be very well protected, so punctures are very rare.
Top tips
Make a trip to your local caravan awning specialist or a big caravan show. Not only will you get to see models on display, there's also plenty of expertise there.
Look out for package deals that may involve extras such as carpets, footprints, annexes, inner tents etc.
Check there's good ventilation in the awning, as well as mesh at windows and doors, as this will help to reduce the build-up of condensation. Consider an extra roof lining (if offered). It will offer great heat protection as well as extra insulation, as well as alleviating condensation.
Consider if you'll benefit from a single or multi-inflation points. A single inflation point makes it easier to erect the awning but one disadvantage is carrying out complex repairs in the unlikely event of a puncture.
You might want to look at other features, such as the thickness of the air beams and the snugness of fit to your caravan. Plus the type of fabric you choose is important – generally, the thicker the better, but that's likely to be heavier eating into your payload!
There are a variety of layouts and colours available, plus you'll want to make sure the position of doors and windows will suit your caravanning lifestyle. The main thing is to make sure it's definitely going to fit on to your caravan!
Other features to look out for range from adjustable pegging points for a more secure fit.
When erecting your awning, a good tip is to take out any removable door and window panels to make it easier to slip the main unit through your awning rail.
Will it affect my insurance?
Any kind of awning is usually covered by specialist caravan insurance. Caravan Guard's caravan insurance policy also covers damage caused to your caravan or awning should they be caught in a storm. Just make sure you include the value of your awning as part of your equipment sums insured.
Here we take a look at five caravan air awnings…


Outwell Ripple 380 SA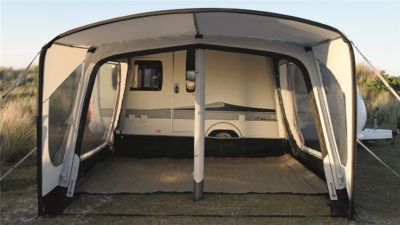 SA stands for Smart Air… in turn meaning single-point inflation across the range. The main fabric has a hydrostatic head of 6,000mm (in other words, it's very waterproof).
Its smaller size makes it easier to handle. Nevertheless, there's some 3.8m x 2.5m of living space, with a head height of at least 2.05m.
On warmer days, the whole front panel zips out and both side doors have a full mesh. In less clement weather, you'll appreciate the rain protection sections over each doorway. There's also some very clever height adjustment features.
Typically Outwell, there are a number of extra features – like tinted windows,  storage pockets, 18mm reflective webbing etc – that set this apart.
Options include, zip on annexe and bedroom, roof liner and seal blocks to hold the awning tight to your caravan, as well as height adjustment discs.
Price from £1,049.99
Key features 300D/176T fabric, two side doors, double-action hand pump, ventilation flaps, PVC draught skirt and mud flaps, adjustable pegging points.
Weight 27.5kg
Pack size 43cm x 90cm
More info www.outwell.com


SunnCamp Icon Air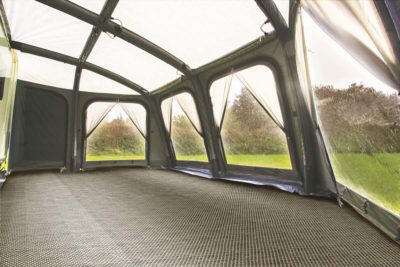 Brand new for this season, this is a full awning in a range of eight sizes. Figures below are for the smallest, Size 11 model (900-925cm), with two front panels; models from Size 14 have three. All have a depth of 325cm. Among the extras are an annexe (£290) and electric pump (£69.99).
All use SunnCamp's Air Volution technology and 300D fabric with a 6000mm hydrostatic head rating. Other features include single-point inflation, curtains to all windows, external peggable mud wall, verandah pole and more.
Price from £1,264.99
Key features 300D Pro-Tek fabric, vertical storm pole pockets, night-visibility guylines, storm buckles and straps, rear weather poles, draught skirt with ventilation.
Weight 35.80kg
Pack size 78cm x 43cm
More info www.sunncamp.co.uk


Prima Deluxe 390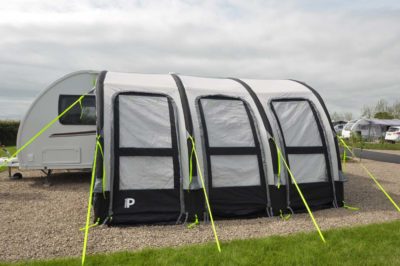 A relatively new name on the block, but Prima is actually the accessories arm of Bailey Caravans (although a unit like this will fit plenty of other tourers).
It is 390cm wide and 260cm deep, with a fixing height of up to 240cm, and has a distinctive curve towards the front. The side door panels are half-mesh, plus there's extra ventilation via top corner vents.
Flexi-inflation (i.e. single-point) uses a valve system that's derived from the kite market. The three main panels are removable and feature roll-up curtains.
Rear poles and draught skirt are included. Detail touches include the ability to fold the groundsheet at the doorways, for easier access for prams, wheelchairs etc (as well as less hazard of tripping).
Options include an annexe that can be fitted to either side and a roof lining – the latter can come in very handy in keeping the heat off on particularly sunny days.
Price from £749.99
Key features 300D Oxford polyester (3,000mm hydrostatic head), luminous strap guylines, draught skirt, rear poles.
Weight 29kg
Pack size 110cm x 55cm
More info: www.primaleisure.com


Dorema Dakota Air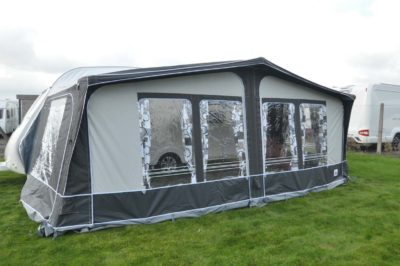 A full air awning in a choice of three depths – 240cm, 270cm and 300cm – and sizes 8-19 covering 725cm-1,125cm. Order either of the two annexe options and they're designed to fit either side. Plus, beading is already in place should you want to have another extra, the Palma front canopy.
Dorema uses tough, proven polyester-coated Ten Cate fabric for the Dakota.
Starting prices are very competitive, and there's no shortage of quality, either. You'll pay more, however, for items like storm and veranda poles.
Rather sensibly, Dorema supplies the Dakota Air in two packages – Box One and Box Two; the former with the main canvas, the latter with all the other accessories – for easier, less bulky transportation.
Price from £519
Key features Ten Cate main fabric, flyscreen panel (right side), zipped roof ventilation, covered zips.
Weight 35.5kg (size 10, Boxes One and Two)
Pack size 120cm x 29cm x 40cm (Box One)/120cm x 22cm x 38cm (Box Two)
More info www.dorema.co.uk


Vango Varkala Connect 420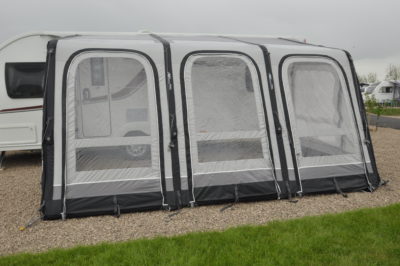 Available in four sizes, the Connect models from Vango's Varkala series have had quite a few changes for the 2018 season. The main one is the choice of annexe options available to fit either or both sides – whether you want more of a conservatory-style living room, or extra bedroom space.
Other options range from the SkyLiner – an extra roof layer that offers extra blackout and insulation – to some clever storage solutions.
Dimensions for the main unit are 415cm x 250cm deep, with a connection height range of 236cm-250cm and access via two side doors or any of the three central front panels. You get a lot of windows and ventilation panels for your money here!
It's an impressive overall specification, too. Mesh door, hanging storage, storm straps, two wheel arch covers, steel rock pegs, storm straps, PVC draught skirt and more all come as standard.
Price from £950
Key features Sentinel Pro 420D double ripstop fabric, SkyTrack II system (for adding lights and pockets), flat floor at entry points, bracer beams, adjustable pegging points.
Weight 31.9kg
Pack size 78cm x 45cm x 42cm
More info www.vango.co.uk
Over to you…
Does an air awning appeal to you? Feel free to share your comments about inflatable caravan awnings in the box below.
Search our blog
---