Fancy an extra camping table for outdoor use with your caravan or motorhome?
Four legs better
Even if your caravan or motorhome comes with a free-standing table, chances are you won't want to use it outside (in case of weather damage).
Nevertheless, a camping table for outdoor use – or under the awning – is a desirable item to add to your compendium of motorhoming and caravanning kit. Indeed, for many, it's an essential. Whether it's for meals or just somewhere to rest a convenient cuppa and reading matter.
So, you want something that's nice and light, easy to set up and pack away again, and sturdy. You might want to consider leg adjustability, too. As the saying goes, life is hard, the ground isn't always, and rarely is it as level as it looks!
Caravan Guard's top camping table buying tips
Size matters. Choose a camping table that you know you can stow easily in your 'van as well as being large enough to suit your particular pastime needs.
Weight is a consideration, too. While it's easy to get something lightweight, you also want it to be sturdy (including having a decent maximum load rating).
Adjustable legs are a boon – even if only one offers such a facility.
Make sure you have the right chairs to fit your camping table, especially if you're thinking of dining.
Star Player #1
Outwell Custer L
Bamboo makes for a great tabletop for plenty of reasons – lightweight, strong, easy to clean, weatherproof, environmentally-friendly etc. Here, the solid, folding top combines with aluminium for the legs and frame.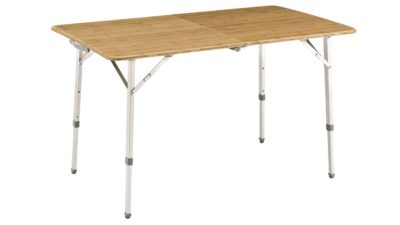 It has three possible heights – 49cm, 58cm, 70cm – as well as feet that can be tweaked to take into account uneven ground. Tabletop size is 120cm x 70cm, making it plenty big enough for family use.
Maximum load is 80kg.
It weighs 10kg and packs down to 70cm x 62cm x 10cm in its own carry bag.
Key features Easy to set up/fold down and transport, aluminium frame, bamboo top, carry handle, carrybag.
Expect to pay £157.99
Star Player #2
Outwell Kimberley
Outwell's comprehensive portfolio includes nearly 30 tables of all descriptions.
The Kimberley here is a side table that's a perfect accompaniment to the Custer above – hence we've teamed them up for this month's giveaway!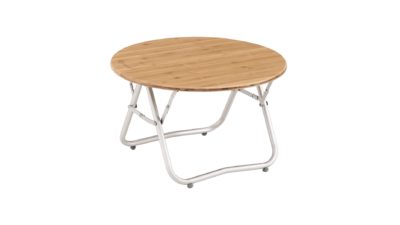 Also with a bamboo top, it neatly folds and the legs act as a carry handle. When up, dimensions are 65cm diameter x 40cm high. It weighs 3.7kg.
Key features Aluminium frame, bamboo top, 30kg maximum load, adjustable feet, carrybag
Expect to pay £86.99
Star Player #3
Quest Leisure Evesham
The smallest model in Quest's SpeedFit range – there are two others – the Evesham is an ideal side table. Each leg is adjustable so – as well as levelling up on uneven ground – you can alter the overall height – 23cm or 45cm.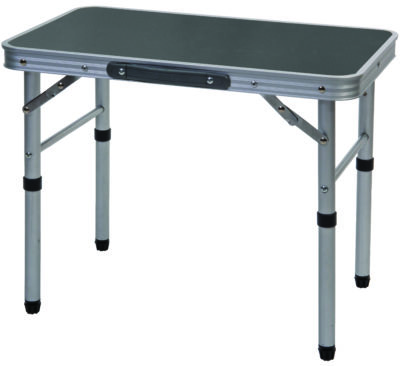 The leg extensions stow neatly in the underside of the tabletop.
All-in, it's just 1.6kg. Tabletop dimensions are 56cm x 34cm and it folds up to just 3.5cm deep, complete with a carry handle..
A locking mechanism keeps everything in place when set up as well as for transportation. When up, dimensions are 60cm x 90cm x 70cm high.
Key features Showerproof tabletop, removable leg extensions, adjustable feet, carry handle, aluminium frame
Expect to pay £22.99
Star Player #4
Easy Camp Blain
The versatility of bamboo is on show here. It's actually an easy-clean laminate on this aluminium-framed table that's suitable for two people and could just about cope with four.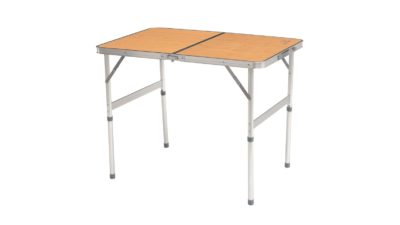 Keenly priced, this is also easy to set up and fold down, and indeed carry around, thanks to a pack size of 60cm x 45cm x 6.5cm.
Key features Aluminium frame, bamboo/MDF top, maximum load 30kg, carry handle
Expect to pay £40
Star Player #5
Quest Leisure Gloucester Deluxe
A cleverly designed, all-in table with four seats. Its dimensions make it particularly great for small children, but each seat will take up to 100kg.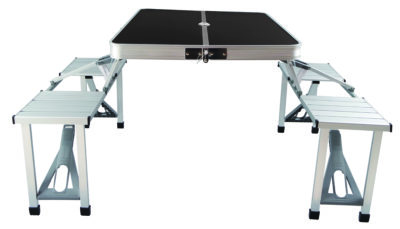 It all locks into place when up, so there's no danger of it accidentally folding.
Weight is a particularly light 8.5kg, dimensions when up are 133cm x 86cm x 67cm and it folds down to 86cm x 33cm x 10cm.
Key features Aluminium frame, all folds into its own carry case, locking legs and seats, showerproof tabletop
Expect to pay £70
Star Player #6
Vango Orchard Bench Set
A full table and chairs set that could cope with four folk, all of which packs into a single unit for easy transportation as well as storage.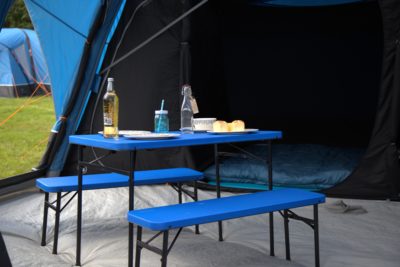 Surfaces are easy to wipe down and keep clean, as well as offering a high level of waterproofness. Each bench has a 200kg weight limit, while the table will cope with up to 150kg.
Total weight is 9kg and it packs down to 104cm x 62cm x 8cm deep.
Key features Steel frame, waterproof top, carry handle
Expect to pay £80
Star Player #7
Vango Granite 160
The largest of Vango's Granite models, this 160cm long table – there are also 60cm, 90cm and 120cm variants – will happily cater for larger families. It also has two heights, which means it can be used for dining or an extra-size coffee table. The granite effect table top finish gives it a premium look.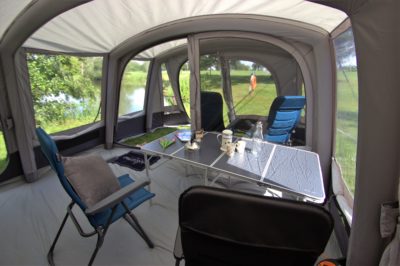 It folds into itself and dimensions are 62cm x 23.5cm x 15cm, plus there's a handle for transporting. Weight is 8.3kg and there's a 30kg maximum load limit.
Key features Aluminium frame, detachable leg extensions, adjustable feet, easy-clean tabletop finish
Expect to pay £95
Star Player #8
Robens Tobey
An all-bamboo design makes for a very contemporary look as well as a suitable size for classy dining.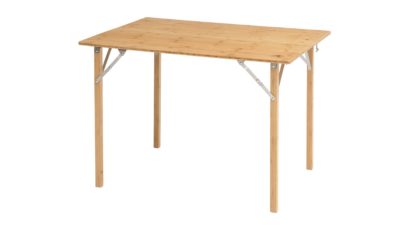 It also has the neatest folding mechanism – doubling down to 100cm x 35cm x 11cm from a folded-out size of 100cm x 70cm x 70cm high. Maximum load is 30kg, but it feels sturdy enough to cope with a lot more.
Key features Bamboo top and legs, fabric carrybag. Weight is 9.5kg.
Expect to pay £199.99
And finally…
Don't forget specialist caravan insurance and motorhome insurance policies like ours will provide cover for your camping table and other accessories, like awnings and barbecues. Motorhome customers get £5000 of equipment and personal possessions cover as standard. Caravanners just make sure you include their value in your insured value for equipment.
Over to you…
Got any advice on outdoor camping tables you'd like to pass on to fellow Caravan Guard blog readers? Please feel free to add a comment below.
Cost to insure: *
---
factfile
| | |
| --- | --- |
| Model | |
| Base vehicle | |
| Axle type | |
| Dimensions | |
| Shipping length | |
| RRP | |
---
Search our blog
---