Sleeping soundly in your caravan, motorhome or campervan?
Plenty of folk say they get a better night's sleep when they're away in their leisure vehicle compared to back at home. Others do beg to differ.
It's certainly true that more and more caravanners and motorhomers are seeing the sleep benefits of permanent beds in their vehicles – even if it means a compromise on daytime living space.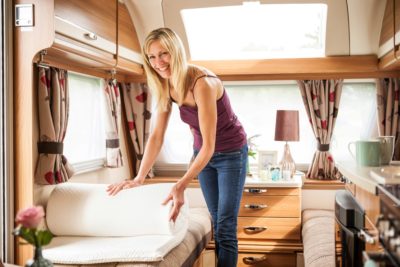 We now get vehicles with ready-made double beds (French or island) or singles, in a variety of different guises and – it has to be said – levels of comfort and support, let alone size.
However, even a permanent bed – double or single – might not hit the mark when it comes to providing the level of comfort you demand.
Meanwhile, flipping over seating cushions every time you want to make up a bed doesn't always make for the most comfortable of sleeping surfaces – again, support is the key, but also ridges and gaps can be pretty treacherous!
So, do consider what some extra mattress support can do to benefit you.
Plenty of companies offer mattress toppers, and plenty can provide a bespoke solution to sorting a permanent bed to your desired level of comfort and support.
But, there's more. Pillows and other supports need to be considered too. Also, there's the question of sleeping bags versus duvets and sheets? Even specific fabrics. And items like earplugs or eye masks?
Then again, you might want to sleep in your awning, if it has a suitable annexe and/or bedroom inner, which is where inflatable sleeping mats might be needed.
As for the snoring… Sorry, there's nothing we can do about that!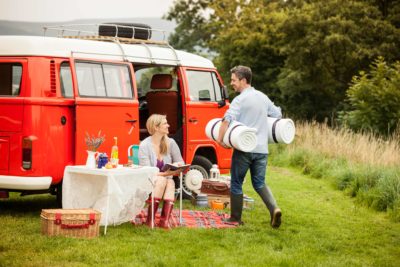 Top sleeping tips from Duvalay and Tempur
Duvalay says your leisure vehicle should be as conducive to enjoying a good night's sleep as your bedroom at home.
If you're waking up with a headache or slightly swollen feet, check that your leisure vehicle is level.
If you don't have a fixed-bed layout and are sleeping on pads, turn them over to create a flatter sleeping base; then smooth surface lumps and bumps with a luxuriously cushioning travel or mattress topper.
Lowering your heating by 3-4°C, opening the window or investing in a cooling FreshTec Duvalay sleeping bag will regulate your body temperature.
To keep clean bedding fresh and save space, use zip-lock vacuum bags.
Tempur suggests taking your pillow from home to provide the support and comfort you're familiar with. Four other top tips include:
Taking earplugs and an eye mask to prevent outside noise and light bothering you – both can seriously compromise your sleep quality
Spend 15 minutes winding down in your caravan or motorhome bedroom ahead of bedtime and try to keep regular bedtime hours; this is especially important for children
Daylight can help reset your internal sleep clock. If so, take an early morning walk when you wake up in your new destination and spend time outdoors to adjust quicker
Adopt your normal routine a few days before you head home as it will make the adjustment back to everyday life a lot easier
Other advice
Before you rush out and buy extra mattress toppers etc, do check you have a place to stow them in your vehicle (or at home) when they're not in use.
It's not just about mattresses, either. Consider pillows and other supports. You might want to take your pillows from home – again, space permitting.
Blackout curtains will help keep the daylight out during those long summer days and nights.
Sleeping bags or duvet? Sleeping bags might be too warm or enclosing – although do look out for models with openings at the foot end or ones with extra support underneath.
Got a really bad back? See an osteopath or chiropractor.
Star Player 1
Duvalay Portable Mattress Topper
Duvalay mattresses are used by Swift in all of its fixed bed caravans and motorhomes. So, if you're not fortunate enough to own one of these, how about a mattress topper as the next best thing?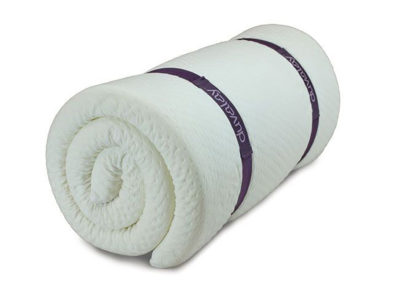 There's a choice of thickness – 2.5cm or 5cm, as well as size. The example here is the smallest in the range – 190cm long, 66cm wide, 2.5cm deep. It rolls up to 66cm long with a 30cm diameter, and weighs in at 2.91kg. The cover is zipped for removing and can be machine washed.
Practically the perfect way to make sure you get a good night's sleep, all you need to do is unroll it for sleeping on… then roll it back up for storage. Where you want to store your topper could be a determining factor in which model(s) you go for.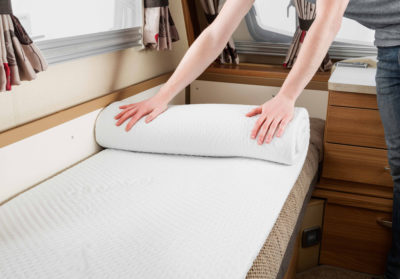 Top it off (pun intended) with a Percale zipped sheet – they're available in a choice of matching sizes as well as colours, from £13.95. Step up the thickness to 5 cm and you get a choice of three different foams – silver, gold or cooling Freshtec.
Look out, also, for portable mattress topper and cushion bundles. Plus if you're wanting something more permanent, check out Duvalay's standard and bespoke, shaped mattress toppers.
Key features Washable protector cover (67% polyester, 29% viscose, 4% other fibres), storage straps
Expect to pay From £89.95
To find out more: www.duvalay.co.uk
Star Player 2
Outwell Dreamhaven
Don't be afraid to look to the tent camping world for sleep inspiration. A self-inflating mat can be a good alternative to a mattress topper and will probably take up less space and help smooth out any lumps and gaps on your make-up beds. They're also great if you're adding extra berths inside your awning.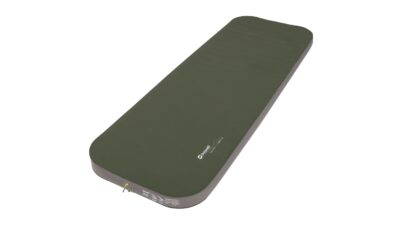 This popular PFC-free self-inflating mat – or SIM for short – from Outwell®uses a combination of fabrics and manufacturing to maximise your comfort. The top is a stretchy soft-on-skin polyester fabric which also ensures fast, easy inflation and deflation.
The 3D profile and vertical side fabric do not bend under pressure, meaning less air needs to be pumped into the mat.
Inside the mat, the horizontal coring of the foam and deep profile not only offers great comfort but also enhances insulation and reduces bulk.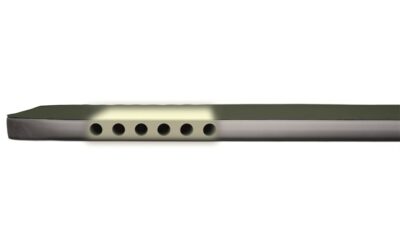 The Outwell Dreamhaven is available in four different thicknesses: 5.5 cm; 7.5 cm, 10cm and 15cm and as a double or single. Dimensions are 200cm x 140cm (double) or 200 cm x 70cm (single). Weight is 4.7kg (double:7.5cm thickness) 2.5kg (single). Pack size is 66cm x 25cm (double:7.5cm thickness) 68cm x 16cm (single).
Key features 190T 75D polyester fabric, flat High-Flow Valve, carry bag, PFC free.
Expect to pay £98.99 (single)  £172.99 (double)
To find out more: www.outwell.com
Star Player 3
Robens Primacore 90
You might want to consider an airbed – ideal for sleeping in an annexe or as a mattress topper if the beds in your motorhome or caravan really are too uncomfortable.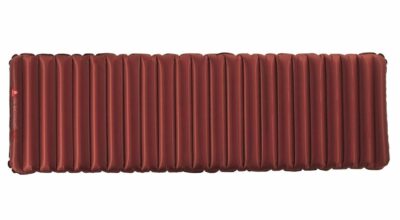 This is a premium example – you'll find plenty at lower prices – but do check the quality. In TPU-coated ripstop nylon, the Primacore 90 airbed also has a PrimaLoft filling that's bonded to the top inner surface for extra comfort and insulation. Also, the horizontal baffle design gives it firm support.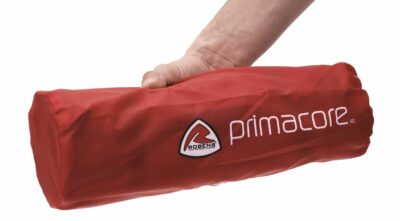 Dimensions are 195cm x 60cm and 9cm deep. Weight is 830g. Pack size is 33cm x 11cm.
Key features 30D ripstop nylon fabric, PrimaLoft Infinity filling, carry bag
Expect to pay £114.99
To find out more: www.robens.de/en
Star Player 4
Outwell Constellation Comforter
This is more of a heavy-duty blanket, but it could be sufficient for evening out any non-flat surfaces that you so often get when converting daytime seat cushions into a night-time mattress.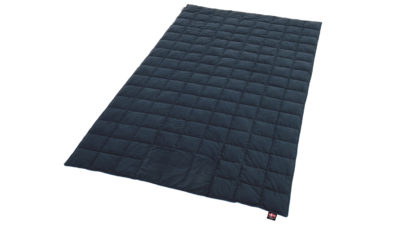 Maximum size is 200cm x 120cm, but it can easily be tucked under wherever necessary. Its single-layer quilting construction has an insulating filling.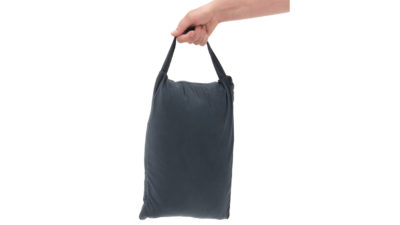 Pack size is 39cm x 22cm x 9cm.
Key features Polynylon shell (85% polyester/15% nylon), Isofill Premium filling, total weight 900g
Expect to pay £37.99
To find out more: www.outwell.com
Star Player 5
Tempur Travel Set
This might be designed initially for air travellers, but it could work just as well in a leisure vehicle, especially a smaller campervan. It includes a mattress topper and mini travel pillow – both made from pressure-relieving Tempur – and a wheeled carrier bag.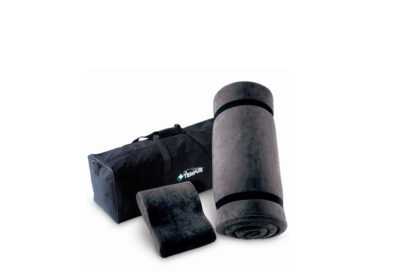 Tempur fabric dates back to the 1970s, when it was developed to support and cushion astronauts during take-off.
The topper rolls up and is secured with straps and dimensions are 70cm x 200 cm x 3.5 cm deep. The trolley bag is 85 cm x 25 cm x 30 cma and wighs 9.3 kg when packed.
Key features Roll-up straps, removable cover is machine-washable, three-year guarantee
Expect to pay £365
To find out more: www.tempur.co.uk
Star Player 6
Lifeventure Silk Ultimate Liner
The humble sleeping bag liner can play a major part in making sure you sleep well. It has other practical uses, too – such as extra hygiene. Rather than wash your sleeping bag or quilt cover regularly, for example, you can just pop a liner like this in with any wash.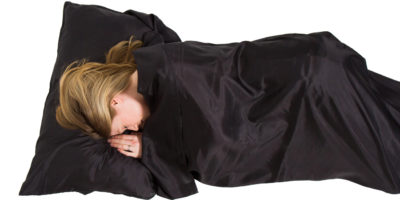 Lifeventure offers a comprehensive collection of sleeping bag liners, all with its proprietary permanent Polygiene treatment that uses natural silver salt to prevent any bacteria or odour build-up.
As well as offering extra warmth on cool nights, it can also be used on its own on particularly mild nights.
This example has lots of other benefits thanks to its all-silk construction. As well as regulating temperature, it will wick away any moisture from the body.
Key features 100% silk, pillow sleeve, roll-top storage bag
Expect to pay £59.99
To find out more: www.lifeventure.com
Over to you…
Got any advice on getting a comfortable night's sleep in your caravan, campervan, motorhome or trailer tent that you'd like to pass on to fellow owners? Or if you've tried other sleep-enhancing products, feel free to add a comment below.
Cost to insure: *
---
factfile
| | |
| --- | --- |
| Model | |
| Base vehicle | |
| Axle type | |
| Dimensions | |
| Shipping length | |
| RRP | |
---
Search our blog
---