Sleeping bag or duvet when caravanning and motorhoming?
There are pros and cons for each sleeping bags and duvets. Join our discussion…
Most folk have no trouble sleeping at night when they're away in their caravan or motorhome, but there's one debate that's on-going – what's best, sleeping bags or duvets?
If your vehicle has fixed beds, the case for a duvet – especially one that's made to bespoke dimensions – is very strong. However, fixed beds are often different dimensions and, indeed, shapes – compared to at home. A normal duvet may hang over the sides to an extent that it can even fall off during the night. You might want to seek out the services of a duvet supplier that specialises in leisure vehicles – for a duvet that fits your vehicle's mattress dimensions exactly.
Where your vehicle has seating that converts to beds it's not so straightforward – and arguably, the smaller the vehicle the more appropriate it is to use sleeping bags. That's really only to generalise, however.
In fact, lots of sleeping bags are too good for caravanning! If it's designed for tent camping at basecamp and beyond, in all weathers, a sleeping bag is probably going to be too warm inside your leisure vehicle!
Then again, you might prefer the all-enclosing, potentially draught-free nature of a sleeping bag compared to a duvet. Your own personal taste is what matters most. Nevertheless, we've looked at six of the best products on the market. You might know better, of course…
Top tips
Think about storage. Bedding can be bulky. Do make sure you have convenient locker space to pack things away, as needed, during the day.
Fabrics matter. Generally, if an item feels good to your touch, you'll find you sleep better with it.
Don't forget pillows. They're just as vital as your choice of sleeping bag or duvet for maximum sleeping comfort.
Experts say the right temperature for sleep is between 16 and 18 degrees. You might want to adjust your vehicle's night-time temperature to take this into account.
Consider washing. Always check the care labels. Some items – especially bulkier sleeping bags – might be too big for a conventional washing machine.
For sleeping bags, check the season and temperature ratings. For duvets, look for the tog number. These will give guidance as to how warm each product is going to keep you.
If you're having trouble sleeping in away-from-home circumstances, items like ear plugs and eye masks can help alleviate extraneous noise and light.
Looking through our star players below it soon becomes apparent the value of your bedding could easily exceed a few hundred pounds, with this in mind check that you have it covered under your caravan or motorhome insurance. Caravanners make sure you've included an adequate value in your sums insured. Our motorhome customers get £5000 of motohome equipment and personal possession covered automatically.
Star Player #1
Outwell Contour Lux Double
Here's a hybrid that can be used as a sleeping bag or a duvet.
The Contour Lux is one of many innovative ideas from Outwell's considerable portfolio of sleeping bags (and more). As well as plenty of room for two adults, there's a double layer of filling, and a zip-on hood. Or, it can be fully unzipped for two duvets. Or, you can use it as two single bags.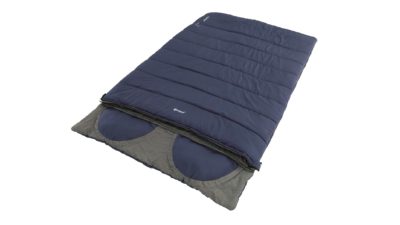 The beauty of the design, though, is it's suitable for pretty much all-year-round use in a leisure vehicle – offering extra insulation as needed.
It's suitable for body lengths up to 190cm and overall dimensions are 220cm x 145cm. Pack size is 48cm x 31cm and it weighs some 3.25kg.
Also available as a single in a variety of colour choices.
Key features 230T microfibre polyester shell, 2400g Isofill filling, two-way auto-locking zip, built-in pillows, PFC-free, machine washable.
Expect to pay £92.99
Star Player #2
Duvalay Shaped Duvet
Arguably the UK's market leader in sleep systems for caravans and motorhomes, Duvalay is not only a major supplier of mattresses to the likes of Swift Group, it also sells duvets, mattresses and toppers, covers and more direct to the public.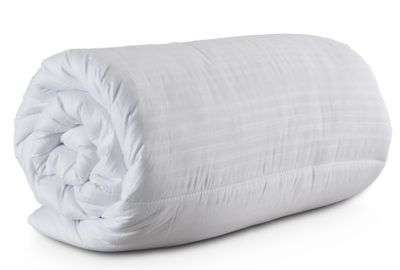 Treat the below as a start price – there are more choices to be made regarding shapes, two tog ratings etc. Duvalay also has an extensive archive of vehicle makes and models, so it can then manufacture covers, in various colours, cost from £32.95.
Key features Can be made to any size/shape, polycotton outer, hollow fibre inner, non-allergenic.
Expect to pay From £35.95
Star Player #3
Robens Prairie
A bed roll design inspired by the American outback, the Prairie offers something a bit different and could be used as a sleeping bag or a duvet. The bag has a two-way zip extending around two sides, plus there are snap buttons to hold everything in place.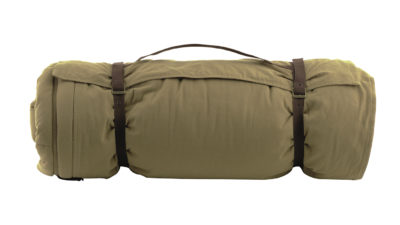 Dimensions are 200cm x 80cm and Robens says it will accommodate body lengths up to 180cm. It weighs 3.5kg and packs down to 71cm x 26cm. It's designed for two-season use when camping in a tent, so could conceivably be considered for all-year in a caravan, campervan or motorhome.
Key features Canvas-style cotton twill shell, cotton flannel fleece lining, polyester filling, YKK two-way zip, separate pillow, detachable double base layer.
Expect to pay £124.99
Star Player #4
Snugpak Nautilus
You really don't need to spend much on sleeping bags if you're intending them solely for in-'van use. Take this, the Nautilus, part of the Basecamp range from the UK's only mainstream sleeping bag supplier – Snugpak. It's a lesser-specified version of a long-term favourite, the Navigator.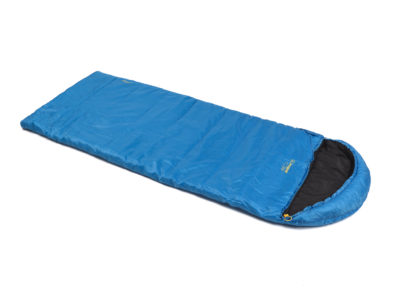 Available with a choice of right- or left-handed two-way zips, it can also be opened out fully for use as a duvet.
Weight is just 1.4kg. It's a particularly compact pack size, too, at 24cm x 20cm. And there's a choice of colours – Emerald Green (here) or Olive.
Key features All-polyester, siliconised synthetic insulation, insulated shoulder baffle, compression stuff sack.
Expect to pay £29.95
Star Player #5
Duvalay Sleeping Bag
Twenty years old this year (2020), today's sleeping bag offerings from Duvalay comprise three levels – Compact, Comfort and Freshtec – with prices for each starting at £99.95, £129.95 and £149.95 respectively (look out for offers on bundles – comprising, bag, summer and winter duvets and matching pillowcases, too).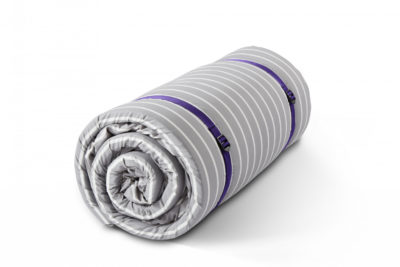 Although Duvalay calls this a sleeping bag (to differentiate it from its duvets, see above), this is effectively a duvet and mattress topper combined in a single, washable sheet. It all rolls up for storage. It's also reversible, so you can have the zip on either side.
Your choices start with a Tog rating for the duvet of 4.5 (best for summer) or 10.5 (winter) and a width of 58cm, 66cm or 77cm.
Top-of-the-range Freshtec models feature an advanced foam with cooling as well as pressure relief properties.
Key features Choice of hollow fibre or microfibre filling, choice of widths, bundle, pillowcase and storage bag options
Expect to pay From £99.95
Star Player #6
Snuglux Duvet Sleeping Bag
From Freedom Is, a specialist company that offers all manner of bespoke options for sleeping in your leisure vehicle.
The Duvet Sleeping Bag overcomes the perceived difficulties of a sleeping bag and a duvet.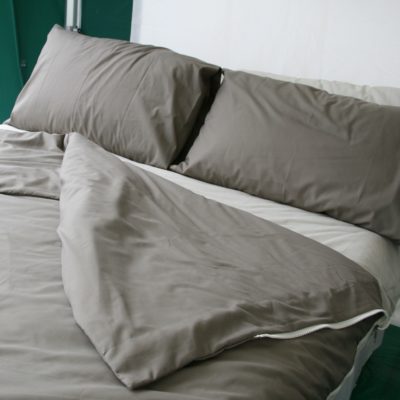 Available in various sizes (including children's) and with a choice of traditional bed linen covers, the adult's single size is effectively a double duvet folded over, with a zip to two sides.
Two adult bags can also be zipped together to make a double.
Key features Choice of shapes and sizes, removable cover (for easy washing), choice of cover styles,
Expect to pay From £69.99
Star Player #7
Lifeventure Silk Ultimate Liner
No matter what you sleep in, you might also want to consider one of these. A liner like this will act as a barrier between you and your sleeping bag or duvet. That means you don't have to worry about cleaning potentially bulky covers so often.
Plus, because it's silk, it has a dual temperature function – keeping you cool on warm nights and warm when it gets cooler. That's as well as wicking moisture that's emitted from your body as you sleep.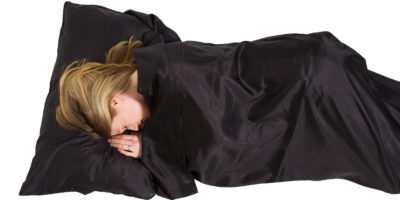 This Ultimate model from Lifeventure is available in mummy or rectangular shape. It also comes with a special treatment that uses natural silver salt to prevent any bacteria or odour build-up.
As well as offering extra warmth on cool nights, it can also be used on their own on particularly mild nights.
This example has lots of other benefits thanks to its all-silk construction. As well as regulating temperature, it will wick away any moisture from the body.
Key features 100% silk, Polygiene odour control technology,  roll-top storage bag
Expect to pay £39.99
Over to you…
Got any advice on sleeping bags and/or duvets you'd like to pass on to fellow caravanners or motorhome owners? Please feel free to add a comment below.
Cost to insure: *
---
factfile
| | |
| --- | --- |
| Model | |
| Base vehicle | |
| Axle type | |
| Dimensions | |
| Shipping length | |
| RRP | |
---
Search our blog
---