Staying connected
Wi-fi on your caravan or motorhome travels? We all expect it these days, but to varying degrees.
If you're just going to do some emails and internet browsing, then you won't need a 5G premium Wi-fi system – instead, a simpler way of making sure you've got a good internet signal will suffice.
However, if you're among the increasing numbers of folk who want to stream TV from the likes of BBC iPlayer, Netflix, Disney Plus or Amazon Prime etc, you're going to need your own wi-fi solution on board your caravan or motorhome.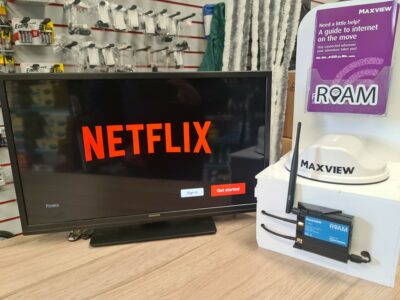 And consider how much you use the internet for finding and researching your next holiday destination, or updating social media with your latest adventures whilst on the go, and if you have children and teenagers in tow!
For caravans and motorhomes, you're looking at four choices of getting wi-fi when you're on tour:
It's one of the first questions folk ask when they're making a booking on a campsite: "How's your wi-fi?" It really does vary from site to site. It might be free or you might have to pay extra. There might be a signal across the whole site, or it might be restricted to just a small area (e.g. the reception block).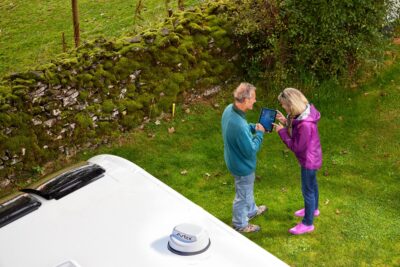 At peak times, when you're sharing with other lots of users on site, you may find reliability drops alarmingly. You could also be restricted to the number of devices you can use (right down to just one). And finally, despite any assurances, you won't really know how good a site wi-fi is until you get to use it in person.
Use your smartphone to connect to other devices via Bluetooth. You may find you rack up extra phone charges this way, bearing in mind the potential to use up lots of data. That said increasingly pay monthly phone SIMs come with lots of data if not unlimited. Netflix say that streaming TV in high definition could use up to 3gb per hour.
These are mini, portable routers that will give you access to a single network. Some devices will let you connect up to 10 devices to a single hotspot.
On-board caravan and motorhome wi-fi systems
Fast and effective, these connect to local networks and will only use data if they can't access any free wi-fi wherever you are. These cost you more initially – for both the hardware and installation – but could well save you money in the longer term
Caravan or motorhome mi-fi or wi-fi?
You can enhance the internet coverage in your caravan or motorhome with a mi-fi device (sometimes called a dongle). It can be used anywhere there is a mobile phone network.
Or, if you want to go as far as having full internet access – for example – for live streaming films etc, go for a full mobile broadband 4G/5G system.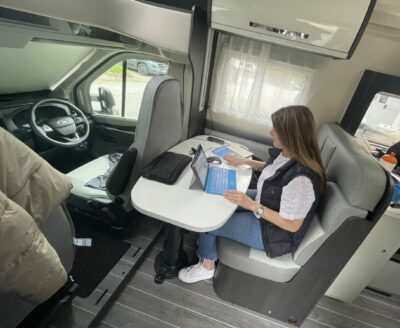 Both need a SIM card to work which you will need to pat a mobile phone network for data charges.
Wi-fi or 4G/5G?
You can get internet access in your caravan or motorhome using 4G (or, increasingly, 5G) or wi-fi. But, these operate at different frequencies, in turn varying in range and speed. In essence, 4G/5G offers greater all-round performance.
Top motorhome or caravan wi-fi tips
The UK has four main network providers – Vodafone, 3, EE and O2 – offering varying degrees of coverage around the country. All have their own coverage checkers which can be checked in advance of any long trip to see how reliable signal is likely to be.  (Vodafone signal checker, O2 coverage checker, EE signal checker, 3 network checker)
For travel abroad, do note most providers now have data restrictions in place – again, it's worth checking with your provider in advance of any extended touring abroad. If you intend to do a lot of streaming when abroad, a local SIM card might be a better option.
You might need to activate such SIMs before you travel. In short, it's always worth speaking to your mobile phone provider to see what deals it can offer to work best for you on your caravan or motorhome travels
Meanwhile, if you want to check what kind of mobile and broadband signal you're likely to get wherever you're going in the UK, you could also use this from industry regulator Ofcom which looks at multiple network providers: View mobile signal availability – Ofcom Checker
Practical points
Check if your leisure vehicle has any pre-wiring for an on-board wi-fi system and/or whether there are optional extras available – either factory-fit or via your supplying dealer
If you're having an antenna attached to your caravan or motorhome roof, be aware of any extra height it might add
Cabling of any length could impact on performance of any caravan or motorhome wi-fi system. For example, a 5m long extension cable coming from the antenna that ends being coiled up could easily contribute to signal loss
See our previous article on caravan and motorhome wi-fi and beyond.
Here we take a look at a range of devices to get wi-fi for your caravan or motorhome…
(Note costs shown are for the hardware only and do not include ongoing mobile network data costs)
Star Player #1
Maxview Roam 5G Wi-Fi System
5G coverage is on the increase throughout the UK and, as Maxview says, a wi-fI kit like this helps make you "futureproof".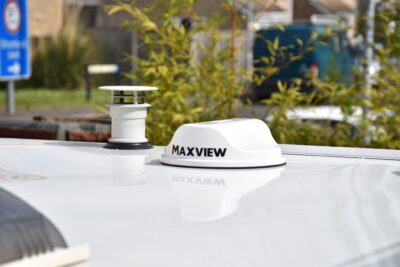 The 5G router creates a wi-fi hotspot in your caravan or motorhome, and the omnidirectional antenna uses four cables rather than the usual two – giving you access to maximum speeds.
This kit will also connect to any existing wi-fi – for example, at your home – and repeat the signal. Professional installation is recommended, but it's a job that is possible if you trust your DIY skills.
Features also include CAT20 router, supplied with 5GB SIM card, 4 x 4 MiMo antenna, maximum speed 3.3Gbps, five days a week technical support, two SIM slots in router (to allow you to connect to more than one mobile network), four ethernet ports, also controllable via app,
Expect to pay £899.99
Star Player #2
Motorhome Wi-Fi 5G Ready Compact Ultra
Very much a specialist in the motorhome wi-fi field, this is the product from its portfolio that Motorhome Wi-Fi says most customers are looking at.
Biggest feature is the Ultra router which is rated CAT12 (rivals can be as low as CAT4 or CAT6, which means speeds even in good areas can be worse than for a mobile phone).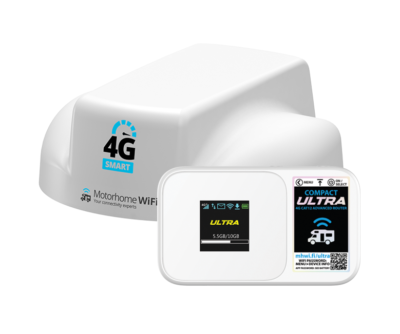 The 4G router here is 5G-ready. It's also truly portable. You can remove it from your vehicle and use it elsewhere, for example. That could be a particular boon when you're abroad.
Features also include 5G-ready antenna, 25-50m wi-fi range, 1.44in LCD screen display, quick-mount docking station, smartphone app, motorhome-specific installation kit
Expect to pay £419.99
Star Player #3
Avtex AMR985
Systems like this guarantee you can get online on your caravan or motorhome travels with a fast, reliable internet connection, toggling between wi-fi (eg on the campsite) and the 4G (or 5G) network for the best results.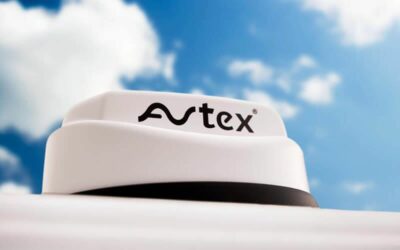 Star features include the system's two fully unlocked SIM card slots, allowing you to use whichever card you want on your travels. Avtex says it has partnered with Govivo to offer you O2 data packages that are specifically designed with the needs of caravan and motorhome owners in mind. You can switch between three tariffs and, with no long term contract, you can cancel your monthly payments at any time.
Features also include 150Mbps download speed maximum, omnidirectional low-profile MiMo antenna, CAT4 router with two SIM slots and four ethernet connections, seven days a week support (including dedicated phone line)
Expect to pay £349
Star Player #4
RangeMaster Long Range WiFi Antenna and Router
If you're not getting a strong enough signal at your pitch on your campsite's wi-fi, this is the kind of product that can help. It's a kit that includes an outdoor antenna and a router, plus associated fittings, that will boost any signal and will share this with multiple devices.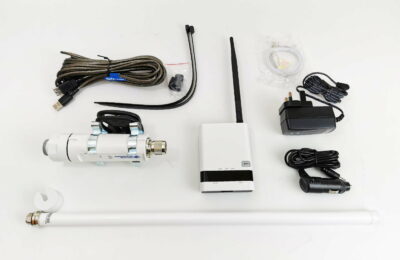 Included is a suction mount for the antenna, so you won't need to drill any holes in your caravan or motorhome. Cabling can go in via a window or rooflight.
Features also include 12V and 230V connectors for router, suction mount for antenna, 5m of cable, range up to 5km, works with any device that has wi-fi
Expect to pay £230
Star Player #5
Nighthawk M1 4G LTE Mobile Router
From specialist manufacturer Netgear, this is marketed as "the world's first Gigabit Class LTE mobile router". It's a CAT 16 router with a removable/rechargeable 5040mAh lithium-ion battery. Mains and USB Type-C cable chargers are included, with the router working for anything up to 24 hours between charges.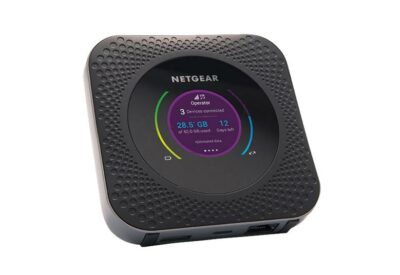 There's a 2.4in colour LCD display giving instant information on the number of users connected (it allows up to 20), signal strengths, data usage etc.
Features also include LTE (long-term evolution) CAT16 four-band MiMo router, 1Gbps download maximum (150Mbps upload maximum), ethernet port, parental controls, Two x TS-9 connectors for (optional) 3G/4G antennae
Expect to pay £369.99
Star Player #6
TP-Link M7350
A 4G LTE mobile router with a download speed of up to 150Mbps (uploads up to 50Mbps) that means you can stream anything up to HD movies in your leisure vehicle (subject to your chosen mobile data provider's network coverage).
It can support up to 10 devices and its built-in battery can provide up to eight hours' use/48 hours standby. Recharging is via a micro USB cable.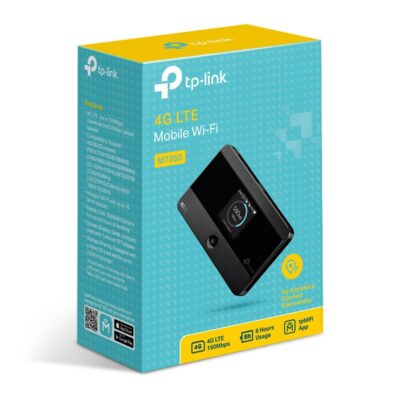 Its micro SD card slot allows up to 32GB storage (card sold separately). The screen shows you all the info you need to know – wi-fi status, signal strength, battery life etc.
There's also a tpMiFi App that allows you to set your data limits, control which devices can access your wi-fi etc.
Features also include 200mAh battery, internal antenna, micro USB cable, quick installation guide, SIM card adaptors included
Expect to pay £74.99
Over to you…
Got any advice on motorhome or caravan wi-fi or getting the best internet connection when on your travels that you'd like to pass on to fellow leisure vehicle owners.
Please feel free to add a comment below.
Cost to insure: *
---
factfile
| | |
| --- | --- |
| Model | |
| Base vehicle | |
| Axle type | |
| Dimensions | |
| Shipping length | |
| RRP | |
---
Search our blog
---