Want to stay on-message when you travel? You might benefit from a boost…
You probably recognise the scenario when you go away in your caravan or motorhome, pitch up in a lovely area, then realise the Wi-Fi signal is weak or even non-existent. It's even more annoying if you're on a campsite that says it has Wi-Fi (worse still, you might even be able to see its transmitter), only to find you're in an area too far off for a decent reception. Or, you can only get a signal if you go outside your vehicle.
It's not just leisure use that's getting increasingly popular. Also, you might want to go further than Wi-Fi and get yourself full mobile broadband connectivity.
As Adam Blacklin, founder of Motorhome Wi-Fi explains: "We have seen a huge increase in demand for a reliable internet connection in a motorhome. "This has come from all sectors, from key workers self-isolating through lockdown, to those who are embracing the new flexible working arrangements and are able to now work from home or their home on wheels."
Help is at hand. You just have to give yourself a boost…
Caravan Guard's top Wi-Fi tips
Wi-Fi boosters are often known by other names – Wi-Fi AP repeater, access point repeater, Wi-Fi extender etc. They do the same job – picking up an external wi-fi signal and re-transmitting it to the interior of your vehicle.
What type of Wi-Fi antenna? Choose between directional or omni-directional. It's the former that's generally considered superior, although you might have to adjust it for the best reception. Omni-directional antennae offer a full 360degrees view, but typically don't have the same reach and are more likely to suffer from interference when things are busy.
Check with your mobile phone provider. It may well have suitable Wi-Fi kit you can add to your existing "bundle". But, make sure it's compatible with your vehicle and lifestyle.
See also our previous article on Wi-Fi for your caravan or motorhome.
Star Player #1
Netgear Nighthawk M1
A mobile router, this claims to be "the world's first commercial Gigabit LTE device to achieve maximum download speeds of 1Gbps". In other words, it's quick, allowing you to stream multimedia and video files. That's wherever you go, or if you're on the go.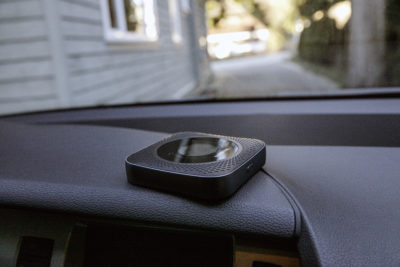 It's also easy to set up, needing no extra software. A built-in uSD allows you to store multimedia, plus there's a USB connection if you want to use external storage.
It operates from any SIM card, so check with the best carrier in your area(s) if you want optimal results.
Key features: Maximum 1Gbps/150 Mbps download/upload speeds, Wi-Fi and ethernet connections, can share with up to 20 Wi-Fi devices, two TS-9 connectors for optional 4G/3G antenna, smart parental controls.
Expect to pay: £299.99
Star Player #2
Maxview Roam 3G/4G Wi-Fi system
A roof-mounting omni-directional antenna means this can pick up signals from any direction with no adjustment. It's designed for full internet connectivity throughout the UK and Europe.
The Roam router is unlocked and can be used on any network and will also receive Wi-Fi where possible, meaning you won't be using up data.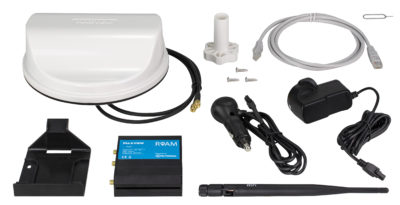 It's supplied with a Three SIM card.
The System uses a 12V power supply (or via an ethernet connection) and includes RJ45 (ie ethernet) ports if you want to connect directly to any of your devices.
Key features: Password protected, easy installation, includes 1.5m ethernet cable, adds 65mm to vehicle height, remote diagnostics and troubleshooting support, two-year guarantee.
Expect to pay: £349
Star Player #3
Kuma Wi-Fi Hotspot Booster Kit
It might look like a lot of kit here, but it's all pretty straightforward. The key items are a directional Wi-Fi antenna and a wireless repeater, working from a 12V or 230V power supply. It will pick up a Wi-Fi signal from up to a mile away.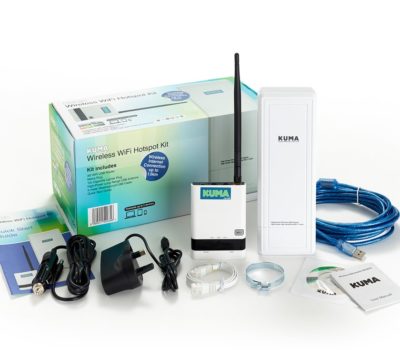 Also, if you stay on sites that normally charge for Wi-Fi connection per device, this kit will save you money because the site's service will only recognise one device (i.e. the Kuma) no matter how many are subsequently being used.
Key features: Includes 5m USB connecting cable and mounting kit, compatible with Windows 8 and 10, compatible with any Wi-Fi-enabled device
Expect to pay: £179.99
www.capitaloutdoors.co.uk
Star Player #4
Solwise Patriot DualBand
Without getting too much into technicalities (although it's all there on the Solwise website), this externally-mounted antenna will easily pick up any weak signals and make them more feasible.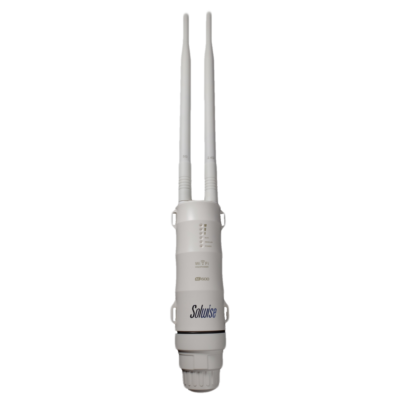 LED lights show the strength of any signal and leads plug straight into your laptop. Or you can set up a mini hotspot via an internal access point/router in your vehicle, for logging in wirelessly with other devices.
The price below includes delivery.
Key features: Omni-directional antenna, 230V mains power adaptor included, weatherproof case with built-in lightning protection, mounting kits and leads extra.
Expect to pay: £87.05
Star Player #5
4G Smart Compact
Features a slimline roof-mounted antenna (available in black or white finish) and compact (hence the new name – it was formerly known as 4G Pack 2) router that can cope with up to 10 devices. The antenna will add a maximum of 6.2cm to your vehicle height, while the router – which includes a 1500ma battery – can also be removed if you want to take your data usage elsewhere.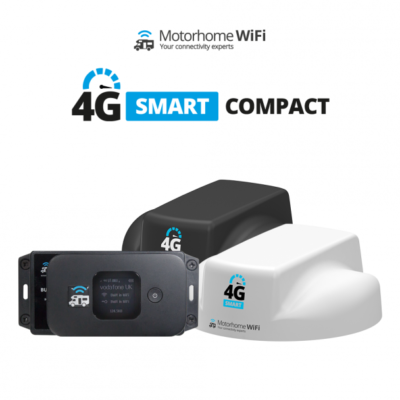 It can use any network, with unlimited data plans from £20 if you pay as you go.
It comes from a company that's highly regarded for its expertise with motorhomes and touring caravans.
Key features: Antenna self-seals when fitted, unlocked for any network, can be used whilst on the move, includes free starter SIM, 30cm antenna and two x 1m extension cables, two-year warranty
Expect to pay: £299.99
Over to you…
Got any advice on in-vehicle Wi-Fi you'd like to pass on to fellow Caravan Guard blog readers? Please feel free to add a comment below.
Cost to insure: *
---
factfile
| | |
| --- | --- |
| Model | |
| Base vehicle | |
| Axle type | |
| Dimensions | |
| Shipping length | |
| RRP | |
---
Search our blog
---