Levelling a parked caravan is not just to help your personal comfort.
Most refrigerators, for example, are unable to achieve cooling if an appliance assumes a marked tilt. Admittedly, that isn't the case with 'compressor' fridges (as opposed to three-way 'absorption' models) but these are normally only fitted in small 'campervans'.
Datum point
Just to clarify, the Datum point is a reference point for which measurements may be taken and is the point used to identify if a caravan or motorhome is level.
At one time, Dometic advised that a small spirit level placed on the bottom of most freezer box floors would be the datum point. Elsewhere in caravans, datum points are many and varied.
Some owners used to place a spirit level on the A-frame but recent fairings don't always provide a suitably flat surface. Checks are sometimes made on a kitchen worktop or even the dining room table – but these might not match the floor inclination. In reality, the most reliable test zone is: (i) indoors and (ii) as close as possible to the central part of a caravan's axle.
How to measure if level?
Once you have identified the Datum point there are various tools to record the level.  There are two levels that need to be considered – the front to back level, which can be adjusted on a caravan using the jockey wheel and the side to side level often referred to as the lateral level.  In practice, rectifying a lateral tilt takes longer than levelling a caravan from front to back.
The most common levelling tool is a small spirit level (as a substitute download a free spirit level app to your smart phone).
Alternatively, some owners prepare a travelling water container with marking tape to verify if the floor is level.
Smart-Trailer is a Base Station (E-Connect) that can be mounted inside your caravan, ideally near the front.
The E-Level module is included in this Base Station and enables you to level your caravan both laterally and front to back using a free app that can be downloaded to either an Apple or Android smartphone.  It works in a similar way to the spirit level app.
Levelling equipment
To level left to right there are many variations on levelling devices on the market.  Here are a few to look out for:
Levelling ramps, grip mats and wheel chocks
These are the most popular as they are relatively cheap, costing as little as £15 for standard wheel ramps.
There are many styles of ramps available on the market, from Chockmaster Level Ramp, which is a ramp and chock all-in-one to multi-level ramps and the Milenco Triple 2 Caravan Level Set with super level indicator, which tells you which step on the ramp you need to put your wheel.
However, for simplicity and cost-effectiveness, it's also possible to simply use wooden blocks made up in a garden shed, but a word of caution, be careful not to stack up too high.
Be aware that plastic wheel chocks sometimes slip on concrete or 'tarmac' surfaces.  That's why some products include a nailing hole to improve anchorage or have high grip tread surfaces.
Grip mats placed under the wheels or ramps help to avoid sinkage into soft ground and also help to allow better traction when leaving your pitch.
Wheel chocks or 'wedges' are important to make sure that your caravan or motorhome do not runaway on a steep slope, even when levelled up.
These can be bought for as little as £4.50 or simply made out of a chunk of wood.
Caravan wheel jacks
Some caravans are fitted with a coupling bracket for a side lift jack, which is not just great for changing a wheel, but also ideal for adjusting a caravan laterally (side to side).  The AL-KO products are remarkably easy to operate and when an owner has placed a spirit level across the floor indoors, it's a quick job to elevate a side which might be 'sitting' a bit low.
Inevitably it needs to be elevated a generous amount because a raised wheel sags low on its suspension. However, it's then easy to insert some flat wooden pads under the wheel before lowering the van, checking the result and removing the jack.
Don't forget to make sure that you have the AL-KO axle wheel lock receiver aligned correctly before lowering.
Lock 'n' Level
This is an innovative levelling system invented by caravanners for caravans and is quite simply an inflated cushion positioned under the wheel(s) on one side of the caravan.
The caravan is positioned onto the Lock 'n' Level and the wheel lock secured.  Using a spirit level positioned on the floor near the central axle, a standard tyre pump is connected to the inlet valve and inflated until the lateral reading on the spirit level is central.  This normally happens between 8-30 psi.  The front to back levelling can be achieved by adjusting the jockey wheel.
If you are sited on a gravel/hard standing pitch, then it is advisable to place something under the Lock 'n' Level in order to prevent it from getting damaged.
Milenco Aluminium leveller
The leveller from Milenco is another device that allows you to get the the AL-KO Secure wheel lock in place before levelling the caravan. The leveller is a cradle that fits around your caravan tyre, then with a ratchet it's wound up to lift the tyre of the caravan. Once the caravan is level, simply stop winding and that's it.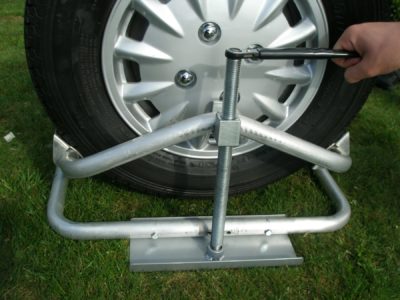 Automatic Levelling System
A premium solution. Automatic levelling systems are powerful hydraulic jacks that are operated via a fixed control panel or using a wireless remote control.  At the push of a button, the jacks are deployed and within minutes your caravan or motorhome is level.
The jacks are so powerful they can lift a leisure vehicle's tyre completely off the floor making it easier for changing wheels.
Whereas motorhomes have fitted automatic levelling devices for several years, few caravans have permanently-installed devices even though they can be fitted retrospectively.  Companies like AL-KO, E&P Hydraulics and MA-VE are just a few of the companies that can fit them retrospectively.
Although most of the jacks have splayed feet, to make sure they don't sink into soft ground, invest in some Outrigger Pads, which are robust and stable.
On a caravan only wind down the corner steadies to steady any wobble on your 'van – never use them to level the caravan.
Over to you…
If you have any tips for levelling a caravan then please feel free to share in the comments box below.
Cost to insure: *
---
factfile
| | |
| --- | --- |
| Model | |
| Base vehicle | |
| Axle type | |
| Dimensions | |
| Shipping length | |
| RRP | |
---
Search our blog
---