Want extra lighting in and around your caravan or motorhome?
Why not? There's a great choice out there and many of you have told us you like to add extra lighting in your caravan or awning in our recent poll. Let us illuminate you!
Lighting entertainment
Let there be a bit more light? There are also going to be times when you want a bit more illumination in your caravan or motorhome – whether it's inside for reading or reaching into the back of a locker, or just outside in the awning.
Luckily these days there's an almost limitless selection of caravan lamps, lanterns, spotlights, and more that you could easily add to your existing setup. Generally, too, they're not especially heavy, and they invariably pack away easily for travel.
Choose wisely, too, and they won't drain any power resource. Here, we've selected just a few types of motorhome and caravan lighting you might want to consider.
Star Player #1
Outwell Leonix Lux/Coxa 3/Carnelian DC350 lights
You could win this trio of lights from an extensive portfolio from top camping gear specialist Outwell. It includes the mains-powered Leonix Lux hanging lamp (idea for under an awning), that offers a powerful 500 lumens of LED brightness. Its shade, in silicon, comes in a choice of Cream White or Lime Green and can be folded nearly flat.
The DC350 comes from a range of Carnelian lanterns and operates from a built-in lithium-ion battery and also comes with a charging cable. It can be used hanging or put on a tabletop.
Coxa 3 is a 3m strip of LED lights with an in-line switch. It's designed for indoor use only, including in an awning.
Key features Leonix Lux: 5m cable, dimmer switch; Coxa 3: 5m cable, dimmer, 230V and USB connections; Carnelian DC350: dimmer switch, carry handle, removable globe; all with two-year warranty
Expect to pay £38.99 (Leonix Lux)/£40.99 (Carnelian DC350)/£31.99 (Coxa 3)
Star Player #2
Isabella TripLight
A clever clip-on light designed for 22mm-28mm awning poles (or similar). It can also be used as a hand-held torch. Go for the all-metal table stand option, too, and you've effectively got three lights in one.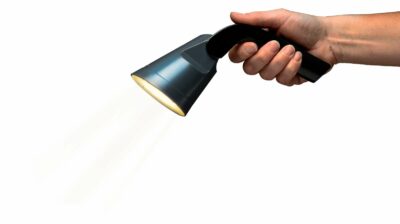 The internal battery has a run time of up to five hours before it needs recharging.
Key features A+ energy efficiency rating, five-hour charge time, 7m charging cable, 150 lumens, fully-charged warning light
Expect to pay £55
Star Player #3
Helix Backcountry 150 lantern
A rechargeable lantern with water-resistant qualities. The 150 is the brighter of two Backcountry models. It comes with three folding feet and an extending lamp section that includes red and white lights, both of which are dimmable. So, as well as sitting on a tabletop, you can also hang it or use it as a hand-held torch/spotlight.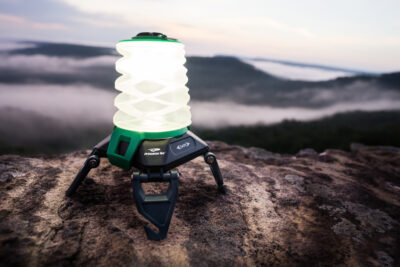 Key features 150 lumens LED, lithium rechargeable battery, micro-USB charging port and cable, IPX6 water-resistance rating, five-year warranty
Expect to pay £69.95
www.princetontec.co.uk
Star Player #4
Campingaz Lumostar Plus PZ lantern
A true classic. Great for use outdoors and under the awning, where you'll notice not only its warm glow but the bit of extra warmth it gives off. Its gas mantle is also guaranteed to bring back memories of yesteryear camping!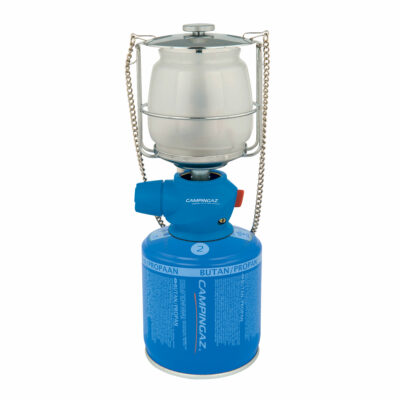 Powered by a choice of CV300 Plus or CV470 Plus gas cartridges – with run times of up to six hours 20 minutes and 12 hours respectively – ignition is instant thank to a piezo spark igniter (you don't have to worry about finding/losing matches, either).
Key features Easy Clic gas cartridge connection, globe protection guard, 80Wattt power rating, hanging handle, zipped carrybag, weighs 370g, spare parts readily available
Expect to pay £44.99
Star Player #5
Outdoor Revolution 4 in 1 Lumi-Solar fan lantern
Innovation abounds in the Lumi lighting range from Outdoor Revolution and this is a great example. It's a portable LED lantern that has a fold-out hanging hook and can even be used hand-held.
It's rechargeable, via either its own solar panel or a USB port that can also, in turn, be used to charge other electrical devices. It also incorporates a three-speed fan.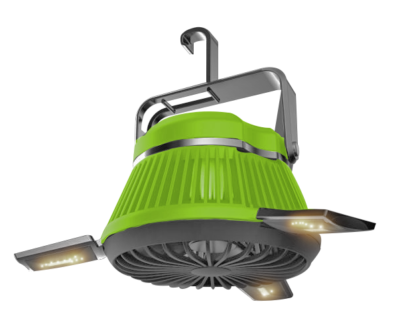 The LED lights have three levels of brightness, including a dim night-time setting, full bright for use as a ceiling lamp, and a mosquito-safe amber.
Dimensions are 14cm diameter and 11cm high.
Key features Integrated 2,000mAh power bank, fold-out light panels, typical working time four to eight hours, 0.4kg total weight
Expect to pay £21.99
www.outdoor-revolution.com
Star Player #6
Vango Midge 180 light
Complete with an insect zapper! The Vango Midge is a simple but effective light, hand-sized, with a hanging hook. Using ultra-violet light, the zapper function attracts insects (keeping them away from you) from up to a 5m range and for anything up to 30 hours before needing a recharge.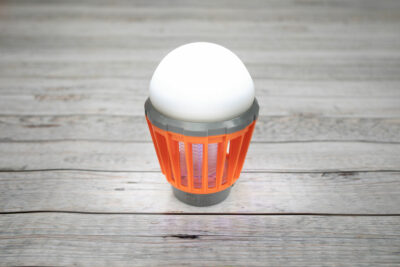 A hook means it can be hung loose (e.g. in an awning) or it can be stood up on a suitable flat surface. Its LED light can be set to 180, 90 or 30 lumens.
Also available is the smaller, less powerful, folding Midge 100.
Key features Built-in 3.7V/2,000mAh lithium-ion rechargeable battery, USB charging cable, IPOX6 water-resistant casing
Expect to pay £20
Star Player #7
Kampa Groove light
A collapsible pendant light with a choice of blue or grey coloured shade that folds down to be nearly flat – so is ideal for stowing away neatly when not needed – and can also be clipped into a hanging position using the carabiner supplied, great again for awnings. It's light in another sense, too, weighing just 0.3kg.
It comes with 340V AC and 12V DC adaptors, a long cable with switch, and a remote control unit that can dim the light.
Key features Low 9 Watt power consumption, energy rating B, 5m cable
Expect to pay £26
Star Player #8
Biolite Headlamp 200
Such a handy light to have, especially when you want to keep both hands free for other activities (changing a gas cylinder in the dark, or emptying the toilet cassette in the dark, for example?).
One of the key factors with such designs is weight, and the Biolite is only 50g. Another handy feature is the tilt facility, whereby you can change the angle of light with one hand.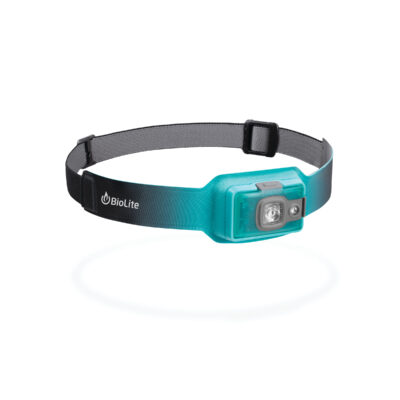 The light is dimmable and can operate for up to 40 hours on low power, three hours on high. There are also red light and strobe settings. It can illuminate from 8m to 50m.
It's rechargeable and comes supplied with a micro USB cable. The HolyFit guarantee means you can trial this light for up to 30 days and return it if you don't like it.
Key features 200lumens maximum brightness, choice of four colour finishes, IPX4 water resistance rating, one-year warranty
Expect to pay £49.99
Over to you…
Got any advice on extra motorhome or caravan lighting you'd like to pass on to fellow leisure vehicle owners? Please feel free to add a comment below.
Cost to insure: *
---
factfile
| | |
| --- | --- |
| Model | |
| Base vehicle | |
| Axle type | |
| Dimensions | |
| Shipping length | |
| RRP | |
---
Search our blog
---