Are you fully prepared for getting out there in your caravan, campervan or motorhome this 2021 season?
There's no doubt we're going to have to take even more hygiene precautions whilst touring and on campsites – for everybody's sake – so here are some handy pointers.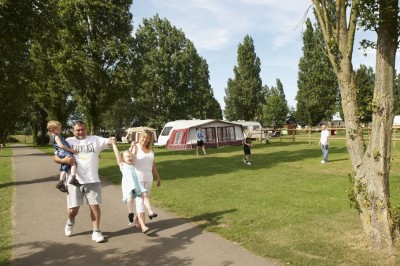 There's lots to be said for the humble bar of soap and warm water, but there are other considerations, too, like some of the ideas below.
Here's to the cleanest of getaways and happy, healthy vacations – also known as a safecation!
Top safecation tips
Remember to keep washing your hands. We're well drilled in washing procedures these days, and it should be kept up when you're away in your caravan, campervan or motorhome.
Consider a wipeable cover for any electronic devices that you're in regular contact with. Follow manufacturers' instructions.
Good ventilation is key. Keep windows and vents open as much as you can.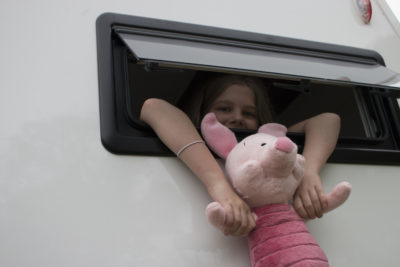 Keep a handy (pun intended) supply of gloves (reusable or disposable), ideal for wearing when you're doing any cleaning and touching potential contaminated surfaces, such as fuel pumps, water points, toilet block doors etc. Don't forget to clean your motorhome or tow car steering wheel regularly, too.
Anti bacterial wipes are great. Check whether they're the ones that will kill viruses and germs. You could use them to wipe down shared toilet or shower areas. Also, dispose of them properly after use and consider environmentally-friendly ones too.
Don't forget to take a generous supply of face masks (disposable and/or re-usable). It's always easier to have too much rather than too few of such products when touring where supplies might not be easily accessible.
Also see our guide to essential post lockdown camping gear for more safecation ideas.
Star Player 1
Qualkem 40shot and Proshot
From a company with a 50-plus years long heritage in manufacturing chemical products, there's an extensive portfolio of environmentally-friendly sanitisers, cleaners and more.
Qualkem's 40shot range is so-called because each container is capable of giving at least 40 doses, via the in-built dosing chamber that make sure you're adding in exact amounts each time. Choose between Original and Eco Green for your cassette toilet tank.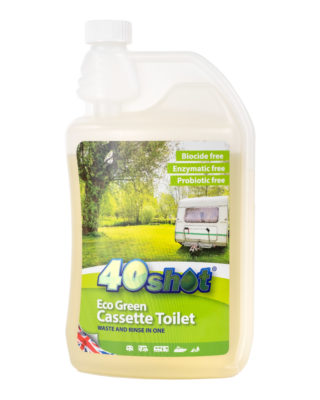 The 40shot Dish-n-Treat is a unique product that can be used as a general washing-up liquid – so when you pour it away it performs a second duty cleansing your waste tank and pipework!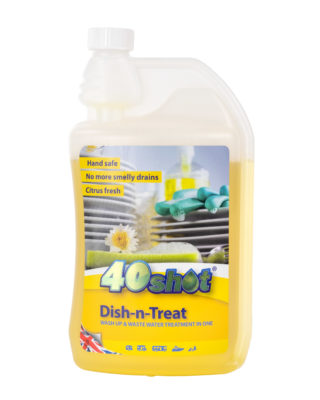 Key 40shot products also include Loo-Tubes – a pack of six 25ml cassette fluid sachets and two pink flush sachets – that are ideal "one-shots" for your on-board chemical toilet.
In the Proshot line-up of trigger-operated sprays, look out for Waste Tank Cleaner, designed to descale, clean and freshen your grey water tank, as well as Avocado Oil Polish, which can be used on hard surfaces, inside as well as outside, your vehicle.
Finally, there are other niche products across the portfolio – like Pristeane, bleach-free and perfect for removing the stains from cutlery and crockery (including melamine); and Electrosan Skin & Surface Antiviral Spray – a technologically advanced, alcohol-free natural antiseptic and disinfectant that can also be used as a hand sanitiser that's particularly kind to skin.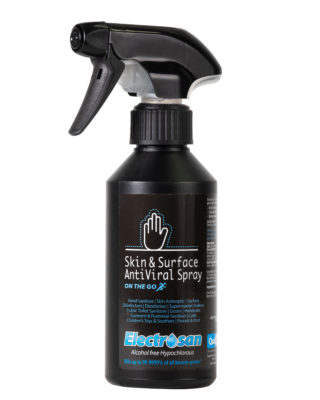 Key features Environmentally-friendly, formaldehyde-free, biodegradable, pH-neutral, British-made
Expect to pay £6.55 (40shot Loo-Tubes), £9.99 (40shot Original Cassette Toilet), £9.99 (40shot Eco Green Cassette Toilet), £7.95 (40Shot Dish-n-Treat, 250ml), £5,00 Proshot Cassette Waste Tank Cleaner; £5.00 (Proshot Multi Surface Cleaner), £ (Pristeane), £6.99/£14.99 (Electrosan 100ml/800ml)
***We have a "safecation" bundle of Qualkem products to give away this month. Click here to enter.
Star Player 2
Steril-eeze
Certified to kill 99.9% of viruses and bacteria, this has been described as a "great, multi-tasking sanitiser".
Use it on virtually anything in and around your caravan, campervan or motorhome – including you! It works on hard and soft furnishings and is also formulated to be especially kind to skin (especially if you suffer from a skin condition that means other sanitisers end up irritating). Other uses include on food and other groceries.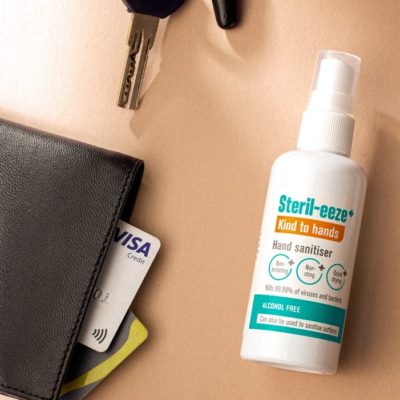 Unlike alcohol-based sanitisers, it uses hypochlorous acid (as used as a clinical disinfectant in hospitals), to make it non-irritant.
It's child-friendly, too. And it's easy to use – just spray direct onto surfaces, and leave for five minutes.
Key features Quick drying, no sticky residue, hypochlorous acid benefits
Expect to pay £2.49 (50ml), £3.99 (100ml), £7.49 (250ml)
Star Player 3
Snugpak Travel Towel Head to Toe
A microfibre, anti-bacterial travel towel like this can prove itself in so many ways.
Silvadur, an anodised silver, is the magic ingredient here – preventing the build-up of bacteria and reducing unwanted odours. It's also quick-drying.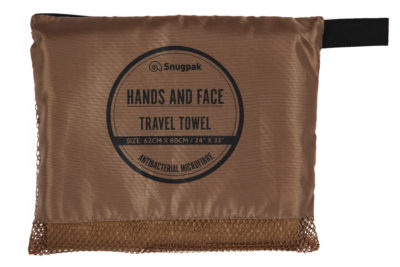 It's a good size – 120cm x 125cm – but it also packs down really small and weighs just 360g when dry. There's also a small Hand and Face version, for £10.55
Towels like this are great for drying your pets after a bout of wet exercise, too.
Key features Machine washable (40degC), Coyote Tan or Olive colours
Expect to pay £19.95
Star Player 4
Aquapac waterproof phone case
Perfect protection for your mobile phone, wherever you go. There's good reason for including a product like this here – typically, a mobile phone is also a massive carrier of germs and more.
A case like this can act as an easily cleanable extra barrier against picking up unwanted bacteria etc, plus it offers protection from general dirt, dust and water. Indeed, in terms of the latter, you can still use your phone underwater – great for taking pictures as well as still holding a conversation!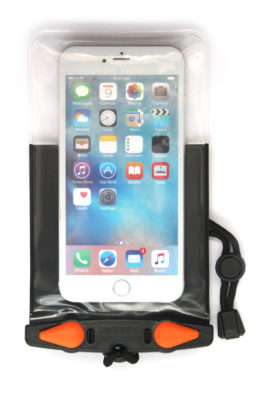 There's also room inside for you to safely stow credit cards or even keys. Plus, it's designed to float should you accidentally drop it in water.
Aquapac has a full portfolio of cases, not just for phones but also other devices. The Plus size here is suitable for phones up to 160mm x 100mm.
Key features Welded construction, adjustable lanyard, Aquaclip waterproof sealing system
Expect to pay £25
Star Player 5
Dometic PowerVac PV100
A wet and dry vacuum cleaner that's designed specifically with leisure vehicle use in mind and perfect for keeping interiors as clean as possible.
It's powered by a 12V battery that can be recharged from 12V or 230V sources and comes with an easy-to-clean dust container and filter.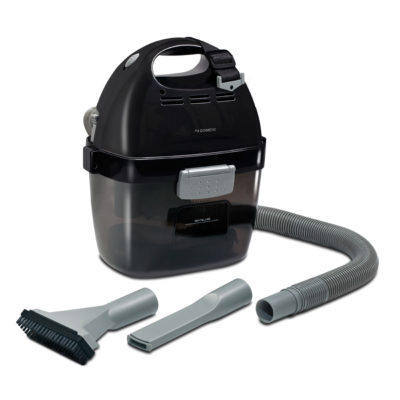 It comes with attachments for upholstery, rugs and small gaps. Dimensions are 198mm x 270mm x 320mm high and weighs 2.1kg.
Key features 90Watt power consumption, supplied with mains adaptor and 12V charging cable, 400mm water column, carrying strap
Expect to pay £109.48
Star Player 6
Leisurewize Portawash Twin Tub
Yes, you really can take a washing machine with you on your caravan and motorhome holidays! For anyone who's feeling slightly squeamish about using on-site laundry facilities, this might be enough to tide you over. Plus,you can keep those face masks nice and clean!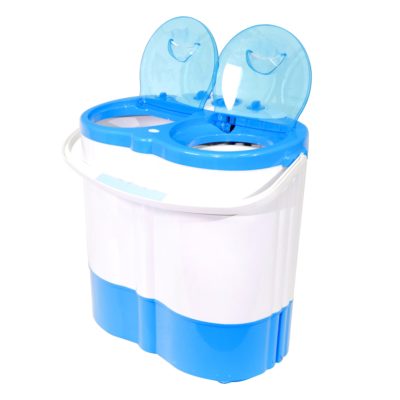 It's a proper, mains-operated twin-tub machine, albeit scaled down somewhat – with 3kg wash and a 2.5kg spin capacities. The supplier says it's specifically designed for smalls and light garments, coming with two settings – normal (for polyesters and cottons) and gentle (sportswear).
Dimensions are 60cm x 36cm x 57cm high
Key features 230Watt washing power, 116Watt spinning power
Expect to pay £159.99
Star Player 7
LifeSaver Cube
Purify your water with this five-litre container that was originally developed in conjunction with Oxfam. Using an ultra-filtration membrane, it can instantly remove over 99.9% of bacteria, cysts and viruses from water.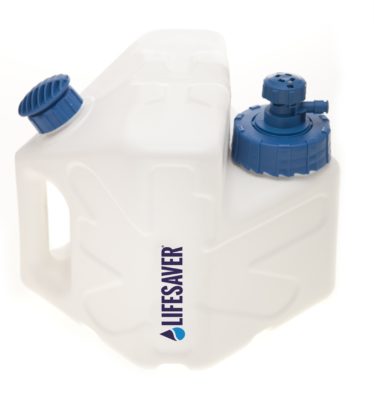 There's also an activated carbon filter, which removes any traces of chlorine as well as unwanted tastes and smells and, in turn, will also make sure it tastes better.
Also included is a maintenance pack, comprising one protective cartridge cap and five O-rings.
Key features Replaceable cartridge, two-year warranty, dry weight 1.2kg
Expect to pay £119.99
Star Player 8
Zerowater 6 Cup/1.4L Jug
This is the smallest in a range of filter jugs from Zerowater that goes up to 2.5 litres (and beyond), but it might be the one that fits most easily in your leisure vehicle's fridge (it's 26.7cm x 12.4cm x 24.13cm).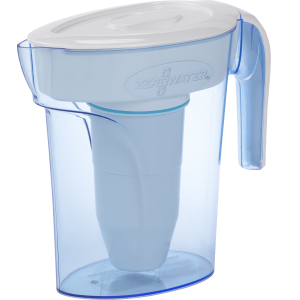 Its key feature is a replaceable, five-stage filter that can reduce 99.6% of all TDSs (Total Dissolved Solids) – everything from lead to mercury, asbestos, chlorine, and more – including the micro-plastics that are increasingly found in our waters – much of which can end up making its way into your water supply via any pipework.
Each filter typically lasts for between 95 and 150 litres of water. You also get a separate water quality meter that gives an instant reckoning on the quality of water, wherever you go.
Key features Five-stage filter, jug with non-slip grip handle, choice of sizes
Expect to pay £24.99
Star Player 9
Shower In A Can

A waterless shower! Just the sort of handy emergency item you might like to carry with you in case – for any reason – you can't access a proper shower (or, indeed, if you're not sure about the water supply).
Based on an anti-bacterial, anti-viral foam, each 100ml can gives you up to 20 showers – without the need for any water or even a towel! The maker says it eliminates bacteria, germs, fungus and body odour, leaving you feeling fresh and clean, with no lingering stickiness.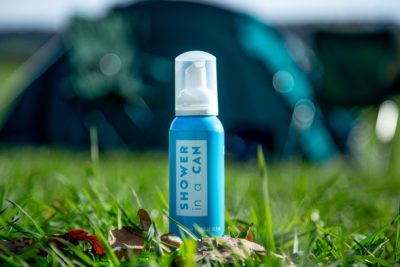 Key features Small size, fully recyclable aluminium can and pump, Vegan Society approved (cruelty-free and dermatologically tested)
Expect to pay £9.99 (or, three-for-two offer)
Star Player 10
Keela ViralOFF Neck Tube
Here's a whole range of garments, including trousers and tops, that offer protection against coronavirus, 'flu and more, thanks to its polygiene technology. The treatment reduces viruses on the fabric by 99% after two hours. Plus it's anti-bacterial.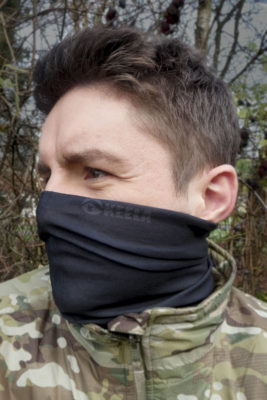 The Neck Tube is a one-size-fits-all product in a choice of three colours – Red, Covert Green or Black. As well as the properties above, it also offers great protection from extreme weather and can double up as a face mask if you've left yours in the 'van!
Expect to pay £9.95
Over to you…
Got any advice on personal hygiene and safety whilst away on a safecation that you'd like to pass on to fellow caravanners and motorhomers? Please feel free to add a comment below.
Cost to insure: *
---
factfile
| | |
| --- | --- |
| Model | |
| Base vehicle | |
| Axle type | |
| Dimensions | |
| Shipping length | |
| RRP | |
---
Search our blog
---