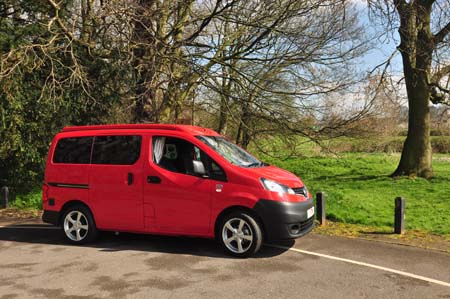 Who says size doesn't matter? As a van conversion specialist that's daring to think big, Derby-based Hillside Leisure has come up with a small cracker here.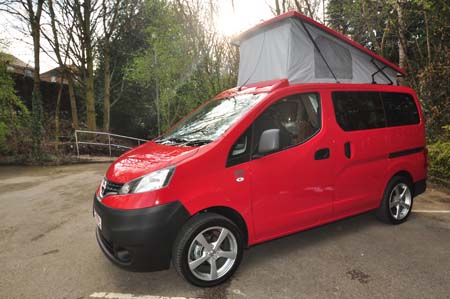 It's taken the diminutive NV200 van from Nissan and conceived a micro camper that really does offer an enticing blend of a workable layout, the right levels of equipment and doesn't forsake making the most of the space available.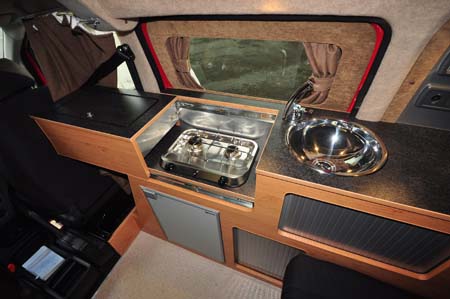 To save you making the calculations for yourself, it's almost 3ft shorter than a VW, and just a few inches narrower, whereas inside it takes a time-honoured "VW layout", with the furniture along the offside – the usual kitchen/storage set-up – while the rear bench seat (from RIB) converts to a double bed as well as providing safe travel for two extra passengers.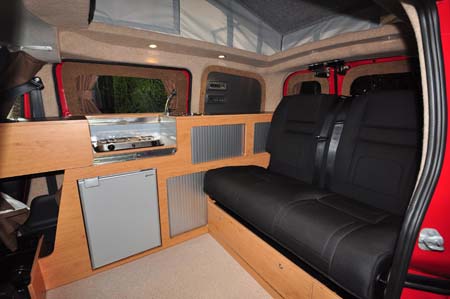 Using the van version of Nissan's NV200 means you get twin doors at the very back, which some will see as an advantage over the tailgate of the Combi variant. It retains both side sliding doors, the one on the offside becoming a kind of "service hatch" with access to the back of the fridge, water pump, fuses etc.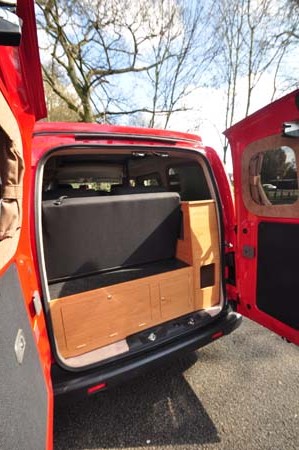 Above, there's an elevating roof that, sensibly, is hinged at the back – allowing you to make the most of the headroom allowed when you push it up into place.
Bringing it up to full four-berth status with the roof bed option might be taking it all a bit too far (although a drive-away awning or a tent accompaniment are certainly viable).
You also have your pick of some attractively priced options from the Nissan price list – metallic paint, alloy wheels, air conditioning etc.
One that should come marked "recommended" is the upgrade from the merely acceptable standard 89bhp engine to the far more refined 110bhp unit, which also gains you an extra, sixth gear. Rather surprisingly, especially in view of some other uses to which the NV200 has been put (taxis, for example; and there's a very interesting electric version on its way) automatic transmission doesn't feature anywhere from Nissan here.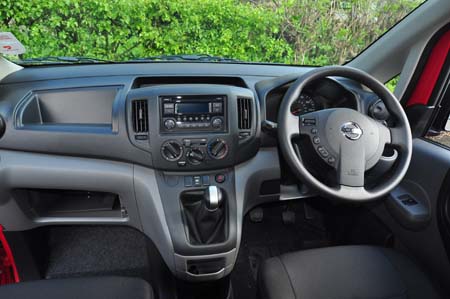 Whatever, it certainly drives well, especially if you go for that more powerful, Renault-sourced motor, with not a single untoward rattle – a testament to the ways Hillside has screwed together the camper aspect.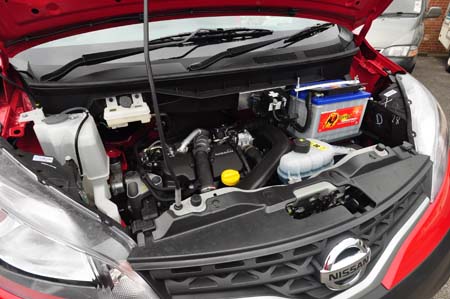 That main furniture unit is home to a separate sink and a two-burner hob, while below is a Vitrifrigo compressor fridge with a 39-litre capacity.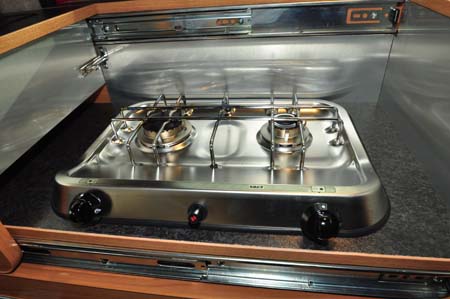 Have a look at the pictures here, too, and you'll see a slightly unusual cooking arrangement. Hillside has had to fit in with industry regulations and set the hob at what's deemed a safe height for use, for example, when the roof is down. That explains the rather clever sliding section that retains some worktop, too. All you need to do is tip forward the driver's seat.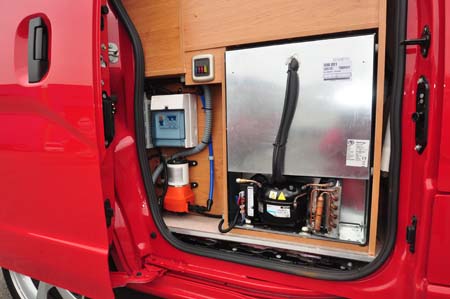 It's only the table arrangement that's to be confirmed – by you! Hillside is leaving it to each customer to request what best suits them from a choice of free-standing or pedestal leg tabletops.
The fresh water tank is 30 litres. The waste is 30 litres. They're both proper tanks, slung under the van. The double bed is a commendable 1.80m x 1.04m. Standing height with the roof up can be as much as 1.93m. There's an 85ah leisure battery. Two mains sockets. Fuel economy could easily top 50 to the gallon… but you could easily be on the road in a brand new vehicle for less than £26,000. Figures, figures. But, they do add up to one very tidy little campervan.
Verdict: Economy, with a lot of truth
Plus: Excellent drive (for a "tiddler"), complementary camper conversion work,
Minus: No auto option, lacks storage for a portable toilet
In-a-nutshell: A magical micro!
Cost to insure: £257.50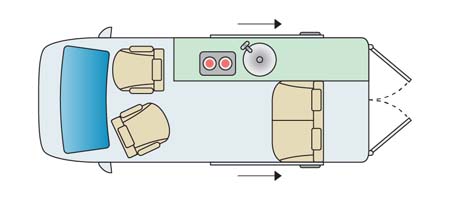 In summary
Nissan NV200, 1.5-litre, 89bhp Euro V
Dimensions 4.40m L, 1.70m W, 1.92m H
Key options: 110bhp engine with six-speed manual gearbox £420, Eberspacher heating £1,000, Nissan Safety Pack (front foglights, passenger airbag, ESP, heated door mirrors) £660, air conditioning £600, roof bed £495
Security and Safety Safety Pack (see above), reversing camera, remote central locking
Recommended retail price from £25,995**
There's more information on the Dalbury on the Hillside Leisure website and to find out more about our low-cost premiums visit the motorhome insurance discounts page. 
Alternatives: Lunar Vacanza, Wheelhome Skurry, Romahome R10
*Motorhome insurance cost based on Hillside Dalbury retailing at £25,995 fitted with immobiliser. UK travel only. Kept in secure storage at TD9 8ED. Motorhome owners – professionals over 50 years old with no claims, convictions or health conditions in last 3 years. 4 years no claims bonus mirrored from car policy and 2 years motorhome driving experience. Members of motorhome club doing less than 5000 miles annually. £300 excess applies. Premiums include insurance premium tax at 6% and are correct at 03/04/2014
**On-the-road, including VAT at 20%
Cost to insure: *
---
factfile
| | |
| --- | --- |
| Model | |
| Base vehicle | |
| Axle type | |
| Dimensions | |
| Shipping length | |
| RRP | |
---
Search our blog
---