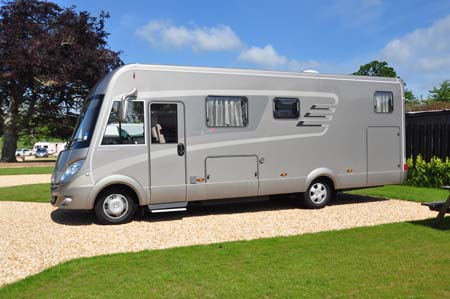 Over £100,000 for a motorhome? Can we be serious? Believe it or not, despite all of the general economic pressures there's still a buoyant – albeit small – sector of the market that offers an incredible amount of choice. But, here's one vehicle that should be on everyone's shopping list.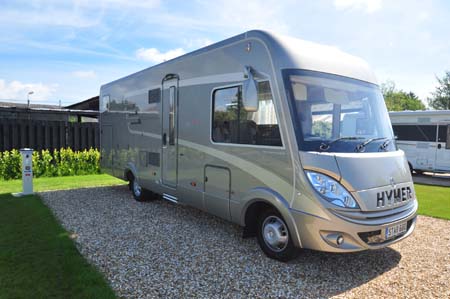 It's an A-class, of course, and it's from a manufacturer best known for producing such vehicles. Indeed, it can claim to be the founding father of this type of motorhome. Hymer produced its first A-class motorhome back in 1961. It's hardly had time to look back since.
Today, there's a powerful line-up of such vehicles, but it's the StarLine series that starts off on Mercedes' chassis. And it's the two-model S range that goes on to add extra equipment that would total well over £20,000 if bought individually.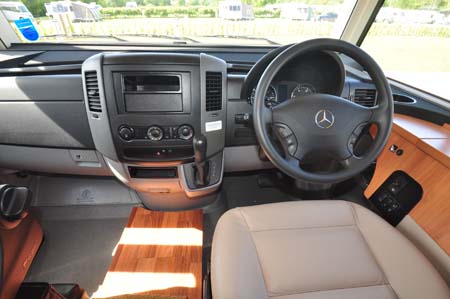 It's all-German, then, with Hymer's bodywork and fitting out all taking place at its main manufacturing plant in southern Germany. And few will argue with the quality of the finished article.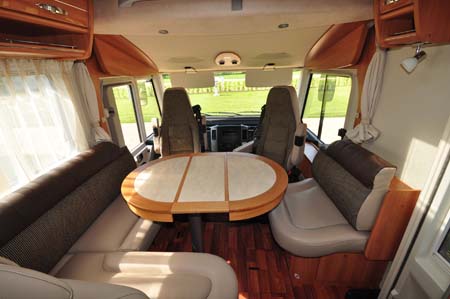 The ride may be a bit on the soft side (plenty prefer it that way), but in this format – 190bhp V6 engine with super-smooth automatic transmission, driving the twin rear wheels – it's a superb configuration that's more than worthy of a premium class of motorhome.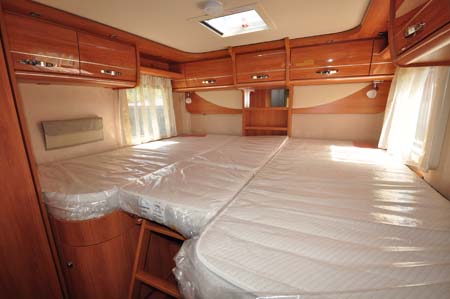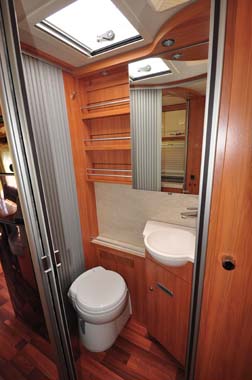 Inside, there's a floorplan that's emerged as the most popular for such a vehicle – twin rear single beds in a setting where you can section it off from the rest of the living quarters and still give yourself full en suite facilities in the form of a separate toilet room and shower.
It's a kitchen that should keep even the most fastidious of UK chefs happy, too. There's a decent amount of worktop for the stylish three-ring hob and sink, while – opposite – Dometic's TecTower fridge/freezer/oven/grill stack system brings the specification up to our expectations. Storage is superb, too.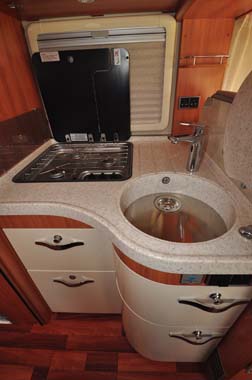 Meanwhile, the lounge strikes the right balance between space, suitable tabletop area (when needed) and room to sprawl out just a bit. Indeed, one of the key features here is the electrical operation of the swivelled cab seats to bring them up to exactly the same height as the settees here.
And that equipment? Look it all up for yourself, there's simply too much to list here, suffice to say it brings it all up into the absolute luxury stratum with features like Alde heating including heat exchangers, insulated cab window glass plus electric front blind, inverter, twin leisure batteries, TV system, additional interior lighting etc. That metallic grey exterior finish is also a defining part of the S package.
There's plenty of room for more, too, thanks to a 1,200kg payload that includes a generous 350kg maximum for the garage.
Other quality indicators range from the kitchen worktop to the ceramic-bowl toilet to the extending table in the lounge complete with a solid wood edging to it.
There's another massive factor in Hymer's favour these days. The company has had the pick of the UK market as far as dealers are concerned. There's some eight of them now throughout England and Scotland, all offering a superior service. Which is surely exactly how it should be for what might just be the most sought after motorhome brand these days.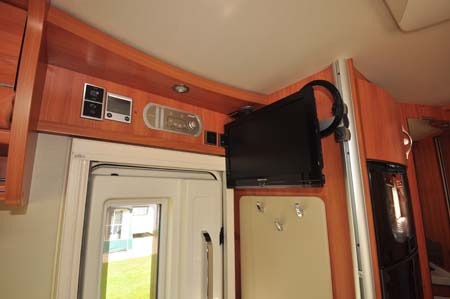 Verdict: All-star performer espousing German quality
Plus: S equipment adds another dimension, excellent base, Hymer build quality
Minus: Price (of course), grill height
In-a-nutshell: A star in the making
Cost to insure: £876.50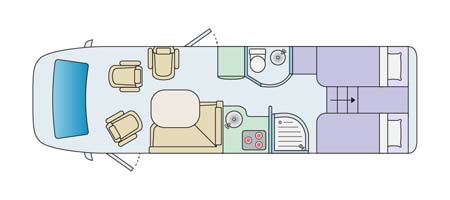 In summary
Mercedes Sprinter 519 CDI, 3-litre, 190bhp Euro V
Dimensions 7.97m L x 2.35m W x 3.07m H
Key options: Dometic TecTower £510, floor carpet £345, Tobago leather upholstery £1,290, front foglights £245
Security and Safety Electronic immobiliser, twin airbags, hill start assist, reinforces front and rear stabilisers, traction control ASR, anti-lock braking system with brake assist and electronic brake force distribution, daytime running lights
Recommended retail price from £111,859**
There's more information on the StarLine S at the Hymer website. To find out more about our low-cost premiums visit the motorhome insurance discounts page.
Alternatives: Frankia I 7900, Rapido 9 series, Pilote Explorateur Diamond Edition
*Motorhome insurance cost based on Hymer Starline  S retailing at £111,859. Fitted with immobiliser, Phantom Pro-Active tracking device and Thatcham Category 1 Alarm. UK travel only. Kept in secure storage at home on locked driveway. Motorhome owners – professionals over 50 years old with no claims, convictions or health conditions in last 3 years. 4 years no claims bonus mirrored from car policy and 2 years motorhome driving experience. Members of motorhome club doing less than 5000 miles annually. £600 excess applies. Premiums include insurance premium tax at 6% and are correct at 03/06/2014
**On-the-road, including VAT at 20%
Cost to insure: *
---
factfile
| | |
| --- | --- |
| Model | |
| Base vehicle | |
| Axle type | |
| Dimensions | |
| Shipping length | |
| RRP | |
---
Search our blog
---