The Italian-built Fiat Ducato wins the title of favourite motorhome base vehicle as we reveal the results of our latest community poll.


The Ducato is the base for around three quarters of the European and UK motorhome market and is loved by many for its firm ride and well equipped cab. There were 359 votes cast and more than a third (36%) voted it as their favourite – making the Fiat Ducato the outright winner.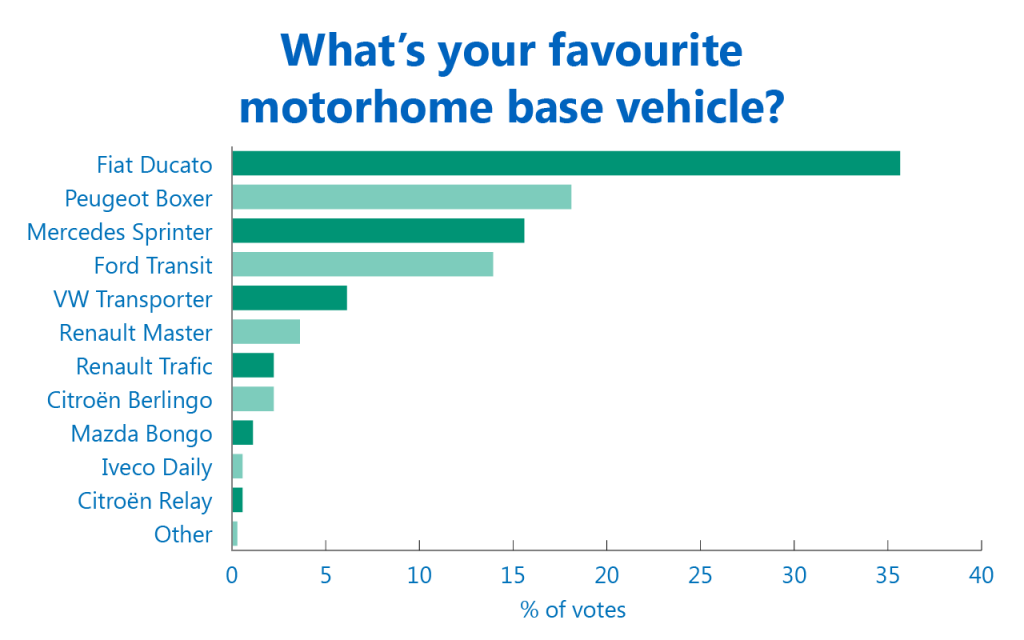 The Ducato has formed the basis of a wide assortment of motorhomes, from panel van conversions, to traditional coachbuilt vehicles and A-class. It was also highlighted in this year's Motorhome of the Year (MMM and Which Motorhome) – the Knuas Boxlife 600 – which is based on the long wheelbase Fiat Ducato panel van. We featured the Knaus Boxlife 630 in August last year.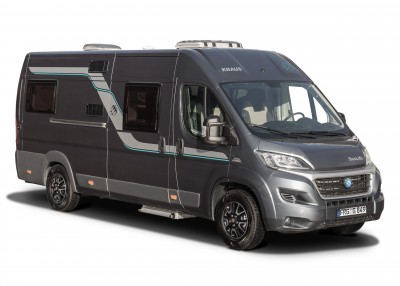 Here's what some of you had to say…
Neal Miller said the Fiat Ducato with Euro 5 engine gave "smooth and punchy driving" and John said although it's never going to be a sporty drive the Comfortmatic gearboxes are "relaxed". He likes the 'hilly' mode as well as the little extras such as USB charger, worksheet clip, tablet computer holder and has experienced brilliant customer service. Andrew Harcourt's favourite is the 1993-95 Fiat Ducato for its simplicity and economic driving – although he does have a new one!
Also built in the same factory as the Ducato, the Peugeot Boxer came in second with 18 percent of the votes, closely followed by the Mercedes Sprinter with 16 per cent.
The Sprinter got the vote from Ray and 'Dun cruising'. "It's always been a good reliable motor. It's got great pulling power and is very economical," said Ray.
'Dun cruising' has the automatic Sprinter. "We're always impressed by the ease of driving and power. Hills no problem, easy to manoeuvre, good all round visibility, great controls, it practically drives itself. We are amazed that it does not have more votes."
Clive agrees that the Mercedes Sprinter 518 is a "super smooth motor".
"It does add cost to the motorhome to have a Mercedes base vehicle but with rear wheel drive and the bulletproof V6 engine it makes the perfect motorhome base in my view," he commented.
The Ford Transit wasn't too far behind with 14 per cent of the votes and it's the base vehicle of choice for John Roberts.
"I've had two VW Transporters and three Transits and the Transits were more reliable, easier and cheaper to fix when there was a problem, especially when abroad, and they are generally cheaper to buy than the VW. I love driving the Transit; its quick, easy to drive, good on fuel and comfortable. Say no more!"
Andrew, who drives for a living, said: "You soon realise that Transits are the vehicle to have for comfort and legroom, robust interiors, powerful quiet engines, reliability."
Do you agree with the vote? Share your views using the comment box below.
New poll
And don't forget to vote in our latest poll: 
Do you have a personalised number plate on your motorhome or tow car?
Yes - on my tow car (41%, 407 Votes)
Yes - on my motorhome (25%, 249 Votes)
No - not on my motorhome (15%, 151 Votes)
No - not on my tow car (11%, 106 Votes)
Would like one on my motorhome (5%, 50 Votes)
Would like one on my towcar (2%, 21 Votes)
Total Voters: 851
Loading ...